text.skipToContent
text.skipToNavigation
You are about to leave this site.
---
Please be aware that your current cart is not saved yet and cannot be restored on the new site nor when you come back. If you want to save your cart please login in into your account.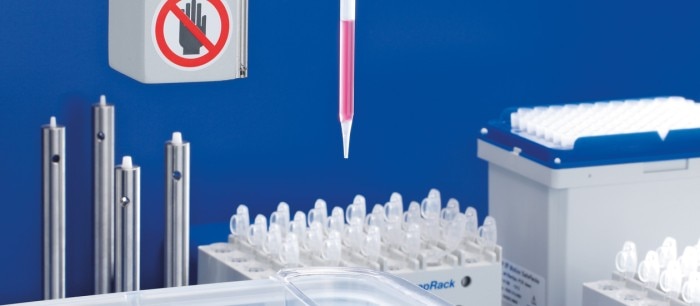 Novel preprogrammed methods for DNA or RNA purification from blood, tissue or from viruses
Lab Academy
Molecular Biology

Liquid Handling Workstations

Automation

Essay
The majority of life science labs which need to purify genomic DNA from blood or tissue, or isolate nucleic acid from viruses, use specialized kits, as this simplifies the procedure substantially. Further, using kits for nucleic acid purification can improve DNA and RNA yields, and enhances the quality of the final extracts. Switching from one kit to another usually requires adaptation of the process. The same is true when working with an automated liquid handler.
Those of you who are currently using the MagSep kits from Eppendorf can switch to MACHEREY-NAGEL® NucleoMag® kits as the MagSep Kit family will soon be discontinued (table 1).

We optimized the respective automated methods for the epMotion5073m liquid handling platform as ready-to-run methods, and described the automated procedure in short protocols in order to support your transition.


In these short protocols we demonstrated that the new NucleoMag kits from MACHERY-NAGEL deliver the same, or even a higher yield and quality of the final extracts than the MagSep kits did. Additionally, we prepared a preprogrammed method for your epMotion 5073m for each kit. The automated methods for the NucleoMag kits can be downloaded from the section on the upper right for the epBlue™ software versions 40.5 and 40.6. Please choose the preprogrammed method according to the software version installed on your epMotion5073m.

You will be able to use the method together with the NucleoMag kits directly without further adaption. There are just a couple of adaptations necessary if you own the epMotion 5075m.
If you need support with using your epMotion 5075m with these methods, or you have other questions please contact your local Eppendorf sales organization (redirect zu local teams) or your automation specialist.
MACHERY-NAGEL
®
and NucleoMag
®
are registered trademark of MACHEREY-NAGEL GmbH & Co. KG, Germany.
Eppendorf
®
, the Eppendorf Brand Design and epMotion
®
are registered trademarks of Eppendorf AG, Hamburg, Germany. epBlue™ is a trademark of Eppendorf AG, Hamburg, Germany.
U.S. designs patents are listed under:
https://corporate.eppendorf.com/en/trademarks-patents
All rights reserved, including graphics and images. Copyright ©2019 by Eppendorf AG, Hamburg, Germany.