text.skipToContent
text.skipToNavigation
You are about to leave this site.
---
Please be aware that your current cart is not saved yet and cannot be restored on the new site nor when you come back. If you want to save your cart please login in into your account.
Pipette Manager
Redefine Your Pipetting Routines with Connected Pipettes
Meet the Pipette Manager
Who doesn't enjoy greater freedom and convenience when it comes to pipetting? Be ahead of the curve! Upgrade to connected electronic pipettes and enjoy faster operation, increased reproducibility and digital documentation of every step.
Shop now

You want to give it a try?
Discover our digital Pipette Manager simulator, learn the first steps and see how it will redefine your lab work.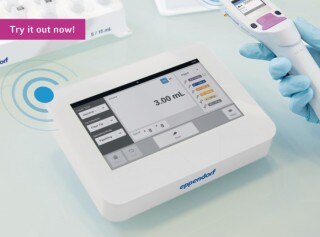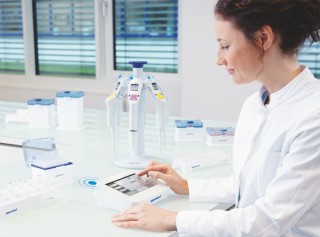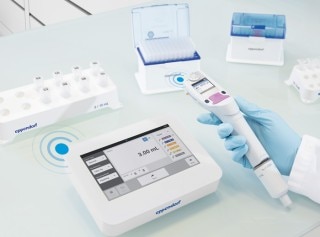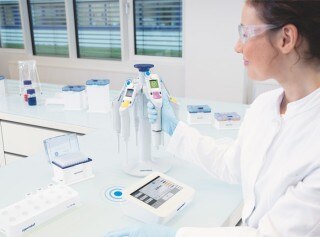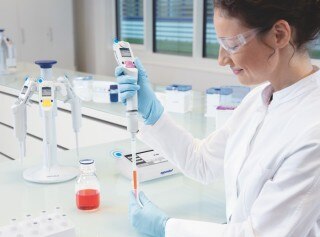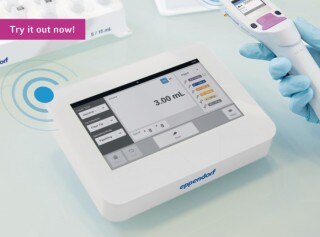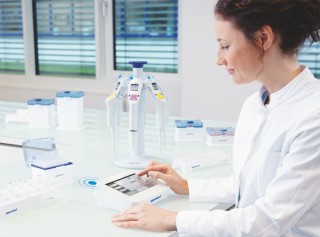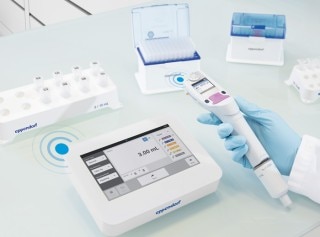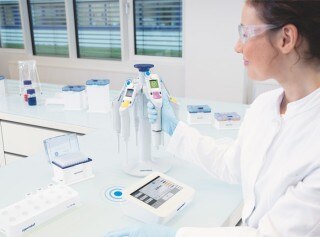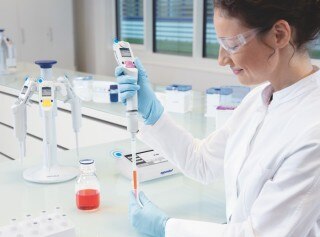 Experience a New Era of Handheld Pipetting
Connected electronic pipettes
Pipette Manager
Tablets
Upgrade Eppendorf Xplorer® / Xplorer plus and Xplorer plus Move It® pipettes with the Eppendorf Xplorer connect WiFi module and convert them into smart devices.
External touch server establishes communication with connected electronic pipettes and tablets via WiFi technology.
Connect your tablets (Android & iOS) to work in parallel with other lab users.
Redefine Your Daily Pipetting Tasks with the Pipette Manager
Videos not loading, because cookies have been rejected. Change your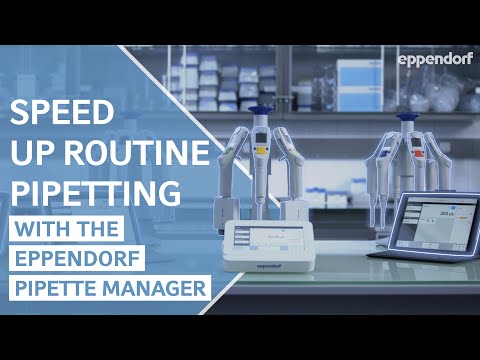 Be faster
Quickly input pipetting volumes and speed with the Pipette Manager. All settings will be transferred to connected electronic pipettes to work right away.
Be more accurate
Receive pipetting technique guidance and optimal settings for viscous, volatile and other challenging liquids.

Choose from various predefined liquid types (e.g. Ethanol or Enzymes/ Antibodies) or create your own through the software embedded »Liquid Manager«.
Videos not loading, because cookies have been rejected. Change your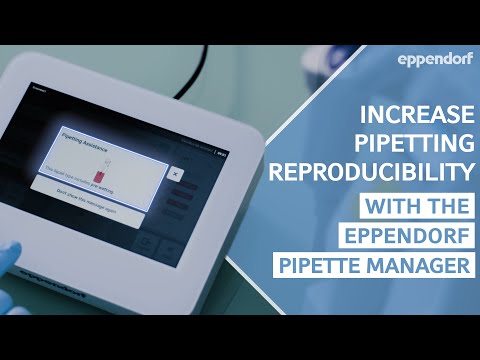 Be confident
Automatically document each pipetting step via the »Pipetting Records« feature and easily export your recordings as a PDF file via USB. The documentation contains details such as timestamp, serial number of the pipette, pipetting mode, volume as well as the selected liquid type.
Work more closely
Manage your pipette fleet more effectively and enhance collaboration in teams. Integrated features like »Pipette Set Creation« or »Liquid Type Sharing« support smooth and efficient operations.
Videos not loading, because cookies have been rejected. Change your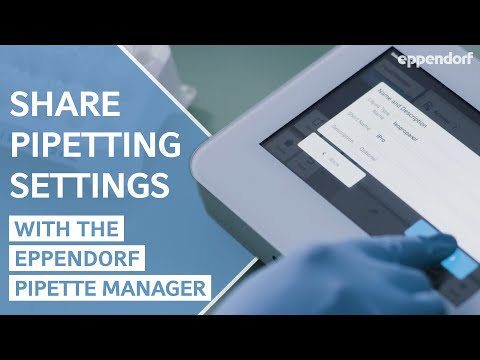 Evolve Your Electronic Pipettes - Plug & Play
Stay flexible with your electronic pipettes!
Easily convert your conventional Eppendorf Xplorer® , Xplorer® plus and Xplorer plus Move It® electronic pipettes into a connected electronic pipette with the WiFi module and software update.
Videos not loading, because cookies have been rejected. Change your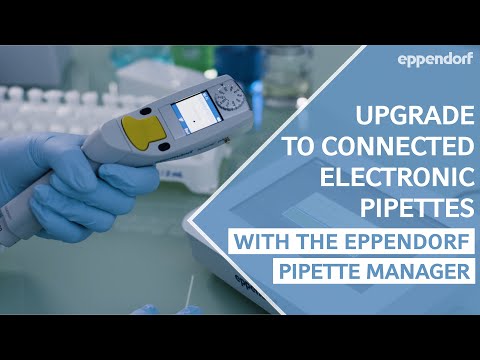 Scientists' Voices







Scientists' Voices







Reference Case: Improve Processing of your Immunoassays
Learn more about the advantages using Lumit™ Immunoassays and the Eppendorf Pipette Manager connected electronic pipette system.
Videos not loading, because cookies have been rejected. Change your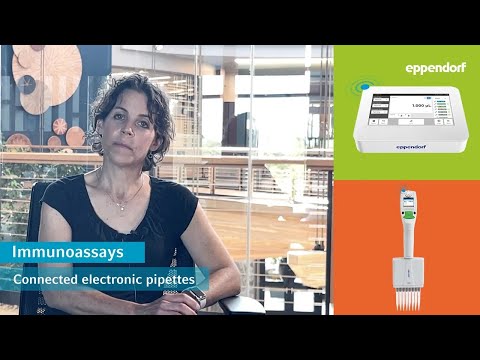 Frequently Asked Questions
Set-up
Which pipettes can I connect with the Eppendorf Pipette Manager?‌
All Eppendorf Xplorer
®
/Xplorer plus and Xplorer plus Move It
®
pipettes manufactured since 2015 (with an on-off push button instead of a switch) can be connected with the Pipette Manager after upgrading them with an Eppendorf Xplorer
®
connect WiFi module. The corresponding Eppendorf Xplorer software version to connect a pipette to the Pipette Manager is 03.01.00 or later. We recommend to always use the latest software version. In order to find out the software version of your pipette, please check via:
Opt > Service > Software version
. The pipette software can be updated by using the
Eppendorf Pipette Software Update Tool
or by connecting your pipette to the Pipette Manager with the included cable.
How can I update my Pipette Manager if new features are available?‌
You can acquire new features for free by downloading the latest software version from the
Eppendorf Download Center
and transferring it to the Pipette Manager using an USB drive. The update can be started by selecting
Menu > Settings > System Settings > Update Software
. The software update does not remove any data or settings from your device.
Do I need an internet connection to use the Eppendorf Pipette Manager?‌
No. The Pipette Manager uses the built-in WiFi to establish connections to electronic pipettes upgraded with an Eppendorf Xplorer® connect module or tablets. It does not connect to the internet.
Can I set up different user accounts and rights on the Eppendorf Pipette Manager?‌
The Pipette Manager offers a user management with different accounts protected with a PIN or password. For each account, you may set a different user role with restricted, standard or administrator rights.
What is the maximum distance between the Eppendorf Pipette Manager and connected pipettes or tablets?‌
The reach of the Pipette Manager's WiFi signal is similar to your typical WiFi connection at home and usually more than 10 meters or 33 feet in a lab – depending on the number of walls and other obstructions between the Pipette Manager and connected pipettes or tablets of course.
The WiFi technology allows us to offer the most stable connection, longest range and highest number of possible connections (up to 30 devices at the same time) in the market for wirelessly networked pipettes.
General use
Does working with the Eppendorf Pipette Manager require pre-programming?‌
No, the Pipette Manager is designed for flexible and spontaneous pipetting and rapid adjustments of workflows.
The battery provided with the Eppendorf Xplorer® connect WiFi module looks smaller. Does it have less capacity?‌
The replacement battery used with Eppendorf Xplorer® connect WiFi modules features a high energy density and only 7% less capacity than the standard Eppendorf Xplorer (plus) batteries (700 mAh vs. 750 mAh).
How can I decontaminate the Eppendorf Pipette Manager?‌
To clean the housing moisten a cloth with cleaning agent and remove external contamination. Wipe down the housing with water afterwards.To clean the touch screen, select Menu > Clean Screen. Wipe the glass plate of the touch screen with a cloth and a mild cleaning agent. Touch the corners in the numbered sequence to unlock the touch screen.
Innovative features
How does the built-in Liquid Manager support me, when I select a liquid type on the Eppendorf Pipette Manager?‌
Depending on the liquid type, the Pipette Manager will automatically include required pre-wetting steps, define the appropriate pipetting speed or disable unsuitable operating modes. These functions can be customized by defining your own liquid types, which can be shared with your colleagues.
Which details can be documented by the Eppendorf Pipette Manager's Pipetting Records feature?‌
When using the Pipetting Records mode, the Pipette Manager will document: User, date, time, pipette (serial number), volume, operating mode, liquid type, speed and pause/continue activities. In addition, general data such as device name, product name, serial number and software version are recorded.
Does the Eppendorf Pipette Manager record every pipetting step I do?‌
You can turn the Pipetting Records mode on and off whenever you want. You can always pause a recording and work without or switch to another recording and continue. Once you finished the steps you want to record, you can finish the recording and export it for documentation.