text.skipToContent
text.skipToNavigation

Eppendorf Microcentrifuges
Level-up your separation
Increase your throughput with an Eppendorf microcentrifuge

Included in this offer**:
The missing link — Eppendorf Tubes® 5.0 mL
Forget impractical and inconvenient processing of awkward sample volumes, and find the right vessel now. Eppendorf microtubes are the benchmark for simple and safe sample preparation.

*until March 31, 2023
Ensure top performance spin after spin
Save yourself from stress and ensure years of productive, reliable operation with regular evaluation and maintenance by our qualified Eppendorf Service team.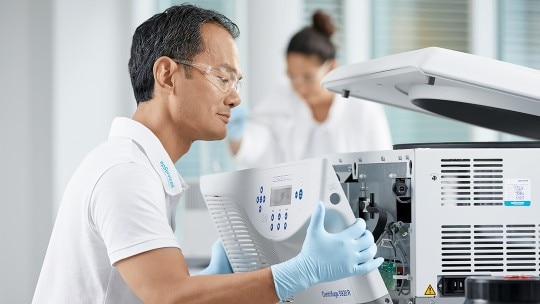 Suitable for academic and research applications
Save time by levelling up your sample capability. With one of these Eppendorf microcentrifuges, you can spin a larger number of samples, you benefit from one device that can handle multiple applications, and you get up to 50 user-defined programs for easy access to your routines.
Suitable for pharma and biotech labs
Relax while samples are spinning: our centrifuges have precise temperature control and an advanced cooling system for processing temperature-sensitive samples with ease.
Become an Eppendorf product tester
Become an Eppendorf product tester and you could win an Eppendorf goody bag! Your feedback will provide us with valuable insights to improve our latest innovations.
** All special offers are valid until 30 June, 2023 and cannot be combined with other discounts from Eppendorf. No cash redemption. Errors and mistakes reserved. Eppendorf® , the Eppendorf Brand Design,CryoCube® , ep Dualfilter T.I.P.S.® , Eppendorf Tubes® , epMotion® , flexlid® , Mastercycler® , SnapTec® , twin.tec® and Xplorer® are registered trademarks of Eppendorf SE, Germany. SafeCode™ is a trademark of Eppendorf SE, Germany. ISCC Plus is a logo from ISCC System GmbH, Germany Design Patents are listed on www.eppendorf.com/ip. Germany. All rights reserved, including graphics and images. Copyright © 2023 by Eppendorf SE.