text.skipToContent
text.skipToNavigation

Eppendorf CryoCube® F101h
Your personal -80 °C freezer
Order now while supplies last


Benefit from this special discount when you purchase before June 30, 2023**

CryoCube® F101h – your compact ultra-low temperature freezer (ULT)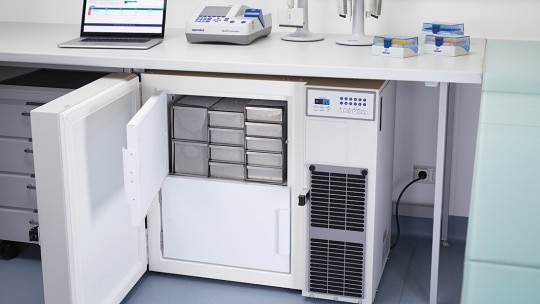 Looking for a personal under-the-bench ULT freezer? The compact CryoCube® F101h offers long-lasting and reliable storage for up to 6,000 samples.
Perfect for small labs, this freezer fits into half a square meter of space without compromise
Save energy for a greener lab. This ULT freezer combines green-cooling with efficient insulation
Store your samples safely with short pull-down times and quick door-opening recovery
Thinking about lab consumables?
Don't miss these quarterly special offers on our high-quality consumables
Protect your priceless samples
Reliable and efficient performance can be expected for years from any of our ULT freezers, but with thousands of precious or rare samples stored, frequent check-ups can help you avoid unexpected freezer repairs and enhance your peace of mind.

Our preventive maintenance service contracts ensure that stored samples are protected through continuous refrigeration efficiency, reliability, and rapid recovery.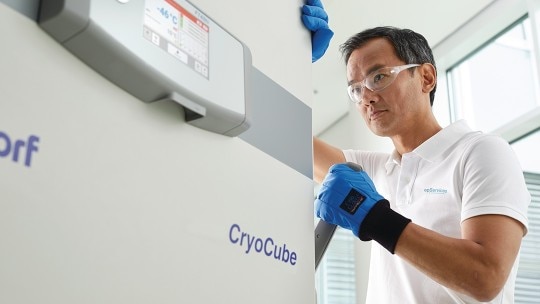 Suitable for academic and research applications
Stay organized in a busy lab with freezer storage boxes. These metal racks optimize your freezer space and make it easier to find your samples, even when your colleagues forget to add a label!
Visit the freezer rack selection and configuration program to learn how to store your samples most efficiently!
Suitable for pharma and biotech labs
Streamlined processes and operations are crucial for a successful laboratory. When you store your high-value samples, how efficient and safe is your documentation? The all-in-one Electronic Lab Notebook from eLabNext® includes modules for sample tracking and protocol management to improve your efficiency when documenting, organizing, searching, and archiving data, samples, and protocols.
Become an Eppendorf product tester
Become an Eppendorf product tester and you could win an Eppendorf goody bag! Your feedback will provide us with valuable insights to improve our latest innovations.
** All special offers are valid until 30 June, 2023 and cannot be combined with other discounts from Eppendorf. No cash redemption. Errors and mistakes reserved. Eppendorf® , the Eppendorf Brand Design,CryoCube® , ep Dualfilter T.I.P.S.® , Eppendorf Tubes® , epMotion® , flexlid® , Mastercycler® , SnapTec® , twin.tec® and Xplorer® are registered trademarks of Eppendorf SE, Germany. SafeCode™ is a trademark of Eppendorf SE, Germany. ISCC Plus is a logo from ISCC System GmbH, Germany Design Patents are listed on www.eppendorf.com/ip. Germany. All rights reserved, including graphics and images. Copyright © 2023 by Eppendorf SE.