text.skipToContent
text.skipToNavigation
96-well? Done!
Save 35% on epMotion® 96 and 96xl semi-automated 96-well electronic pipettes


Included in this offer**:

epMotion® 96 – your semi-automated pipette, perfect for 96- and 384-well parallel microplate processing (0.5 – 300 μL)

epMotion® 96xl – for parallel microplate processing in a larger volume range (5 – 1,000 μL)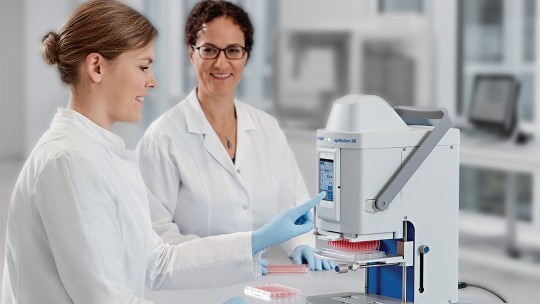 Want to increase your productivity and pipette entire 96-well plates in one single step? Make it faster and more precise with epMotion® 96 to overcome the limits of manual multi-channel pipetting.
Performs 12 times faster than 8 channel pipettes
Compact design to fit in a laminar flow hood
Fill plates column-by-column for maximum flexibility e.g. pipetting dilution series

For a limited time only, these semi-automated pipettes are available at a 35% discount — just a fraction of the price compared to a fully automated pipetting system!
The perfect fit — epT.I.P.S.® Motion
Automated pipetting processes place high demands on the design and material of the pipette tips used. Packaged in contamination-free racks and available as a reload system, epT.I.P.S. Motion are specially designed for outstanding fit and accurate dispensing.

*until March 31, 2023
Keep your process in motion!
epMotion® 96 and 96xl are precision instruments. As such, they should be maintained and calibrated on a regular basis, which will help ensure continuing high accuracy, precision and reproducibility.

With our maintenance and calibration plan options we help you uphold premium performance of your epMotion over an extended period of time.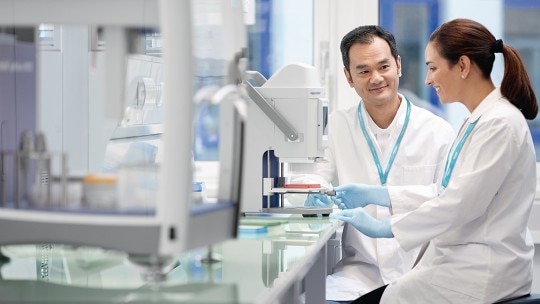 Suitable for academic and research applications
Start your automation journey with epMotion® 96, for simplifying routine plate transfers such as: replication and reformatting of 96 and 384-well plates, sample transfers, reagent additions and serial dilutions.
Suitable for pharma and biotech labs
Synchronous processing of 96 wells increases your throughput and minimizes the risk of time-dependent intraplate gradients and human errors. The compact epMotion 96 is also a great addition for automated labs to feed bigger automation systems with pre-filled plates.
Become an Eppendorf product tester
Become an Eppendorf product tester and you could win an Eppendorf goody bag! Your feedback will provide us with valuable insights to improve our latest innovations.
** All special offers are valid until 30 June, 2023 and cannot be combined with other discounts from Eppendorf. No cash redemption. Errors and mistakes reserved. Eppendorf® , the Eppendorf Brand Design,CryoCube® , ep Dualfilter T.I.P.S.® , Eppendorf Tubes® , epMotion® , flexlid® , Mastercycler® , SnapTec® , twin.tec® and Xplorer® are registered trademarks of Eppendorf SE, Germany. SafeCode™ is a trademark of Eppendorf SE, Germany. ISCC Plus is a logo from ISCC System GmbH, Germany Design Patents are listed on www.eppendorf.com/ip. Germany. All rights reserved, including graphics and images. Copyright © 2023 by Eppendorf SE.