text.skipToContent
text.skipToNavigation

Eppendorf Xplorer® & Xplorer® plus
Experience a new level of simplicity, precision and reproducibility by upgrading from mechanical to electronic pipetting. Why upgrade?
Digital input of settings and exact piston movement allow for improved user-to-user reproducibility
Various operating modes are available to increase your efficiency (e.g. "dispensing" to fill plates faster)
Light-touch buttons for improved ergonomics
Get 23% off your standard price when you purchase before June 30, 2023
Thinking about lab consumables?
Don't miss these quarterly special offers on our high-quality consumables
Do something good for your existing pipettes
Pipettes are precision instruments whose normal wear may lead to inaccuracies over time. Commit yourself to long-term quality results and maintain the precision and accuracy of your pipettes with our pipette service.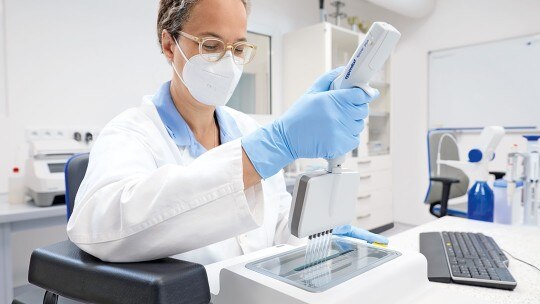 Suitable for academic and research applications
The improved accuracy of Eppendorf electronic pipettes makes it easier for you to succeed the first time around, without wasting reagents and consumables on failed experiments.
Suitable for pharma and biotech labs
Make your life easier with electronic pipettes; save time with increased accuracy and precision, while standardized settings take the stress out of audits.

Become an Eppendorf product tester
Become an Eppendorf product tester and you could win an Eppendorf goody bag! Your feedback will provide us with valuable insights to improve our latest innovations.
** All special offers are valid until 30 June, 2023 and cannot be combined with other discounts from Eppendorf. No cash redemption. Errors and mistakes reserved. Eppendorf® , the Eppendorf Brand Design,CryoCube® , ep Dualfilter T.I.P.S.® , Eppendorf Tubes® , epMotion® , flexlid® , Mastercycler® , SnapTec® , twin.tec® and Xplorer® are registered trademarks of Eppendorf SE, Germany. SafeCode™ is a trademark of Eppendorf SE, Germany. ISCC Plus is a logo from ISCC System GmbH, Germany Design Patents are listed on www.eppendorf.com/ip. Germany. All rights reserved, including graphics and images. Copyright © 2023 by Eppendorf SE.