text.skipToContent
text.skipToNavigation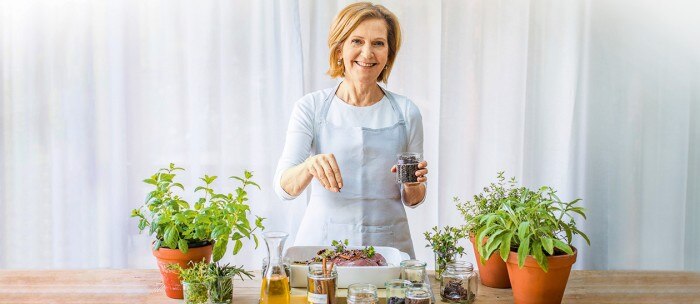 Cooking with Herbs
Explore Life Science
Off the Bench

Exploring Life

Essay
The path to health leads through the kitchen – with this motto, star chef Johanna Maier from Filzmoos in Austria delights her guests. Her secret: she cooks with medicinal herbs.
When Johanna Maier and her black lab set off on their daily walk across the mountainous region of the Salzburger Land, she always carries a container. Along the paths, she collects dandelions, nettles and wild garlic, which she will later incorporate into her sophisticated dishes. "Medicinal herbs and spices make our food more palatable as well as more aromatic", says Maier. "They support our bodies; they comfort our souls and help us stay healthy."


More than mere medicine


Johanna Maier has come by her knowledge on the effects of medicinal herbs during her formal studies to become a Practitioner of Traditional European Medicine. Even then, the chef never quite agreed with the notion that herbs exclusively serve a medical purpose. Chamomile, for example, is not only useful against stomach pain and as a balm for the soul! "I wondered why it couldn't be served in delicious harmony with grapefruit juice and ginger to augment seafood and salads", remembers Maier.
Ever since that time, something green has sparkled on the dishes created by the star chef. Her motto: "No dish without herbs." The delicate plants are an integral part of the secret to her culinary art; their medicinal effect is considered a bonus. Since Maier shares her knowledge with others by conviction, she provides tips on the use of herbs and spices to hobby cooks in her cooking school. In her experience, home cooks often refrain from cooking with herbs as they feel overwhelmed by the multitude of choices.


Don't be shy!


According to Maier, such reserve is unwarranted. "Once you become interested in herbs and spices, once you taste and feel the effect, you will never go back", she enthuses. It is indeed a path of small steps that will lead to sensuous cooking and savoring.
On this quest, Maier takes hobby cooks by the hand. Knowledge surrounding the effects of herbs, which are based on bitter substances and essential oils, form the very basis. Bitter substances stimulate gastric juices and thus support digestion. Essential oils give plants their scent and lend spices their zesty aroma. They have spasmolytic, anti-inflammatory and even antibacterial properties. According to Maier, the spicier a dish, the longer it will stay fresh. "It has been shown that foods that have been seasoned with cinnamon, cloves, oregano, thyme, chili or garlic are protected from harmful bacteria for a longer period of time", emphasizes Maier.


Timing is everything


During the cooking process, each plant will exert its effect in its own unique way – the leaf, the blossom, the stem or the root. Accordingly, it is important for the herb to end up in the pot at exactly the right time. "Delicate plants release their aroma quickly and should therefore be added shortly before serving. Examples include basil or chives", says Maier.
Other herbs, however, are only activated through grinding or heating – for example, lignified parts, seeds or bulbs such as coriander seeds, bay leaves or rosemary. A note of caution: prolonged heating will compromise the flavor. "Essential oils are volatile – they will soon end up in the kitchen air rather than in the pot, where they belong", warns Maier. The combination, too, is crucial, as certain herbs and spices will enhance each other – such as ginger and garlic.


Wild herbs – robust and free


Wild herbs that she collects herself are Maier's favorites. Whereas others will pass by chickweed, ground elder, ribwort, watercress or lady's mantle, the chef picks them with enthusiasm. "Nothing compares to the healing power of plants that decide for themselves when and where to grow", Maier shares passionately. They are skilled survivors – robust, with a zest for life, and free. "Adversity makes them stronger, and they transfer their enviable properties to the person who eats them", she says. Those plants that do not grow wild are cultivated in the chef's own herb garden.
Maier's kitchen is by no means restricted to local ingredients; exotic spices such as cinnamon, cloves or turmeric, as well as ginger and vanilla, are welcome in her pots and pans. "The whole world is a scent, and for me, there is hardly anything more pleasant than discovering new aromas and combining them – not unlike composing a symphony", Maier expresses with passion. In addition, the gourmet chef swears by the use of non-iodized rock salt as well as linseed oil, which lend her dishes a certain something.

In order to make life easier for herself and for other hobby cooks, Maier has created around 20 different blends of spices. Her most important message sounds as calming as a mug of chamomile tea: "You don't need rare varieties for everyday cooking. You just take what you like to eat", advises Maier. Plenty of chives go a long way – further than using a large number of different herbs. Maier's professional kitchen is never short of rosemary, chives, parsley, oregano and mint, as well as lemon thyme for fish dishes. In the summer, basil is added, and in the winter, sage.
Her tip for hobby cooks: don't skimp on herbs! Start small, get to know the herbs slowly, and then expand your repertoire step by step. To begin with, standard varieties will be sufficient. And then, how about some balm or perhaps marigold? At a later time, tarragon and lemon verbena are added, and in the winter, the modest cress. Which herb goes well with each dish is essentially a question of individual taste. According to Maier, "one has to sample the herbs as the palate is the best compass to culinary harmony."


Nature as a shopping-aid


When selecting the dishes and ingredients, Maier always aligns herself with nature and the seasons, with their inherent scents, aromas and moods. Her recommendation for the everyday kitchen: lots of vegetables, fruit and whole grain products, but go easy on the sugar, salt and meat. And, of course, according to Maier, perfect spiciness is an integral part of every meal: "Just like ending a sentence with a period, cooking should be completed by herbs or spices."
Recipe Blueberry Datschi

Ingredients
1 ¾ cups fresh blueberries
1/2 cup wheat flour (type W 500 and type W 405)
4 Tbsp sugar
A pinch of salt
1/5 cup milk
1/5 cup water
2 Tbsp butter
Powdered sugar to sprinkle
Cream, sweetened with vanilla
Preparation

1. In a bowl, carefully mix the blueberries with the flour, the sugar and the salt.

2. Heat the milk with the water in a saucepan, then carefully stir the liquid into the berry mixture using a wooden spoon. Some berries should remain whole while others may release juice and color.

3. Heat the butter in an oven-proof pan and add the berry batter. Place the pan inside the oven, pre-heated to 170 ºC (340 ºF), and bake for approximately 10 minutes. Turn the Datschi over after half the baking time has elapsed. Remove the baked Datschi from the oven, sprinkle with powdered sugar and garnish with a dollop of vanilla whipped cream.