text.skipToContent
text.skipToNavigation
You are about to leave this site.
---
Please be aware that your current cart is not saved yet and cannot be restored on the new site nor when you come back. If you want to save your cart please login in into your account.
epMotion® 5073t NGS Solution
Product Information
NGS Compact – The epMotion 5073t NGS solution is ideal for low throughput Next Generation Sequencing library preparation of up to 24 samples. NGS sample preparation is a labor-intensive process which requires experience, precision and accuracy to generate high-quality NGS libraries. Automating Next Generation Sequencing library preparation reduces the risk of pipetting errors, provides reproducible results and increases your productivity. Let the epMotion 5073t NGS solution handle your complete workflow from nucleic acid purifications, over cleanups to NGS library prep.
The small footprint of approx. 6 times US letter size fits on almost every lab bench and completes the toolset of liquid handling devices in your lab.
epMotion 5073m
Products (1)
Accessories (84)
epServices (18)
---
1

Products
MultiCon PC, 3 tools, gripper, plus NGS specific accessories and consumables, waste bags and holder
100 – 240 V ±10 %/50 – 60 Hz ±5 % (EU/AU/CN/GB/US), 0,2 µL – 1 mL
More Product Details ...
---
Added to Your Cart
Product Information
Technical Data
Applications
Features
epMotion 5073t NGS solution contains everything you need to start your automated NGS library preparation. It combines automated liquid handling and unique software features with the accessories and high-quality consumables for reliable Next Generation Sequencing library preparation. The liquid handling robot has three dispensing tools, a gripper, a plate magnet, a TipHolder 73 and a Gripper Tower. The new Reservoir Rack Module NGS optimized for holding NGS reagents can be combined with the Reservoir Rack Module Tips to hold additional tips if needed. Furthermore, high-quality consumables and epT.I.P.S.® Motion 50 µL and 300 µL are part of the package. The epMotion 5073t is operated via MultiCon Desktop PC, equipped with Windows 10. Optionally, the epMotion can be connected to VisioNize® for runtime tracking, e-mail event notification and device monitoring. An intuitive software interface allows for ease-of-use and rapid method implementation, while providing the needed flexibility. The system includes an integrated thermal mixer.

The pipetting robot is available with an optional CleanCap for UV light decontamination and a HEPA filter for clean and particle-free air inside the device.

By automating NGS library preparation, you increase reproducibility and reduce pipetting errors and, in turn, improve your experimental data. You have time for data analysis or other laboratory tasks while epMotion takes over the tedious pipetting.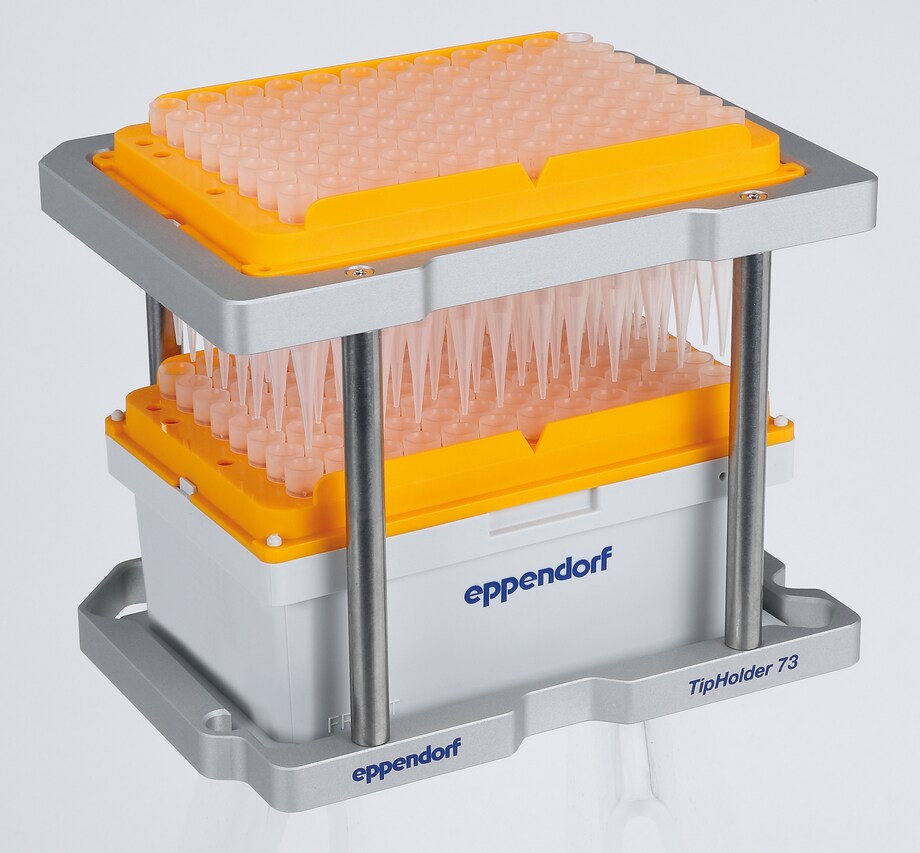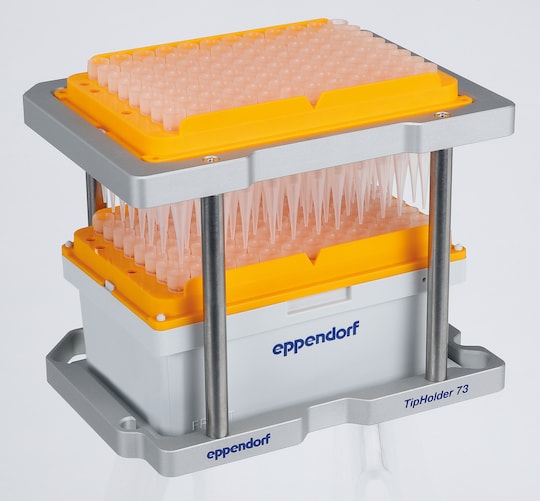 Increased tip capacity

The TipHolder 73 and Gripper Tower included in the NGS solution allow storage of up to 5 x 96 tips to allow maximum walkaway time.

Three dispensing tools
Two single-channel and one multi-channel dispensing tools offer you the flexibility to work with 1 to 24 samples in tubes or plates. Additionally, the epBlue™ software automatically switches between single and multi-channel dispensing tools to reduce tip consumption – protecting the environment and saving money.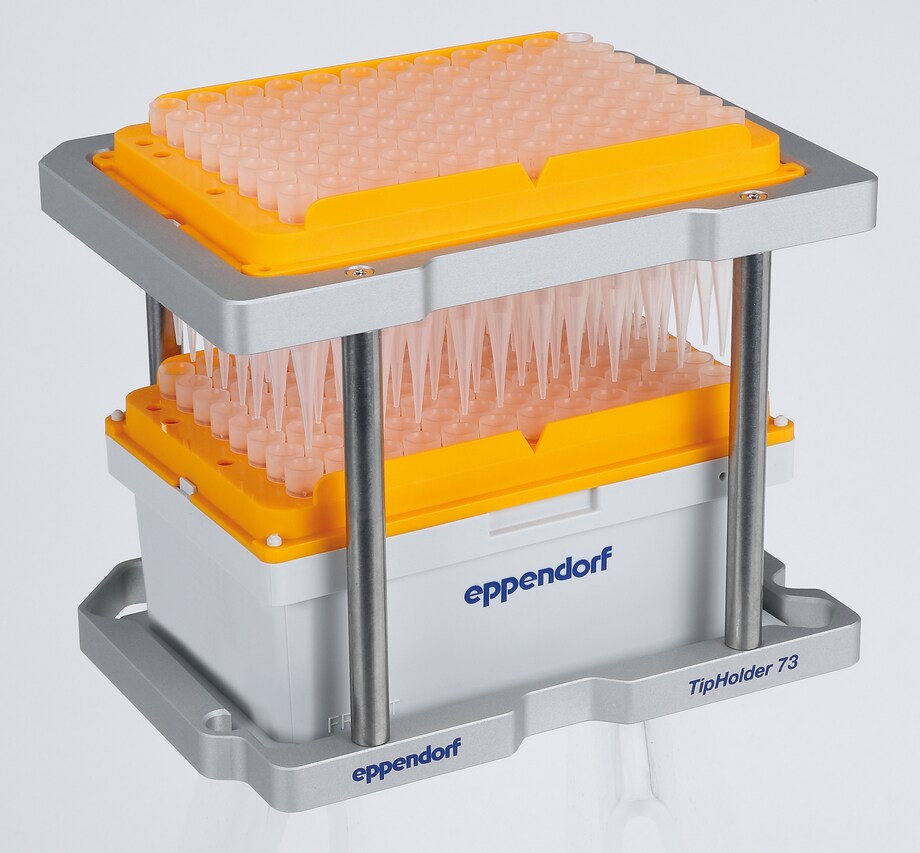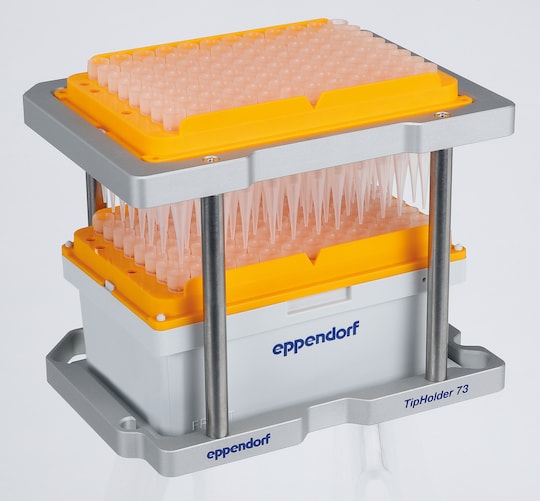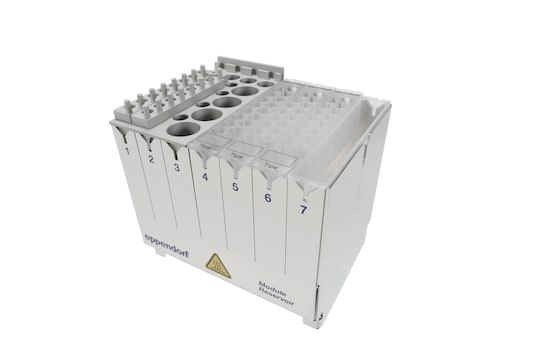 Save space

The option to store consumables, reagents and tips on one deck position with the new Reservoir Rack Module NGS increases the capacity of your epMotion 5073m to fit your needs.

Windows 10 operation
Both MultiCon PC and EasyCon tablet work with Windows 10.

NAP and NGS on one platform
epMotion 5073m NGS solution is the only solution workstation that enables both magnetic bead-based nucleic acid purification and NGS library preparation. Save space, money and time by using epMotion for multiple applications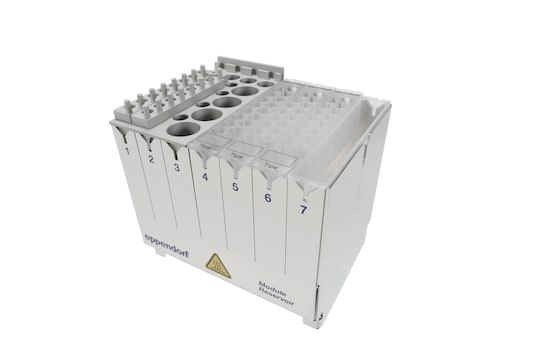 | Specifications | epMotion® 5073t NGS solution |
| --- | --- |
Application
NGS
Volume range
0,2 µL – 1 mL
Power supply
100 – 240 V ±10 %, 50 – 60 Hz ±5 %
Dimensions (W × D × H)
65 × 61 × 77 cm / 26 × 24 × 30 in
Weight w/o accessories
57 kg / 125,6 lb
Pipetting type
Air cushion system
Autoclavable
yes (tools)

Dispensing tool1)2)

Random measurement error (1 µL)
≤3 %
Systematic measurement error (1 µL)
±5 %
Random measurement error (25 µL)
≤0.6 %
Systematic measurement error (25 µL)
±1.5 %
Random measurement error (50 µL)
≤0.4 %
Systematic measurement error (50 µL)
±1.2 %
Random measurement error (150 µL)
≤0.4 %
Systematic measurement error (150 µL)
±1 %
Random measurement error (1,000 µL)
≤0.15 %
Systematic measurement error (1,000 µL)
±0.7 %

1)in pipetting mode, free jet, without pre-wetting, with distilled water, at 20 °C

2)See Eppendorf Application Note 168 for typical pipetting performance

Eppendorf ThermoMixer®

Max. load
1.000 g
Temperature range
15 °C below RT to 95 °C
Speed
300 – 2,000 rpm
Mixing period
5 s – 120 min

Thermal module

Heating rate
9 °C/min
Cooling rate
4 °C/min
Sample or reagent transfer
Mixing and tempering
Assay set-up
Nucleic acid extraction
Dilution series, cherry picking and normalization
NGS library preparation
Up to 24 samples for NGS library preparation with minimal user intervention
Three dispensing tools eliminate interruptions during NGS library preparation
TipHolder 73 and Gripper Tower allow the use of 5 x 96 tips on just two ANSI/SLAS positions
Reservoir Rack Module NGS offers storage of consumables, tips and reagents on one deck position
A plate magnet together with thermal mixer enables magnetic bead-based purification in plates.
MultiCon PC works with Windows 10
Easier optimization by generating service reports in just a few clicks in epBlue software
Optional with MultiCon: Connect epMotion to VisioNize to monitor device status, runtime and get e-mail notifications
Integrated LEDs for visual feedback of system status like idle, run in progress or run finished
Downloads: epMotion® 5073t NGS Solution
Webinar: Liquid Handling for NGS Workflows
Generating high-quality NGS libraries is a labor-intensive process that requires experience, precision, and accuracy. In this webinar, you will learn:


The basics of NGS workflows & expert advice on getting started with NGS in your lab
Practical tips and tricks for manual and automated liquid handling
How Eppendorf epMotion can help you achieve reliable and reproducible sequencing results