text.skipToContent
text.skipToNavigation
You are about to leave this site.
---
Please be aware that your current cart is not saved yet and cannot be restored on the new site nor when you come back. If you want to save your cart please login in into your account.
Culture standardization and efficient scale-up
Stem cell-based technologies are one of the most promising approaches in the further advancement of cell therapy and regenerative medicine. Also, great hopes are linked to using stem cells as a tool for drug discovery. In order to make progress towards commercialization, researchers in the field are evaluating standardization of their cultivation and efficient scale-up.
Cultivation of cell aggregates
For many applications like disease modeling, drug toxicity assessment, and manufacture of stem cell-based products, three-dimensional (3D) cell aggregates are of great interest. Researchers at the Instituto de Biologia Experimental e Tecnológica (iBET) in Portugal have tested the suitability of the Eppendorf DASbox® Mini Bioreactor System for the cultivation of the human tumor cell line H157 as 3D cell aggregates.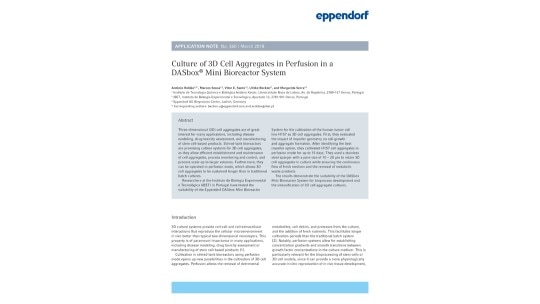 Controlled Cultivation of Stem Cells - Factors to Consider When Thinking of Scale-Up
Widely established in traditional cell culture, controlled bioreactors have the potential to establish reproducible expansion of stem cells. They provide extensive options for monitoring and control of key parameters such as pH and dissolved oxygen in real-time and facilitate a controlled differentiation of the cells. Through scalable bioreactor design, results obtained in small scale can be transferred to larger working volumes while maintaining optimum mass transfer.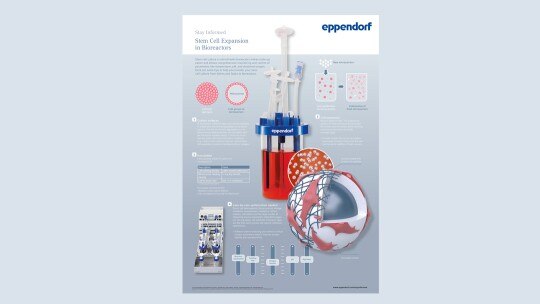 Interview with Dr. Philipp Nold

Dr. Nold joined the Eppendorf Bioprocess Center as an Infield Application Specialist for stem cells. In this interview he speaks about the latest advances in bioprocessing.

Main aspect of this interview is: Biopharma know-how meets bioreactor innovation in upstream bioprocessing.

Click here to read the interview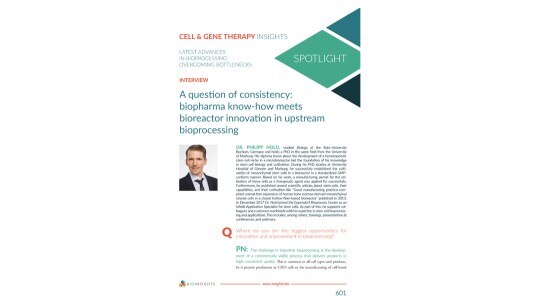 Induced pluripotent stem cells

Since the pioneering development of cell reprogramming by Shinya Yamanaka in 2006, induced pluripotent stem cells (iPSCs) have risen to be the most promising alternative to ethically problematic embryonic stem cells. Controlled cultivation and scale-up in clinical grade as well as ways to control their differentiation towards their final destiny will be key steps towards commercial use of these cells.
Stem Cell Community Day
The Stem Cell Community Day connects researchers from all over the world to review recent advances in the area of stem cells, with a special focus on cultivation in stirred-tank bioreactors.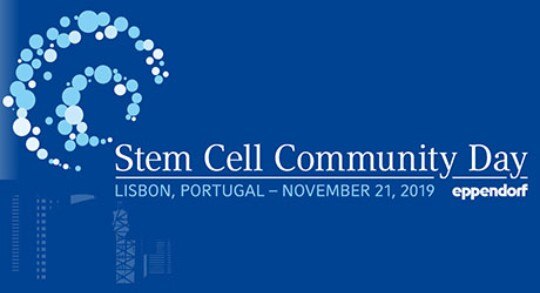 At our 1st Stem Cell Community Day in April 2017 we brought together experts from industry and academia, to discuss latest achievements, challenges, and chances in stem cell bioprocessing for research and commercial manufacturing.
eBook: Advancing medicine - Can cell and gene therapies paint a picture of perfect future health?
(The Medicine Maker, sponsored by Eppendorf)
3.2 MB, PDF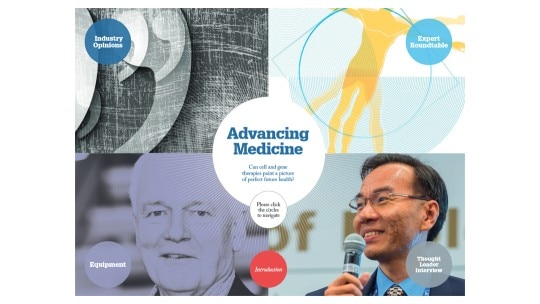 A selection of our customers