text.skipToContent
text.skipToNavigation
You are about to leave this site.
---
Please be aware that your current cart is not saved yet and cannot be restored on the new site nor when you come back. If you want to save your cart please login in into your account.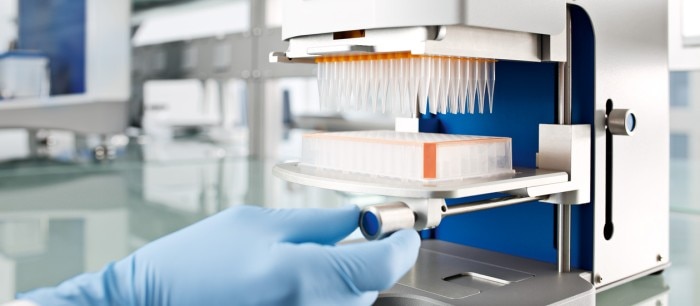 Save Time with Multi-Channel Tools
Lab Academy
Dispensers

Pipettes

Liquid Handling Workstations

Pipetting & Dispensing

Efficiency

Reproducibility

Viscosity & Liquid Types

Essay
Time is money! This is true for almost every industry worldwide. Nowadays, processes are improved to be faster and more reliable. It is a common goal to save resources, manpower, and space while still obtaining the same quality as before. Speeding up is mostly beneficial for the production companies that shift the competitive pressure in the market down to the employees. Thinking must be sped up and employees have to work more than ever to finish tasks in the same amount of time. This leads to stress symptoms and increased cases of burnout and work-related psychological disorders. Wouldn't it be beneficial if products were invented to facilitate our daily working life, to support human resources, and to increase productivity by reducing stress?
Some companies have the goal to produce products that support the employee and help speed up their work while maintaining high-quality results. Because science needs time, high-quality results and speed up processes can be oppositional in laboratories. But some helpful tools can save time while still obtaining optimal results. Initially, single-channel pipettes were invented and helped employees to work safely and more precisely. After a couple of years, when throughput increased, multi-channel pipettes were developed. These tools were used just like the single-channel pipettes. Multi-channel pipettes offered the same accuracy and easy handling while simply increasing throughput 8- or 12-fold. Nowadays, requirements increase daily and speed improvement needs to reach a new level.
New 96 channel tools still offer the same accuracy and precision as single-and multi-channel pipettes, but they also increase throughput and speed. Additionally, semi-automated solutions, including electronics, facilitate lab life and support the lab worker in accomplishing the results in a way that is both faster and more relaxing. It was shown that when doing cell-based assays, the usage of a 96-channel tool compared to a manual 12-channel pipette saved up to 15 minutes. When the 96-channel tool was compared to an electronic 12-channel pipette, it was still twice as quick.
Furthermore, reproducibility and reliability were higher than with both multi-channel pipette types. So speeding up does not mean that you have to be in a hurry, but it means being open for new technologies and making usage of these. These very valuable 15 minutes in an experiment can be used for other tasks and can ease your mind during a stressful day.