text.skipToContent
text.skipToNavigation
You are about to leave this site.
---
Please be aware that your current cart is not saved yet and cannot be restored on the new site nor when you come back. If you want to save your cart please login in into your account.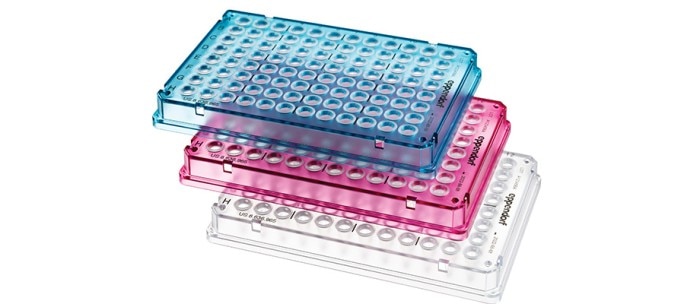 twin.tec Trace: The Next Generation
Lab Academy
Molecular Biology

Vessels

Next Generation Sequencing

Amplification & PCR

BioNews article
Eppendorf twin.tec® PCR Plates are an established plate format in the laboratory. Their thin-walled polypropylene wells and robust polycarbonate frame ensure optimal heat transfer and high dimensional stability. These materials confer extreme durability on the twin.tec PCR Plates during incubation and centrifugation as well as in automated processes.
This article appeared first in BioNews, Eppendorf's application-oriented customer magazine since 1993.

NEW: "Trace" – for even better traceability
Eppendorf twin.tec Trace PCR Plates are our latest and most advanced PCR plates. An exciting new design and innovative features guarantee outstanding performance. The laser-engraved lot number and expiry date on each single plate improve traceability in your laboratory processes and thus make these new plates an excellent choice for all regulated workflows. The innovative optical guiding grid, together with the proven OptiTrack® matrix, enables quick orientation within the plate which, in turn, simplifies manual and semi-automated pipetting and dispensing. Raised well rims allow an effective sealing and minimize the risk of cross-contamination.

… and even more color
While the traditional classic twin.tec PCR Plates are already colorful, the new colors of the twin.tec Trace PCR Plates – crystal blue and fuchsia – provide even more variety in the laboratory, plus they improve readability and labeling contrast. Their outstanding reproducibility, as well as other specifications, are equivalent to those of the traditional twin.tec PCR Plates. This makes the twin.tec Trace PCR Plates a perfect choice for high-throughput applications as well as automated workflows and standardized processes. twin.tec Trace PCR Plates are also available with barcode; they are batch-tested and certified free from DNA, DNase, RNase, and PCR inhibitors (PCR clean).