text.skipToContent
text.skipToNavigation
You are about to leave this site.
---
Please be aware that your current cart is not saved yet and cannot be restored on the new site nor when you come back. If you want to save your cart please login in into your account.

Categories
Remote Device Monitoring and Notifications (VisioNize®)
How to select a -80 °C freezer for my lab?
Sample storage in the lab is not limited to the freezer. The process of sample storage includes the right selection of vessels, a reliable labeling/ identification of your samples, robust freezer boxes and racks, a convenient sample management tool, the freezer itself, and freezer performance monitoring systems.
Still, the freezer is the core of your sample storage system:
Eppendorf offers different lines of -80 °C lab freezers to meet a variety of needs. Depending on the approach, there are different questions to answer before you select your Ultra-Low-Temperature freezer, also known as ULT freezer to store your freezer boxes and your valuable samples:
Do you need an upright freezer or a chest freezer to store your freezer boxes?
Do you want a foam-insulated freezer wall enforced by vacuum insulation panels or is foam sufficient?
Which footprint in the lab is sufficient and/ or acceptable?
When choosing an upright freezer, do you need a 3- or 5-compartment instrument?
Do you need a future-proof freezer with green cooling liquids as R290/ R170?
Do you want to connect your ULT freezer?
As your ULT freezer is a longterm investment, a careful planning and validation is recommended.We want to provide you with high performance, sample safety, and convenience.
It's 2 a.m. in the morning & and the phone rings...
»There is an alarm in your lab, you'd better come over…«
Due to the 50,000 valuable samples in your freezer, you rushed to the lab. Finally, the temperature was still ok, false alarm but you were done for the day. Just imagine, you get an alarm notification of VisioNize by email about your freezer, and in the next step, you log into the system and check online the temperature graph and the events of your freezer – still being at home. Then, you can still decide if you have to go to the lab or if you still have some hours - or if it is again a false alarm.

Your freezer becomes a smart storage with VisioNize keeping your valuable samples safe. VisioNize offers you the possibility to remotely monitor your freezer. Take advantage of customizable notifications to meet your needs. More peace of mind for "You and Your Lab" with VisioNize.

Important note:
Depending on your country, VisioNize and the VisioNize services may not be available. You can either check the Eppendorf eShop or contact your Eppendorf sales representative for details.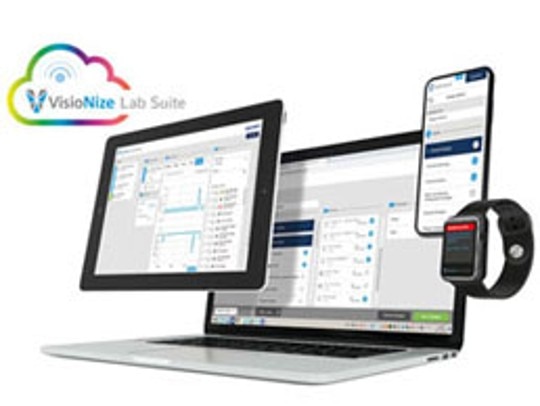 Air-conditioning at the limit? Go for water-cooling
You can improve the conditions and comfort in your lab while saving energy by installing a water-cooled Eppendorf freezer. Many ULT freezers use the air in the laboratory to extract heat energy from the freezer's heat exchanger. Another option is to use a water-cooled ULT freezer connected to a facility's recirculating water system. A constant stream of water removes the heat from the heat exchanger, rather than the ambient air in the lab.
Reduce air conditioning power consumption by letting the water carry away the heat
The heated cooling water can be reused for other heat demanding systems in the facility
System specifications:
Minimum flow: 29 L/h
Inlet pressure: 1 – 10 bar
Temperature range of water: 7 °C to 25 °C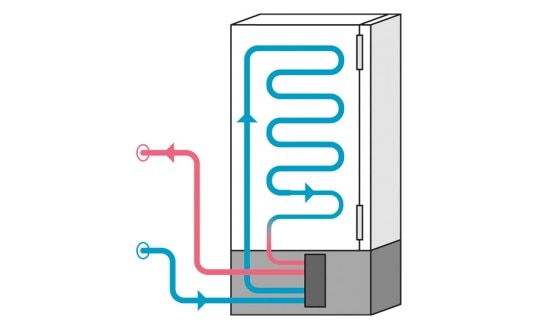 Annoyed by uncomfortable handling?
Ergonomics is far beyond the »ergonomically designed chair«. Eppendorf started to optimize the laboratory devices regarding ergonomics already in the early 1970s.
In 2003, we started the PhysioCare Concept, focusing on ergonomic liquid handling devices like our pipettes.
Nowadays, the Eppendorf PhysioCare Concept is broaden up to include further laboratory products as a holistic solution to harmonize the workflow in your laboratory with your health and well-being, e.g. for the Eppendorf ULT freezer:
Intuitive interface for easy handling
Automatic vent port for easy re-access to samples
Low noise level for convenient working conditions
Ergonomic door handle for easy opening and closing
All cable interfaces are located at one corner for convenient access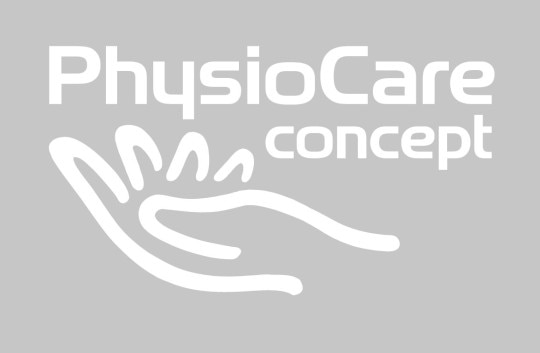 Eppendorf offers three lines of freezers to meet a variety of needs:
The Eppendorf High-Efficiency ULT Freezers are one of the best energy-efficient freezers in the market. The vacuum insulation panel technology is the core: an advanced thermal insulation technology that significantly outperforms traditional materials such as closed-cell foams (urethane), foam beads, and fiber blankets. Vacuum insulation removes gasses within the insulating space to reduce heat transfer; as a result, thermal insulation performance far exceeds traditional materials. Other freezers use vacuum insulation panel technology, but none use Vacupor NT®.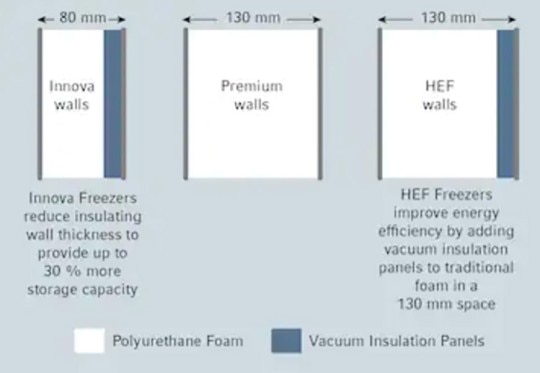 Vacupor panels not only provide exceptional thermal insulation, they have a metal-coated polymer film barrier seal to maintain vacuum and they are composed of biodegradable, CFC-free, and HCFC-free materials.
The Eppendorf Innova® ULT Freezers combine ultra-efficient insulation panels with foam insulation, generating a maximized storage capacity.
The Eppendorf ULT Freezers have established a reputation for preserving outstanding sample quality while minimizing energy consumption.
Would you like to find out more about Eppendorf and sustainability
Remember 2008?
As being one of the very first movers for green gases at -86°C, Eppendorf has now more than 13 years of experience in R&D, production, logistics, and service in the field.
In 2008, the (Eppendorf) New Brunswick Premium U570h was one of the very first commercially available ULT freezers driven by green cooling liquids.

Sustainability and economics
ULT freezers run 24/7. They have to. Many equipment manufacturers and customers alike have recently put an emphasis on energy efficiency. For Eppendorf freezers, this has been a prime concern for years. ULT freezers are virtually never turned off and compared to other lab systems can draw a high amount of energy to maintain the very low temperatures required for sample preservation. Optimized insulation, highly efficient compressor systems, and smart control technology within our last generational update resulted in:
The old Premium U570 versus the CryoCube F570:
11.8 kWh/day versus 10.5 kWh/day = 15 % less energy consumption

The old HEF U570 versus the CryoCube F570h:
8.9 kWh/day versus 7.6 kWh/day = 14 % less energy consumption

The old Premium C660 versus the CryoCube FC660:
14.3 kWh/day versus 10.6 kWh/day = 25 % less energy consumption

The old HEF C660 versus the CryoCube FC660h:
11.4 kWh/day versus 8.1 kWh/day = 29 % less energy consumption
Pit stop needed?
Taking care of your freezer can help ensure optimal storage of your samples for years to come.
In addition to our extensive standard warranty, Eppendorf offers ULT Freezer Performance Plans to suit your lab's needs while enhancing your peace of mind. You can choose between essential function checks, preventive maintenance plans, or Installation and Operational (IQ/OQ) certification services. Protect your priceless samples!
Disposal of packaging
The packaging of the ULT freezer contains different materials, this includes a wooden pallet, cardboard, a plastic dust cover, and some foam parts. Recycling of materials becomes more and more important every day: Are you aware that nearly all cardboard material is recycled in Europe? Our freezer packaging cardboard material consists of ca. 70% recycling material. Please support the global sustainability initiative of recycling valuable raw material by also collecting the freezer cardboard packaging material and disposing of it in the appropriate collection container at your organization. In respect to the plastic dust cover made of LD-PE and the foam parts, we recommend to select a dedicated recycling partner where material can be recycled. We suggest you contact your local waste hauler or facility management team to understand the available recycling options for your organization.