text.skipToContent
text.skipToNavigation
You are about to leave this site.
---
Please be aware that your current cart is not saved yet and cannot be restored on the new site nor when you come back. If you want to save your cart please login in into your account.

Get to Know Our Product Range
Since the first lab shaker was introduced in 1946, New Brunswick shakers have been one of the most widely used products in the industry. Manufactured with premium Eppendorf quality, New Brunswick lab shakers continue to take a leading position in virtually all global markets.

Made of the highest-quality materials, with superior design and precision fabrication, we guarantee our lab shakers will provide worry-free operation for many years to come.
Incubated lab shakers
If the growth atmosphere needs to be controlled (e.g. temperature and photosynthetic light) and medium or high throughput is needed, an incubated lab shaker is necessary. Usually, incubated lab shakers are grouped based on any of the following criteria:
Temperature control: cooling for a minimum of 4 °C, heating for a maximum of 80 °C
Speed range (25 – 500 rpm)
Position in the lab (benchtop, under bench or stackable floor models)
Stackability (2- or 3-fold)
Capacity and throughput: vessel type, size and capacity
Mode of loading (front vs. top loading)
CO2 control
Photosynthetic light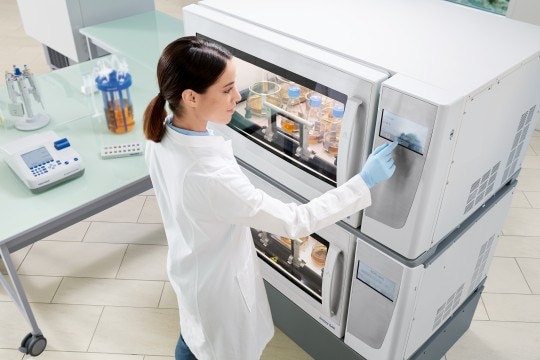 Open-air lab shakers
For shaking in ambient conditions, on the bench, or in a warm or cold room or heated chamber, open-air lab shakers are used. Eppendorf offers six New Brunswick™ Innova® open-air lab shakers designed for reliable 24/7 shaking of flasks up to 6 L (depending on model), microplates and test tubes. Long-term vibration-free shaking at 25 to 500 rpm is supported by a New Brunswick robust cast-iron triple-eccentric counterbalanced lab shaker drive and a solid state, DC brushless motor.
Available shaking orbits:
1.9 cm (0.75 in): Innova 2000, 2050, 2100, 2150
2.5/5.1 cm (0.5 in): Innova 2300 and 2350

Available shaking platforms (depending on shaker model):

Dedicated shaker platforms (with pre-installed clamps for one vessel format - for maximum capacity – check availability for individual open-air lab shaker model)
Erlenmeyer flasks (25 mL – 2 L)
Universal shaker platform (for maximum flexibility to mix vessel types and sizes)
Erlenmeyer flasks (10 mL – 6 L)
2 L Lauber Thomson flasks
2.8 L Fernbach flasks
Microplate shaker racks
Test tube shaker racks

Explore our open-air lab shakers range
Biological Shaker Service
Eppendorf offers a choice of preventive maintenance services and service agreement options for consistent instrument performance and confidence in safety.

New: Global Biological Shaker Service Agreements from cost-efficient to all-inclusive care packages for easier service process, maximized uptime, and peace of mind!