text.skipToContent
text.skipToNavigation
You are about to leave this site.
---
Please be aware that your current cart is not saved yet and cannot be restored on the new site nor when you come back. If you want to save your cart please login in into your account.

Manual Pipettes & Dispensers
About Manual Pipettes & Dispensers
Eppendorf Pipettes & Dispensers
Count on us to provide the right solution for any liquid handling challenge in the lab. To ensure reproducible results, you are dependent on reliable and ergonomic tools. Eppendorf lab pipettes & dispensers are crafted to support you with high accuracy and precision and to allow you to work in an efficient manner while keeping you and your samples safe. Discover
ergonomic design that simply feels good.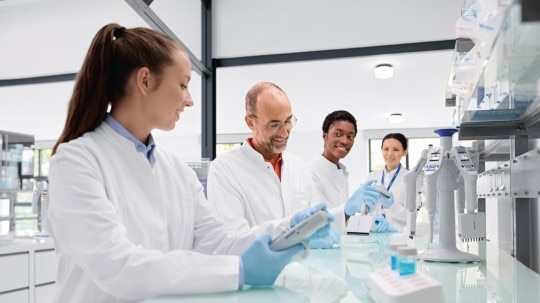 Which Lab Pipette Should You Use?
Selecting the right lab pipette or dispenser can be the key to success in your work. It can boost your efficiency and throughput and ensure reliable results for different pipetting use cases. Here is a quick introduction to the basics.
Air-Cushion Principle vs. Positive Displacement Principle
Air-cushion pipettes are most commonly used in labs around the world and ideal for liquids with physical properties similar to water. In this instrument type, the piston is separated from the liquid sample by a small air cushion. Temperature or humidity changes, as well as the physical properties of different liquids can affect the performance of air-cushion instruments. To reduce these risks however, Eppendorf air-cushion pipettes
(Research plus
,
Reference 2
,
Xplorer
and
epMotion)
work with extra small air cushions and may be temporarily adjusted to different liquid types.
Positive Displacement Principle
In positive displacement systems, the piston is part of the tip and in direct contact with the liquid. There is no air cushion that may be affected by liquid sample properties. These tools are therefore ideal for liquids with varying viscosity, volatility, surface tension or density as well as hot or cold liquids. The disposable tips with integrated pistons
(e.g. Combitips advanced)
also prevent contamination and help to keep user and instrument
(Multipette
,
Varipette)
safe when working with hazardous liquids.
When Should You Use an Electronic Instrument?
The most important general benefits of using an electronic instrument are: better ergonomics by requiring almost no operating forces, a higher precision and reproducibility and an additional efficiency gain due to various operating modes (such as e.g. pipetting and dispensing with only one tool). Furthermore, electronic instruments are the basis for digital lab solutions supporting scientists with choosing settings for different liquid types, collaborating across the lab or documenting steps.
When Should You Think About an Automated Solution?
Automated liquid handling systems such as the epMotion family are ideal to take over routine and repetitive pipetting tasks that are commonly found in many molecular biological applications. They are ideally suited whenever complex processes need to be standardized, help to reduce the risk of manual pipetting errors, increase reproducibility and free up your valuable time for other tasks.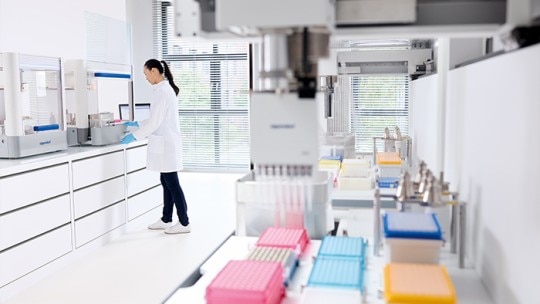 What About Liquids in the mL-Range?
In addition to micropipettes, Eppendorf also offers the Varipette , a large volume pipette, as well as multi-dispensers (Multipette) for (serial) dispensing of up to 50 mL.
Mechanical and electronic pipette controllers ( Pipet Helper , Easypet 3 ) for precise dispensing with serological pipettes (Eppendorf Serological Pipets) as well as bottle-top dispensers (Varispenser 2(x)) and burets (Top Buret) with a variety of adapters and accessories complete the portfolio in the mL
range.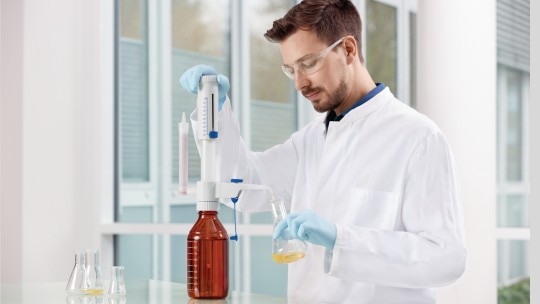 Liquid Handling eBook & Posters