text.skipToContent
text.skipToNavigation
You are about to leave this site.
---
Please be aware that your current cart is not saved yet and cannot be restored on the new site nor when you come back. If you want to save your cart please login in into your account.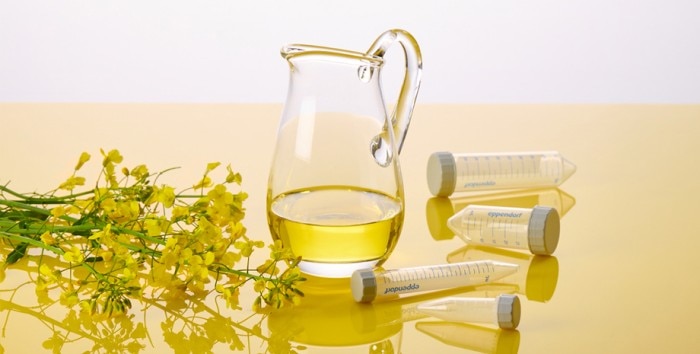 Eppendorf and Neste forge strategic partnership to develop new line of renewable lab plastics
news
New Eppendorf consumables range cuts the use of fossil oil as a raw material in lab plastics, offering labs a more sustainable alternative
Eppendorf SE Hamburg, a leading manufacturer and supplier of laboratory equipment, announces that it has joined forces with Neste, a leading producer of renewable fuels and feedstock solutions for manufacturing polymers and chemicals, to advance the development of lab products made with renewable raw materials. Working together, the strategic partnership made it possible to create a new line of renewable plastic lab consumables: Eppendorf Consumables BioBased. The consumables, e.g. tubes, are manufactured using Neste RETM, a feedstock produced from 100% renewable raw materials, for example used cooking oil. The consumables thereby represent a sustainable choice for labs seeking to reduce their carbon footprint by replacing fossil crude oil in the value chain. The launch of the first products of the new line will significantly contribute to the life science industry's transition towards a more sustainable future.
The life science industry is a substantial consumer of single-use plastics, and as the world faces growing environmental challenges, Eppendorf and Neste recognize the urgent need for more sustainable solutions. Eppendorf's BioBased products perform exactly as their renowned fossil oil-based plastic consumables, meeting the rigorous specifications required for scientific experiments. The current portfolio comprises Eppendorf Tubes
®
with screw caps plus epT.I.P.S.
®
BioBased filter pipette tips, made of a certified polypropylene based upon renewable raw materials. Neste's renewable Neste RE feedstock is used to produce the tubes, while the screw caps and pipette tips are made in cooperation with other suppliers. A mass balancing approach is applied to allocate the renewable raw materials to the products.
Following the successful launch of the first range of Eppendorf Consumables BioBased, the collaboration aims to continue driving the innovation and adoption of more sustainable materials in the laboratory and scientific research sectors. With Eppendorf's extensive scientific consumables manufacturing experience and Neste's expertise in renewable products, the initiative is well placed to address sustainability pressure points throughout the entire value chain – from the renewable raw materials to the manufacturing of the final product. In addition to renewables, the partners will also evaluate options to leverage chemical recycling to both recycle Eppendorf's lab consumables and enable recycled content in the consumables' production.
"We are thrilled to be joining forces with Neste to bring renewable plastics into the lab," said Brigitte Klose, Global Marketing Manager for Consumables at Eppendorf. "At Eppendorf, we are committed to supporting our customers in their efforts to become more sustainable, and by combining our expertise with Neste's, we have been able to deliver high-performance sustainable plastic consumables that can help the scientific community to reduce its carbon footprint. This collaboration with Neste is another substantial step forward in our strive towards sustainability, and we look forward to continuing pioneering together in the development of renewable alternatives."
"Laboratory applications come with high quality requirements for the materials used," said Maria Carcolé, Head of Brand Owner Management at Neste Renewable Polymers and Chemicals. "The cooperation with Eppendorf shows that despite these requirements, a transition to more sustainable materials is already possible. It just takes will and cooperation to get there."
By using renewable materials in their lab plastics, labs and corporations can reduce their climate impact and make steps towards a more sustainable future. In continuing to research and develop more sustainable lab plastic alternatives, Eppendorf and Neste will provide scientists with practical solutions to improve sustainability, and contribute to the defossilization of the life science industry.


About Neste
Neste (NESTE, Nasdaq Helsinki) creates solutions to combat climate change and accelerate the shift to a circular economy. We process waste, residues and innovative raw materials into renewable fuels and sustainable feedstocks for plastics and other materials. We are the world's largest producer of sustainable aviation fuel and renewable diesel, and are developing chemical recycling of plastic waste to combat plastic pollution. Through our renewable and circular solutions, we aim to help our customers reduce their greenhouse gas emissions and increase the amount reduced to at least 20 million metric tons of CO2 equivalent annually by 2030. We are pursuing the goal of making our oil refinery in Porvoo (Finland) the most sustainable refinery in Europe by 2030. To achieve this, we are also relying on renewable and recycled raw materials such as liquefied plastic waste. We have set ourselves the goal of achieving CO2-neutral production by 2035, and we will reduce carbon emissions from our own products by 50% by 2040. We have also set high standards on biodiversity, human rights and supply chain. We are an integral part of the Dow Jones Sustainability Indexes and the "Global 100" list of the world's most sustainable companies. In 2022, Neste's sales amounted to 25.7 billion euros. For further information, please contact Neste's media service: tel. +358 800 94025 / media@neste.com (weekdays from 8.30 a.m. to 4.00 p.m. EET). Subscribe to Neste's releases at
https://www.neste.com/for-media/releases-and-news/subscribe


About Eppendorf
Eppendorf is a leading international life science company that develops, manufactures, and distributes instruments, consumables, and services for use in laboratories around the world.The product portfolio of the business units Liquid Handling, Consumables, Separation & Instrumentation and Bioprocess includes, for example, pipettes, pipette tips, centrifuges, mixers, ultra-freezers and bioreactors for cell and gene research. In addition, Eppendorf offers a wide range of high-quality consumables. In fiscal year 2022, the Eppendorf Group generated €1.23 billion in sales and invested €76 million in research and development (R&D).Eppendorf products are used in academic and industrial research laboratories, for example in companies in the pharmaceutical, biotech, chemical and food industries. But Eppendorf products are also used in clinical or environmental analysis laboratories, in forensics and in industrial laboratories for process analysis, production, and quality assurance.Eppendorf was founded in 1945, is headquartered in Hamburg, Germany, operates production and R&D sites in Europe, Asia and North America and has subsidiaries in 33 countries. Today, the Group employs more than 5,000 people worldwide. They all act in accordance with the purpose of the company's founders: to improve human living conditions.