text.skipToContent
text.skipToNavigation
You are about to leave this site.
---
Please be aware that your current cart is not saved yet and cannot be restored on the new site nor when you come back. If you want to save your cart please login in into your account.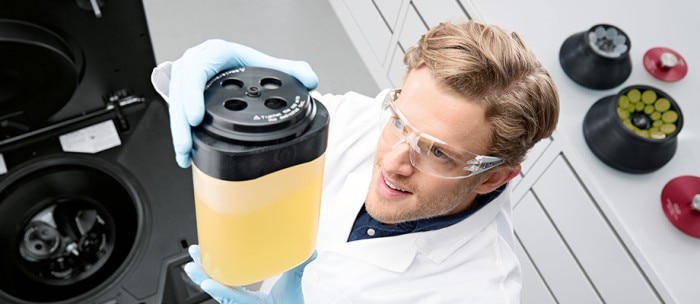 Smart Sample Separation to Streamline Your Workflow
MARC-MANUEL HAHN Lab Academy
Pharma

Molecular Biology

Centrifugation

Efficiency

BioNews article
Sample separation is one of the most frequent and time-consuming applications in the laboratory. Sample handling takes up precious time with processing steps like filling, balancing, removing and cleaning of centrifuge vessels. Intelligent, scalable solutions can help you minimize these repetitive steps and thus save time – while retaining highest safety and reliability for the user.
This article appeared first in BioNews, Eppendorf's customer magazine since 1993.

Cell harvesting: a special challenge

If you are working with mammalian or bacterial cultures, you will be familiar with the challenges involved when it comes to harvesting large batch volumes for the purpose of e.g. isolating plasmids or recombinant proteins. Depending on the experiment, sample volumes can be quite variable and range from a few milliliters to several liters of culture.

Intelligent design, fewer working steps
With the new high-speed models Centrifuge CR22N and Centrifuge CR30NX, Eppendorf has introduced a 1.5 liter bottle. Its smart triangular design allows efficient pelleting without the need for a minimum fill volume as is required for conventional centrifuge bottles. In addition, the maximum fill volume of 1.5 L helps reduce the number of steps involved, particularly in the case of large batches – thus potentially saving up to 32 % of time during sample processing. If even larger batch volumes are to be processed, flow-through rotors may be able to replace centrifuge bottles entirely.
For further downstream processing of isolated samples, including nucleic acids, proteins, protein complexes, vesicles, and viruses, ultracentrifugation is often employed. In order to help users with their ultracentrifugation needs, we have recently expanded our centrifuge portfolio; we now offer centrifugation solutions for an even broader application spectrum, with speeds up to 150,000 rpm (1,050.000 x
g
). These centrifuges deliver maximum quality with optimal performance and persuasive ease of use. Their intuitive operation and high tolerance for imbalance, together with the innovative Rotor Life Management, will enable also less experienced users to safely operate the instruments with minimum training time.

A holistic solution
Naturally, your daily laboratory routine does not consist exclusively of sample separation. Preliminary work steps, for example, cell cultivation in shakers, incubators and/or fermenters, are also immensely important. The selection of the right equipment can always ease your daily routine to a significant degree. The Application Note 1-2 in
BioNews issue 57
will demonstrate our holistic solution to you via an example which spans the complete processing range, from bacterial cell culture to the functional protein.
More information on the "
Your Centrifuge Solutions
" website or in our
White Paper 64 "Unique 4 x 1.5 L Capacity Rotor for High-Speed Centrifuges CR22N and CR30NX"