text.skipToContent
text.skipToNavigation
You are about to leave this site.
---
Please be aware that your current cart is not saved yet and cannot be restored on the new site nor when you come back. If you want to save your cart please login in into your account.
Contact our Experts
Trust our expertise to find the right customized solution for you.
Eppendorf OEM Brings Innovation
to Customization
You can have anything, when it's Original Eppendorf Made
If you're struggling to find what you need in an off-the-shelf product, our talented OEM team is here to help.
Our proven expertise and innovation capability mean we can adapt your favorite consumables to meet your exact specifications.
With you every step
Our OEM specialists work with you at eye-level, expert-to-expert, all the way from initial brief and prototype to the commercial production of your high value plastic consumables.

At every stage, you'll find our recommendations are focused on building-in reliability, profitability and ease, to support your real-world IVD and diagnostic needs:
Material selection
Process refinement
Global market compliance
Worldwide logistics
Vertically-integrated supply chains

That's OEM done right, that´s Original Eppendorf Made.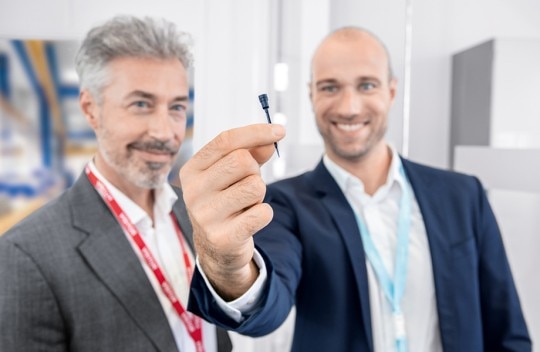 Customized solutions and OEM – small changes make the difference
Eppendorf consumables are a synonym for quality and precision thanks to years of experience, innovations and most advanced manufacturing technologies. With our Customized Solutions we offer customized tips, plates and tubes tailored to your needs.
Get in touch
To begin taking advantage of Eppendorf Consumables, please contact us.
Your Benefits when Partnering with Eppendorf OEM
With Eppendorf OEM, you'll benefit from our decades of experience in the manufacture of premium-quality components as well as our deep scientific domain understanding. Benefit from our experience and infrastructure to manufacture high quality consumables meeting your requirements. Our experience is your benefit.
Our Experience is Your Benefit
ISO-certified for your confidence

Eppendorf is certified according to world recognized and accepted ISO 9001, 13485 and 14001 standards.This gives you the confidence that all processes in product design, manufacturing and marketing are defined and monitored in order to ensure consistent products and services.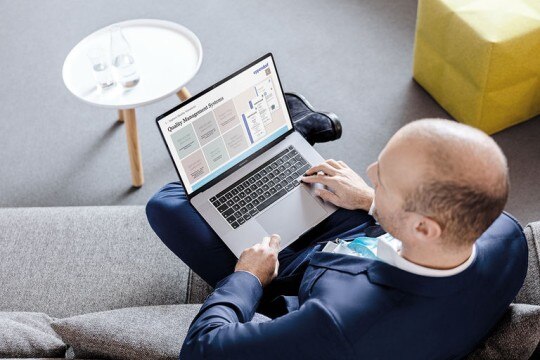 IVD-readiness and compliant documentation and processes
The number of standards, guidelines and regulations that apply biological, diagnostic and industrial laboratories are constantly increasing and thus the need to provide proof of compliance with these requirements.
What we offer:
Full documentation of your product requirements and specifications
Documentation of performance testing
Protocols of validation run
And many more – please contact us to verify your requirements
Case Study: More Than 25 Years of Partnership – Trust Our Expertise


Discover how Eppendorf OEM experts worked with the market-leader in laboratory automation to develop a win-win business model and 25-year partnership. Trust Our Expertise.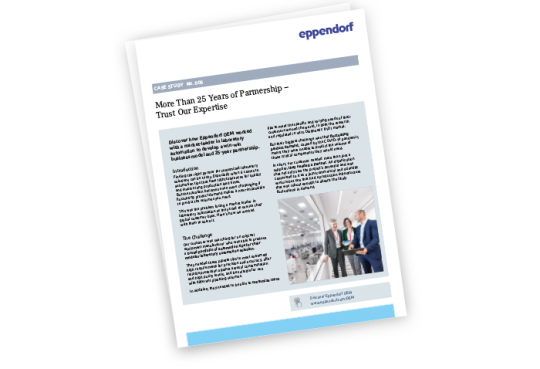 1. What means OEM at Eppendorf?‌
OEM means a private label, either custom or a standard product with customer specific requirements, likely to include a customer logo or trademark. But it also means excellent service, cooperative partnership at eye-level, to benefit from high tech, digital clean-room production and long-term partnering.
2. Are all OEM products custom-made?‌
Eppendorf OEM products are created specifically according to customers requirements but they are not necessarly fully customized. For example, a customer can have a serial twin-tec plate with their own logo.
3. What is the minimum quantity for OEM products?‌
Get in touch with our OEM experts to find the best solution for your project.
4. Does Eppendorf OEM have 510k for standard OEM products?‌
Eppendorf OEM does not supply 510k cleared products but can supply products for the purpose of a 510k submission. These are sold to customers as subcomponents of diagnostic tools. Eppendorf OEM can create IVD-ready products for use in clinical applications.
5. How is documentation secured?‌
As Eppendorf OEM manufactures multiple products under ISO 13485 and ISO 9001; good documentation practices in conjunction with our quality management system ensures compliance for customers looking to provide instruments or consumables into regulated markets.
6. What kind of documentation do you offer?‌
Depending on the product, full Design History Files (DHF) and Device Master Records (DMR) can be provided as part of a customers FDA submission. As this is heavily product dependent our experts will check and discuss the requirements with our customers upfront.
7. Does Eppendorf OEM offer IVD products?‌
Eppendorf OEM can supply IVD-ready products but cannot provide IVD approved products for OEM purpose.

8. What means scalable production for Eppendorf OEM?‌
Eppendorf OEM is expert in producing huge quantities (seven billion pieces a year) and is able to adjust to customer needs.
9. Do I have the power over my product and its components?‌
With an OEM product from Eppendorf, the customer has a great deal of control over the manufacturing and life span of the product. One of the biggest values is ensuring control over the materials (raw materials, coatings, components, etc.) and also timing of these manufacturing changes. An OEM product allows both the OEM customer and Eppendorf the critical time needed to manage product changes as they arise.
10. How does Eppendorf OEM ensure high quality?‌
Eppendorf OEM´s manufacturing facility is fully automated. This allows the production facility to place high quality optics and laser measurements to ensure each piece is made to the correct specifications. Additionally, Eppendorf OEM maintains specific know-how around high precision, high cavity and injection tools/molds. This allows us to ensure high precision manufacturing.
11. Can I do private labels with Eppendorf OEM?‌
Eppendorf OEM has the ability to provide private label versions of not only off the shelf products but can develop fully customized consumables and in certain cases customized instruments.