text.skipToContent
text.skipToNavigation
You are about to leave this site.
---
Please be aware that your current cart is not saved yet and cannot be restored on the new site nor when you come back. If you want to save your cart please login in into your account.
Regarding suitability of Eppendorf bioprocess equipment in GMP-regulated applications, please reach out to your Eppendorf sales representative.
Monoclonal Antibody Production
基于单克隆抗体的免疫疗法是一个不断发展的主流行业,人们开发出了靶向抗癌药物等一系列有前景的治疗方法。为了保持竞争力,该行业必须提高生产效率和成本效益,同时提高质量和浓度。Eppendorf致力于帮助您优化单克隆抗体(mAb)生产的生物工艺。
单克隆抗体是一种基因工程分子,旨在充当替代抗体,并恢复、改善、改变或模拟免疫系统对癌细胞等恶性细胞的防御机制。最初,人们将无限增殖的骨髓瘤细胞与产生抗体的B细胞融合,来制备产生单克隆抗体的杂交瘤细胞。如今,中国仓鼠卵巢(CHO)细胞经常被用作表达系统。在细菌或酵母中生产抗体速度更快,但也存在与糖基化相关的挑战。
在我们的信息图中了解更多关于抗体生产的信息。
mAb研发工作流程
抗体开发并非没有挑战。研究团队面临着不断增加的压力,需要在严格的时间和预算限制内开发出高质量的治疗方法。因此,优化单克隆抗体生产过程的每个步骤至关重要,从转染到克隆筛选,再到过程控制和放大。从筛选候选细胞系到放大规模,Eppendorf可为您优化和调控抗体产率和质量所需的工具、专业技术和知识,帮助您保持竞争优势。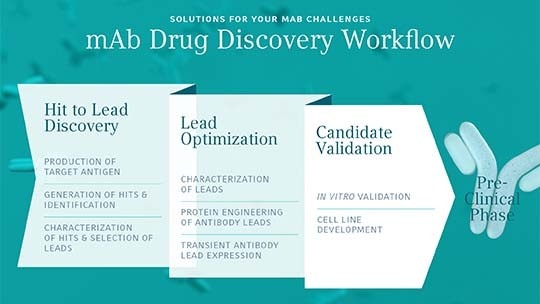 客户案例
了解我们的客户如何使用Eppendorf生物工艺设备生产单克隆抗体。