text.skipToContent
text.skipToNavigation
You are about to leave this site.
---
Please be aware that your current cart is not saved yet and cannot be restored on the new site nor when you come back. If you want to save your cart please login in into your account.
Bioprocessing Scale Up
Bioprocessing scale up involves the increase in working volumes from small scale through to production scale. During scale up it is desirable to reproduce the process performance, which has been optimized at small scale, at larger scale, ideally without much need for process optimization at large working volumes. This requires reproducing the cells' or organisms' growth environment across scales. Several factors play a role in a reliable bioprocess scale up. Kinetics and thermodynamics are virtually unaffected by the reaction volume. However, the mass transfer within a process is highly dependent on the scale. On this page you can learn more about the parameters to control during bioprocessing scale up, as well as several strategies to ensure maximum efficiency and product quality is maintained.
Moving to a bioreactor
On this page we focus on bioprocessing scale up from small to large bioreactors. If you are currently cultivating your cells or organisms in shake flasks or dishes, this first requires a process transfer from shakers or incubators to bioreactors. Interested in how to move from shaker to bioreactor?
Bioprocess scale up strategies
An established strategy when transitioning to larger working volumes is to monitor and control a single parameter. However, keeping one process parameter constant will change others; therefore, the cells' growth environment can only be partly reproduced at different scales. Bioengineers must identify the parameters which influence cell growth and productivity most, to decide, which scale up strategy is the most suitable. Although bioprocessing scale up strategies that control several criteria are the most powerful, those that control singular parameters can still be effective, and are historically the most widely used due to their simplicity. Common singular parameters to control include: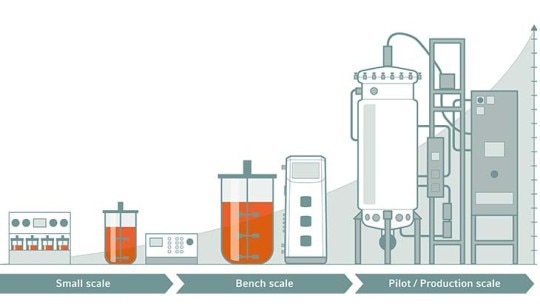 Constant power input per liquid volume‌
Definition:
The power input per liquid volume (P/V) is calculated as follows:P/V = (Np x ρ x N
3
d
5
)/V, with
Np: the impeller power number (also known as Newton number),
ρ: DI water density (kg/m3 ),
N: agitation speed (rps),
D: impeller outer diameter (m)
V: full working volume (m3 ).
The impeller power number (Np) is a dimensionless number associated with different types of impellers and needs to be determined for each bioreactor type used in the scale up workflow.
How P/V influences the bioprocess: Keeping the power input per volume constant is probably the most widely applied strategy for scale up, because the mechanical shear stress, mixing quality, oxygen mass transfer, and carbon dioxide extraction in aerobic cultivations all depend on the specific power input. Impellers with a higher Np can still operate at lower speeds for effective mixing, which minimizes shear stress on the cells.

How to calculate P/V:
The constant P/V method requires only a single constant to be measured: the power number (Np). A bioreactor's Np is typically experimentally determined. The Eppendorf applications team has determined the power numbers for many Eppendorf bioreactors following a
recommendation provided by the DECHEMA®
and provides the values to its customers.
Definition: The impeller tip speed equals π x d x N, with

D: impeller outer diameter (m)
N: agitation speed (rps)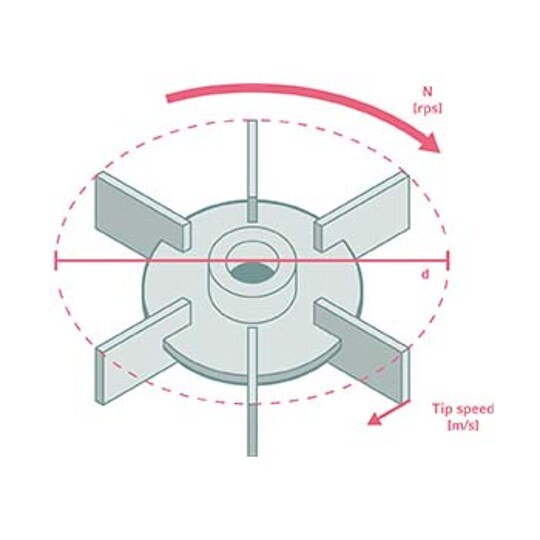 How the tip speed influences the bioprocess: The impeller tip speed correlates with the velocity of the fluid at the tip of the impeller. Therefore, it is related to the shear force to the cell or biologic. Impeller tip speed furthermore influences mixing time and oxygen transfer as well as how cells are kept in suspension. Keeping the tip speed constant maintains a relatively constant shear force level, but it may reduce mixing-time performance in large-scale vessels. Increasing the impeller tip speed can be used to improve mixing when scaling up. However, this can increase shear stress, and should therefore be limited in cultures with increased sensitivity such as mammalian cells.
How to calculate tip speed: The tip speed range of a bioreactor can be easily calculated from the impeller outer diameter and the agitation speed range, which are known from the bioreactor specifications.

Definition: The volumetric mass transfer coefficient kLa influences how much oxygen is transferred to the culture medium.

How the kLa influences the bioprocess: Keeping the kLa constant across scales often results in constant yields as the oxygen uptake is often proportional to biomass under optimal growing conditions. Being able to reproduce the kLa of the small-scale bioreactor at larger scale is a prerequisite to avoid oxygen being a limiting factor for cell growth.

How to determine k
L
a:
The kLa depends on various parameters, including the gas flow rate, the sparger type, the agitation speed, and properties of the culture medium. Hence, it depends on the operating conditions and keeping the k
L
a constant across scales is labor intensive: k
L
a values under many conditions need to be measured and determination of k
L
a in real-time may be required. The bioreactor k
L
a can be determined following a
protocol
recommended by the DECHEMA
®
expert group for single-use technology in biopharmaceutical manufacturing.
Definition: The mixing time describes, how long it takes to homogeneously distribute liquids or gasses, which are added to the culture medium, such as pH agents and feed solutions.

How the mixing time influences the bioprocess: Keeping the mixing time constant when scaling up ensures a homogeneous supply of nutrients, gasses, and heat through the culture, to maintain high productivity and product quality. In larger bioreactors, mixing can be less efficient and result in patchy distribution of key substrates like oxygen and glucose. Mixing times can be reduced with improved agitation, which can be achieved using optimized vessel and impeller geometry and impeller power.

How to determine mixing time: Various parameters, among others the agitation speed and impeller type, influence the mixing time. The mixing time needs to be experimentally determined.
Scale-up strategies: recommended resources
Watch our webinar to find out more about bioprocess scale up strategies and how we scaled-up a cell culture bioprocess from 3 L to 40 L.
Read in our application note , how we investigated scale up-relevant engineering parameters for differently sized fermentors, including power numbers, tip speed range, and oxygen transfer capabilities.
Which factors are relevant during bioprocessing scale up?
As depicted above, a tailored scale up strategy is needed to reproduce product yield and quality in an upstream bioprocess across scales. Various other factors need to be considered as well while scaling-up, including space requirements in the lab, staff training, equipment choice, and scaling-up the downstream process. In this panel discussion, industry experts from Eppendorf and other companies share their thoughts on scale up challenges from an economical, operational, and application-related point of view.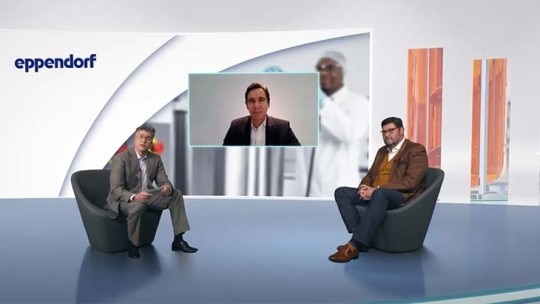 Eppendorf products for powerful bioprocessing scale up
With a portfolio of bioreactor systems, Eppendorf products can help you transition cell culture and microbial bioprocesses from small to pilot production scale, using single-use or reusable bioreactors.
The Eppendorf range of bioreactor systems:
Cell culture scale up
For cell culture scale up Eppendorf offers scalable solutions from 100 mL to 2000 L.
Single-use bioreactors: The BioBLU® c Single-Use Bioreactor portfolio covers working volumes from 100 mL to 40 L. To make the progression from bench-scale to production-scale, the BioFlo® 720 is a bioreactor control system which is compatible with Thermo Scientific™ HyPerforma™ 5:1 Single-Use Bioreactors with working volumes up to 2000 L.
Glass bioreactors: Eppendorf glass bioreactors for cell culture applications cover working volumes from 60 mL to 10.5 L and are compatible with the small and bench scale Eppendorf bioprocess systems .
Sterilize in place systems: The CelliGen 510 bioreactor control system covers working volumes from 10.5 L to 32 L.
Fermentation scale up
For fermentation scale up Eppendorf offers scalable solutions from 60 mL to 2400 L.
Scalable portfolio
The Eppendorf applications team has determined scale up-relevant parameters, like OTR and k
L
a, impeller power numbers, tip speed range, and vessel geometries for many of its bioreactors and makes them available to smoothen bioprocess scale up. The
BioFlo® 320
and
BioFlo® 720
bioreactor control systems include a
Scale up Assist
feature that automatically calculates the parameter changes needed for various vessel sizes.
How our customers use our products
Find some application examples of how the Eppendorf bioprocess products were used for bioprocessing scale up and scale down.