text.skipToContent
text.skipToNavigation
You are about to leave this site.
---
Please be aware that your current cart is not saved yet and cannot be restored on the new site nor when you come back. If you want to save your cart please login in into your account.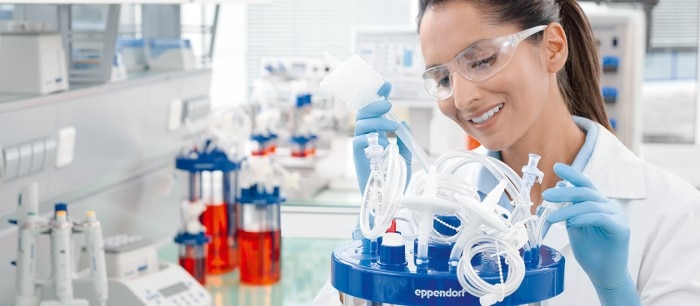 Bioprocess Development for Biosimilar Production
Establishing robust upstream bioprocesses and scaling them up to larger volumes are critical steps in biosimilar development. We have talked with Yunsun Song and Barry Crowley from the Process Technology and Innovation team at Alvotech®. In the interview they shared insights on which process parameters are key to ensure consistent product quality and how automation can make the scientists' lives easier.
Q: Please tell us a bit about Alvotech
A: Alvotech is a fully integrated specialty biopharmaceutical company, focused exclusively on the development and manufacturing of high-quality biosimilar products for global markets. We are specialists in biosimilar product creation, all along the workflow from cell line development to commercial manufacturing.

Within Alvotech, there is Process Technology and Innovation (PTI) team located in Juelich/Germany and Reykjavik/Iceland. We focus on media development, process intensification, process automation and digitalization. We would like to ensure that Alvotech is innovative by leveraging new and emerging technologies, by translating them into commercial value. Furthermore, we would like to intensify our processes as much as possible to reduce time, decrease costs and reduce facility footprint. All technologies and innovative new process setups can be scaled to our PTI own 50 L or 250 L pilot plant facility.


Q: At Alvotech you cover all process stages from process development to manufacturing. Can you explain us, which working volumes are typically needed for biosimilar production at the different stages of the development process?
A: We generally run 15 mL to 10 L bioreactors for media development and process development at R&D. At pilot scale we have the capacity to run production at 10 L, 50 L, and 250 L scale, utilizing the Eppendorf BioBLU® 10 L and 50 L Single Use Bioreactors for various projects depending on material and project requirements. Generating enough material to facilitate downstream process development activities is key to evaluating the scale of production for a given product.


Q: In your experience, which are the critical parameters to look at in upstream bioprocess development to ensure consistent product quality?
A: We measure viable cell density, titer, osmolality, and metabolites from off-line samples or through in-line PAT solutions. Bioreactor parameters such as pH, DO, agitation, and temperature are also controlled to keep the favored environment for cells. Power input and gassing strategy are the most critical parameters for scale-up since DO control might work differently across scales.

Other key parameters that would also be in consideration during process development is the feeding strategy for a particular product, as well as specifications for media and feed preparation. Filter sizing and capacity for the harvest process is also evaluated as are storage conditions and hold time of harvest material.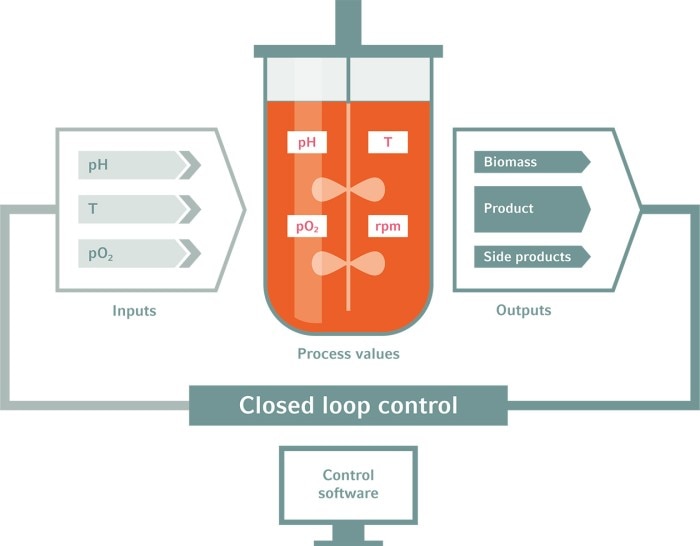 Q: In your experience, which are the main challenges during process scale-up?
A: With different equipment set up at different scales, it is hard to estimate the performance, operating ranges and product quality due to not only different hardware design such as different dimensions, different materials, sparger and impeller types, but also different control software systems. Proper scale-down models need to be investigated and validated.

Furthermore, in the current environment lead times for materials required is a major challenge, as development groups have smaller material requirements, the purchasing power is not what a manufacturing group would be.


Q: Biopharma 4.0 became a buzz word in the last years. In your opinion, which developments in process and data analytics and process automation will gain importance in upstream bioprocessing in the coming years?
A: Process analytical technology tools which can monitor and adjust important parameters with feedback control with other equipment in the bioreactor during the entire process run time would be beneficial. Additionally, removing all the manual work such as data management and integration will make scientists' and operators' lives easier.