text.skipToContent
text.skipToNavigation
You are about to leave this site.
---
Please be aware that your current cart is not saved yet and cannot be restored on the new site nor when you come back. If you want to save your cart please login in into your account.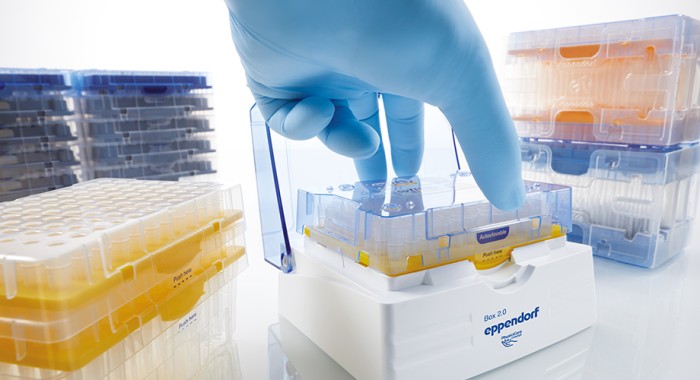 Save Plastic, Stay Safe
Pipette Tips

Vessels

Safety & Biosafety

Lab Routine

Essay
Despite the quest for sustainability, the safety of both the scientist and the samples remains paramount in the laboratory. Although there are good initial ideas, lab waste can still not be recycled efficiently at this time because, for example, regulatory requirements stipulate that it be disposed of as biohazardous waste. How can one at least reduce this type of waste?
This article appeared first in BioNews, Eppendorf's customer magazine since 1993.
In many laboratories, there is no way around disposable tips and tubes, which creates large amounts of biologically or chemically contaminated plastic waste. Innovative recycling concepts are still a long time coming; however, through clever product selection, you can start reducing the amount of plastic used in the laboratory today.
Specific examples
Reload pipette tips: for the past two decades, our epT.I.P.S.® refill system consisting of box and reloads has already been available as a plastic-saving refill system. More about our all-round optimized epT.I.P.S. Box 2.0 at www.eppendorf.com/epTIPS-News
In many cases, a vessel with a smaller volume is sufficient! Changing from 15 mL to 5 mL or from 50 mL to 25 mL reduces plastic waste by half and doubles the storage capacity in the ULT freezer. More information at www.eppendorf.com/5mL and www.eppendorf.com/25mL

A final suggestion
Any object that comes into contact with the bench surface in the laboratory is to be considered contaminated. This risk of contamination also jeopardizes the recycling of packaging material. For this reason, products such as tip boxes should be separated from the packaging material in such a way that they remain "clean". After all, cardboard, plastic lids or bags are valuable raw materials. Collect them in the appropriate collection bins at your organization.