text.skipToContent
text.skipToNavigation
You are about to leave this site.
---
Please be aware that your current cart is not saved yet and cannot be restored on the new site nor when you come back. If you want to save your cart please login in into your account.
UVette® 220 nm – 1,600 nm
Product Information
original Eppendorf plastic cuvette, individually packed, (including RNase-free, DNase-free) and protein-free
PCR clean, 50 – 2,000 µL, 80 pcs.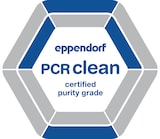 | Specifications | Eppendorf UVette® |
| --- | --- |
Volume range

50 – 2,000 µL

Purity grade

PCR clean

Packaging

80 pcs.

Dimensions (W × D × H)

12.5 × 12.5 × 36 mm / 0.49 × 0.49 × 1.42 in

Colorimetric protein assays

yes

Fluorescence measurements

yes

Light transmission

220 nm – 1,600 nm

Maximum filling volume

2000 µL

Height of light source

8.5 mm1)
Use in Eppendorf BioPhotometer®
yes
Use in Eppendorf BioSpectrometer®
yes

OD 600 methods

yes

Temperature control

no

Wavelength range

220 – 1,600 nm

Sample light path length (mm)

2 mm and 10 mm

Cuvette blank

≤0.5 A at 260 nm

No. of optical windows

4

Material

UV-transparent plastic

dsDNA concentration range (UV 260 nm)

2.5 ng/µL – 750 ng/µL

BSA concentration range (UV 280 nm)

76 ng/µL – 22,725 ng/µL

Minimum filling volume

in Eppendorf photometers

50 µL

in devices of other manufacturers

50 µL
1)adapters available for height adjustment
individually packaged
PCR-clean and protein-free quality
UV transparent plastic, free of fluoropolymers and other halogenated hydrocarbons
Two built-in optical path lengths in a single cuvette - just turn the UVette 90° to change from 10 mm and 2 mm
Volume markings for 500 µL and 1,000 µL
Individually packaged and certified PCR clean and protein-free quality for sensitive (e.g. RNA) and valuable samples
Deep-lying optical window prevents scratches
Tapered cuvette base for optimal filling, frosted grip for labeling
Ideal for use in the Eppendorf BioPhotometer and Eppendorf BioSpectrometer, adapters available for use with other common spectrophotometers
Routine pack for convenient access to each UVette and safe storage in a reclosable box
Downloads: UVette® 220 nm – 1,600 nm