text.skipToContent
text.skipToNavigation
You are about to leave this site.
---
Please be aware that your current cart is not saved yet and cannot be restored on the new site nor when you come back. If you want to save your cart please login in into your account.
Combitips® advanced - Positive Displacement Pipette Tips
Single Devices (34)
Accessories (5)
Spare Parts (4)
Added to Your Cart
Product Information
Technical Data
Applications
Features
Your tip of choice when working with Multipette® multi-dispenser pipettes from Eppendorf
Thanks to their revolutionary design, Combitips advanced dispenser tips provide you with many benefits for work in a modern laboratory. With an integrated piston, they function according to the positive displacement principle and ensure that the correct volume of liquid is dispensed regardless of the physical properties of the liquid you work with (e.g., viscosity, volatility, density, temperature). You can therefore achieve high-precision dispensing, independent of the flow characteristics of the liquid, and safely work with radioactive or toxic materials due to the hermetically sealed piston that prevents aerosol contamination.
Eppendorf pioneered the Multipette/Combitips multi-dispenser system in 1978 and improved it several times since. It was the very first pipetting system allowing users to fill the tip once and dispense multiple times. The concept remains a driver for efficient liquid handling and a staple in many labs working with plates or series of tubes. In 2023, the Combitips advanced pipette tip line-up has been certified with ACT® Environmental Impact Factor Labels by the My Green Lab® non-profit organization, making it the ideal choice for labs looking for more sustainable products.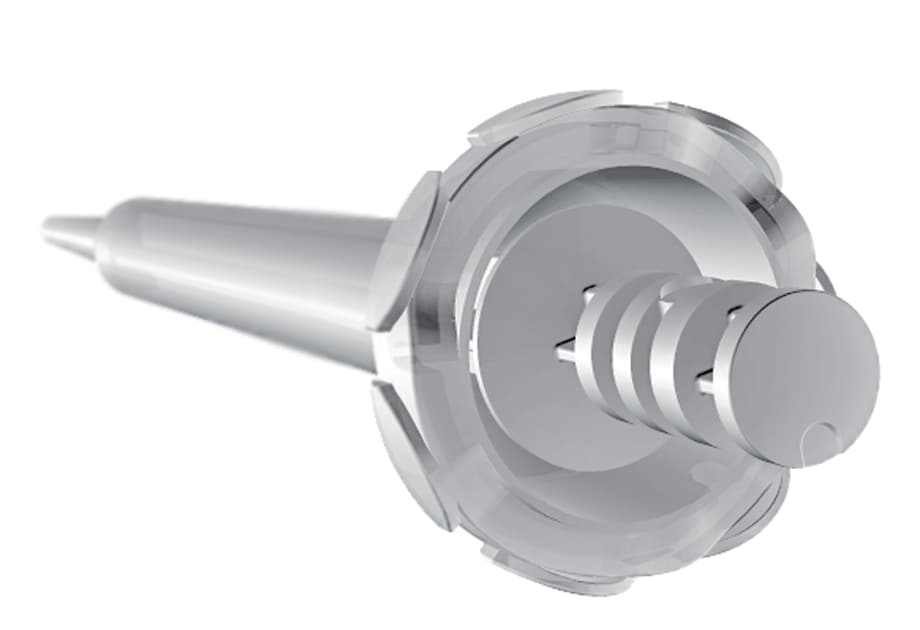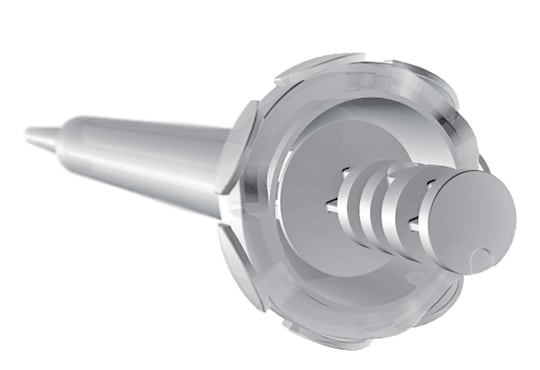 How can you recognize an original Combitip from Eppendorf?

Unmistakeably Eppendorf: All original Combitips advanced feature a "ring" of drop-shaped relief elements on the edge of the tip crown.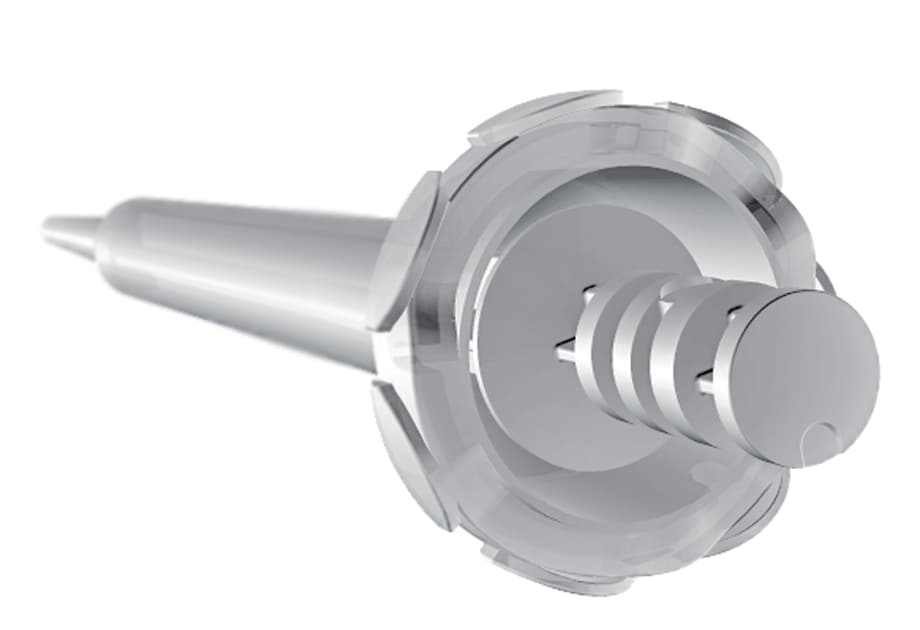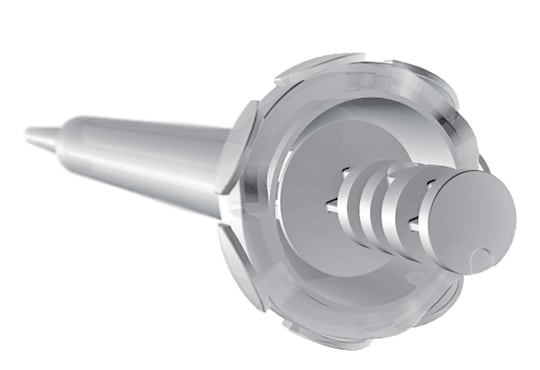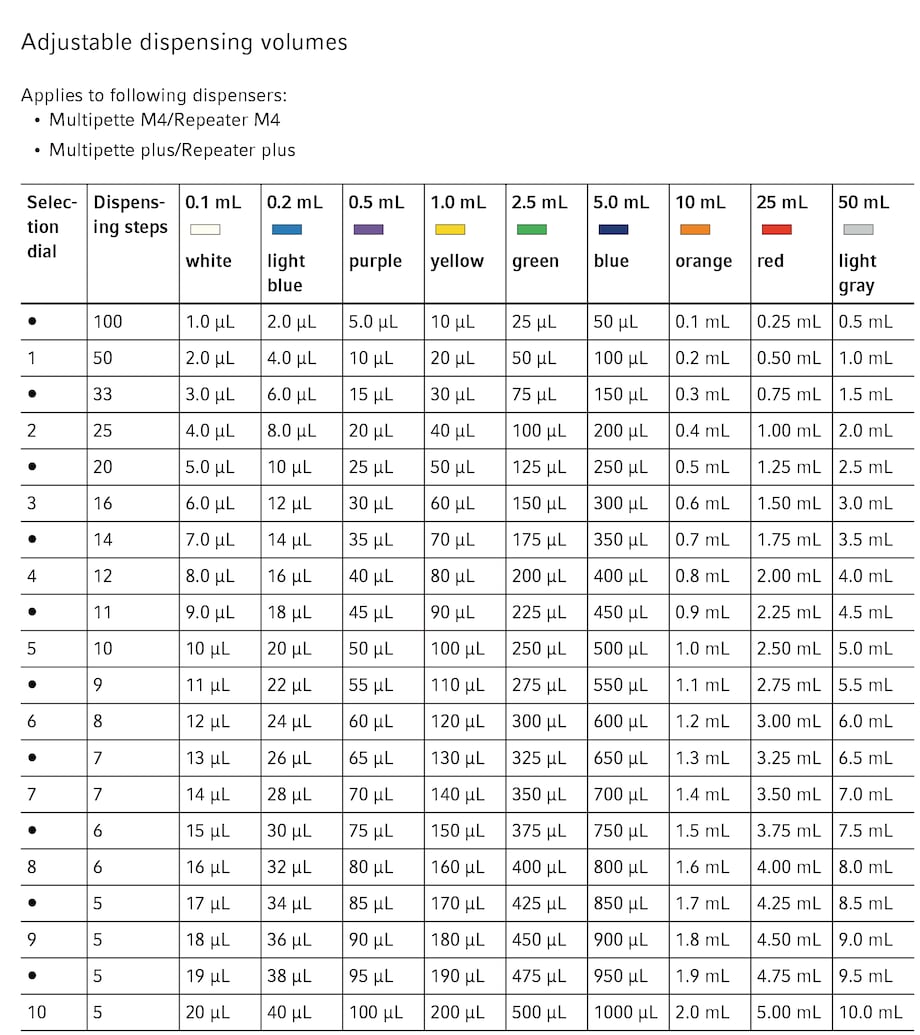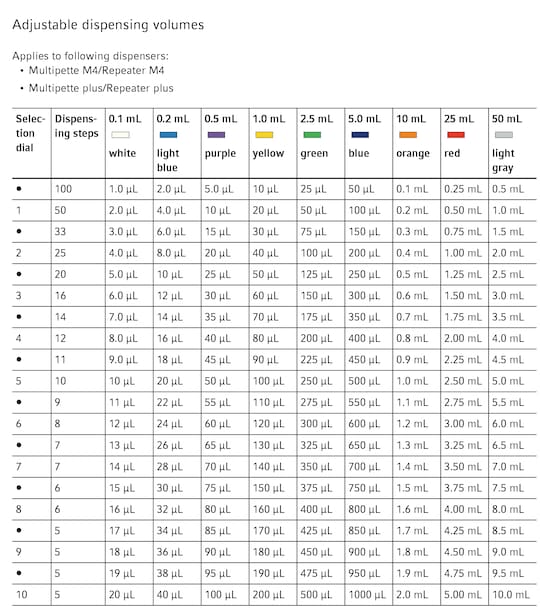 Adjustable dispensing volumes with Multipette M4 multi-dispenser pipettes

All Multipette multi-dispenser pipettes from Eppendorf work in perfect harmony with Combitips advanced positive displacement pipette tips. You can easily choose from a variety of dispensing volumes in the range of 1 µL to 10 mL, depending on the Combitips advanced tip used. For each Combitips advanced tip, 20 different dispensing volumes can be set. Depending on the volume required, 5 to 100 dispensing steps can be carried out with a Combitips advanced tip that is filled to full capacity.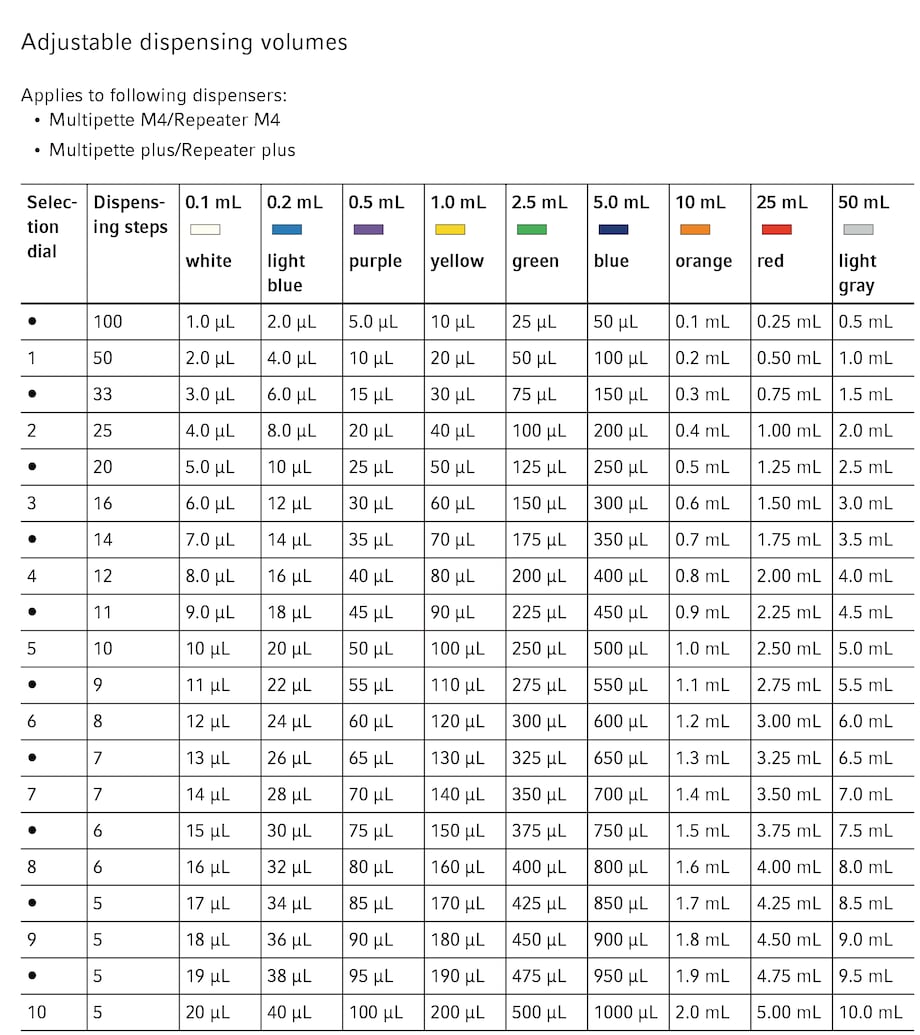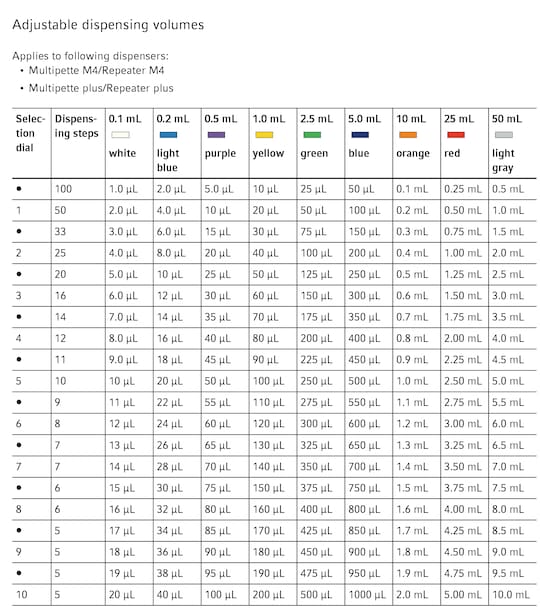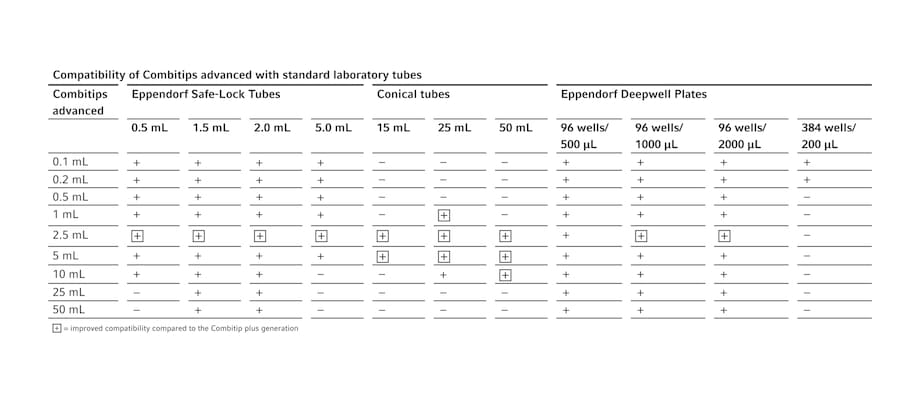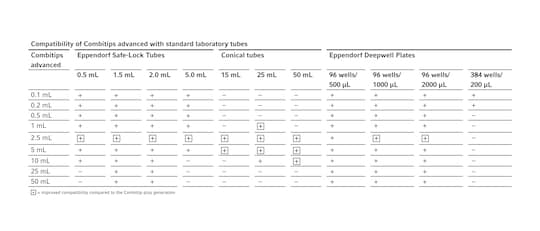 Compatibility of Combitips® advanced with standard laboratory tubes

Elongated Combitips® advanced (2.5 mL, 5 mL, and 10 mL) enable the complete emptying of all common tubes and prevent sample loss.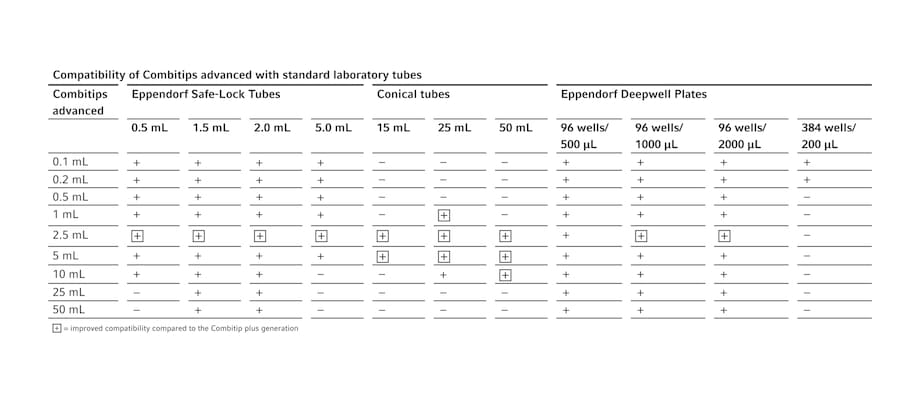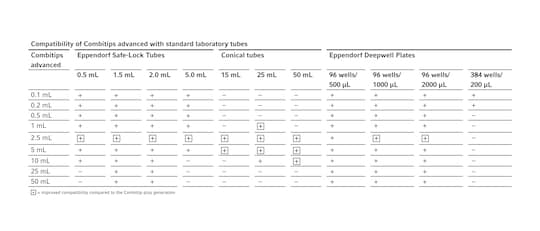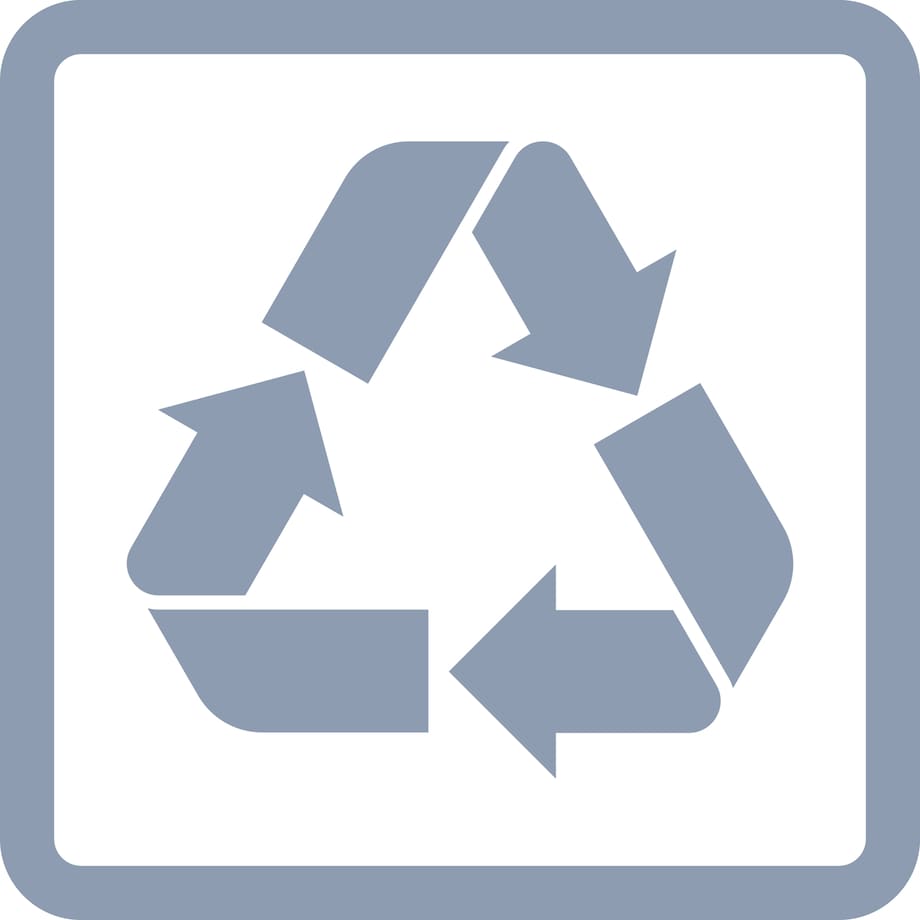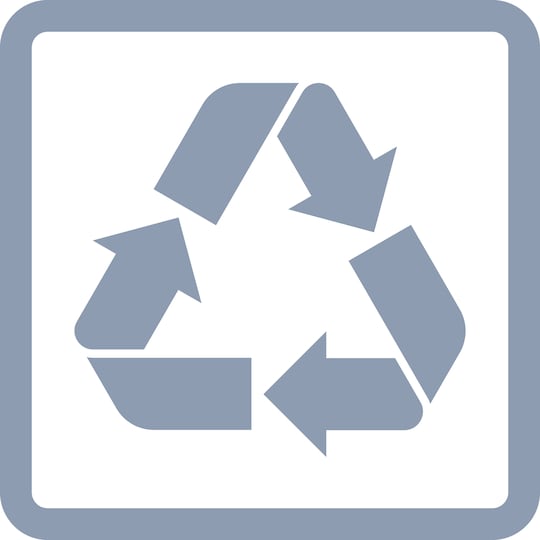 Disposal of packaging material and used Combitips advanced dispenser tips

The packaging of Combitips advanced dispenser tips contains cardboard and blister material as well as wrapping foils made of plastic. Combitips are shipped in packaging that contains at least 92 % recycled cardboard. Please support the global sustainability initiative of recycling valuable raw material by collecting the cardboard and disposing of it in appropriate recycling containers. In respect to the plastic packaging made of Polyamid (PA) and Polyethylene (PE), we recommend to select a dedicated recycling partner where PA and PE can be recycled.

After usage, the Combitips advanced dispenser tips may be contaminated and can pose a biohazard, chemical hazard, or even nuclear hazard. Hazardous (or "critical") lab waste can usually not be recycled and must be burned in many countries due to legal restrictions. To reduce the amount of critical plastic waste, you should use at least two waste containers: One for critical waste and one for non-critical waste. The exact definition of these two groups may depend on local regulations and should be communicated/trained in your lab accordingly. For further local waste recycling options please contact your biosafety officer and your local waste management. We recommend you work with a certified local recycling partner with experience in handling of lab waste.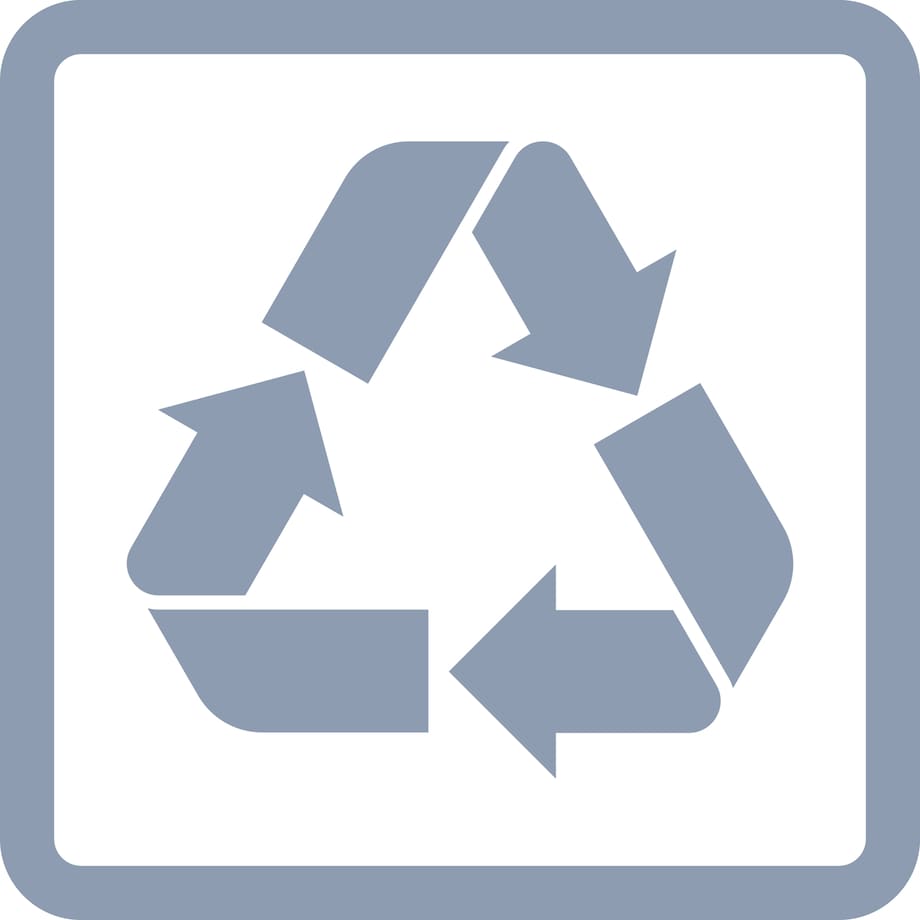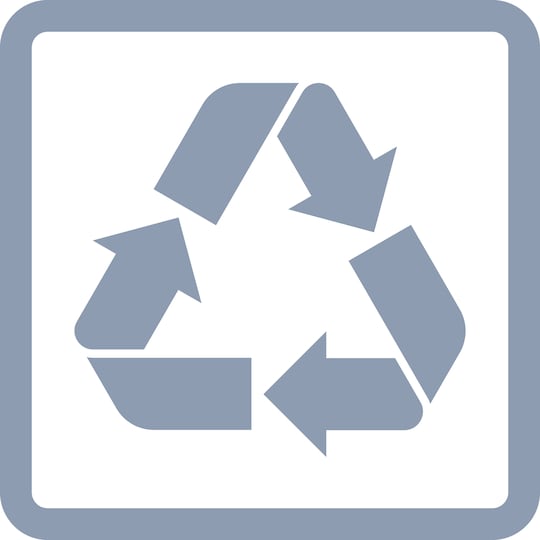 | Specifications | Combitips® advanced - 0030089405 | Combitips® advanced - 0030089766 | Combitips® advanced - 0030089618 | Combitips® advanced - 0030089413 | Combitips® advanced - 0030089774 | Combitips® advanced - 0030089626 | Combitips® advanced - 0030089421 | Combitips® advanced - 0030089782 | Combitips® advanced - 0030089634 | Combitips® advanced - 0030089430 | Combitips® advanced - 0030089790 | Combitips® advanced - 0030089642 | Combitips® advanced - 0030089855 | Combitips® advanced - 0030089448 | Combitips® advanced - 0030089804 | Combitips® advanced - 0030089650 | Combitips® advanced - 0030089863 | Combitips® advanced - 0030089456 | Combitips® advanced - 0030089812 | Combitips® advanced - 0030089669 | Combitips® advanced - 0030089871 | Combitips® advanced - 0030089464 | Combitips® advanced - 0030089820 | Combitips® advanced - 0030089677 | Combitips® advanced - 0030089472 | Combitips® advanced - 0030089839 | Combitips® advanced - 0030089685 | Combitips® advanced - 0030089480 | Combitips® advanced - 0030089847 | Combitips® advanced - 0030089693 |
| --- | --- | --- | --- | --- | --- | --- | --- | --- | --- | --- | --- | --- | --- | --- | --- | --- | --- | --- | --- | --- | --- | --- | --- | --- | --- | --- | --- | --- | --- | --- |
Product type

Consumables
Consumables
Consumables
Consumables
Consumables
Consumables
Consumables
Consumables
Consumables
Consumables
Consumables
Consumables
Consumables
Consumables
Consumables
Consumables
Consumables
Consumables
Consumables
Consumables
Consumables
Consumables
Consumables
Consumables
Consumables
Consumables
Consumables
Consumables
Consumables
Consumables

Pipetting type

Positive displacement system
Positive displacement system
Positive displacement system
Positive displacement system
Positive displacement system
Positive displacement system
Positive displacement system
Positive displacement system
Positive displacement system
Positive displacement system
Positive displacement system
Positive displacement system
Positive displacement system
Positive displacement system
Positive displacement system
Positive displacement system
Positive displacement system
Positive displacement system
Positive displacement system
Positive displacement system
Positive displacement system
Positive displacement system
Positive displacement system
Positive displacement system
Positive displacement system
Positive displacement system
Positive displacement system
Positive displacement system
Positive displacement system
Positive displacement system

Tip size

0.1 mL
0.1 mL
0.1 mL
0.2 mL
0.2 mL
0.2 mL
0.5 mL
0.5 mL
0.5 mL
1.0 mL
1.0 mL
1.0 mL
1.0 mL
2.5 mL
2.5 mL
2.5 mL
2.5 mL
5.0 mL
5.0 mL
5.0 mL
5.0 mL
10 mL
10 mL
10 mL
25 mL
25 mL
25 mL
50 mL
50 mL
50 mL

Color code

white
white
white
light blue
light blue
light blue
violet
violet
violet
yellow
yellow
yellow
yellow
green
green
green
green
blue
blue
blue
blue
orange
orange
orange
red
red
red
light gray
light gray
light gray

Tip color

colorless tips
colorless tips
colorless tips
colorless tips
colorless tips
colorless tips
colorless tips
colorless tips
colorless tips
colorless tips
colorless tips
colorless tips
colorless tips
colorless tips
colorless tips
colorless tips
colorless tips
colorless tips
colorless tips
colorless tips
colorless tips
colorless tips
colorless tips
colorless tips
colorless tips
colorless tips
colorless tips
colorless tips
colorless tips
colorless tips

Purity grade

Eppendorf Quality
PCR clean
Biopur®
Eppendorf Quality
PCR clean
Biopur®
Eppendorf Quality
PCR clean
Biopur®
Eppendorf Quality
PCR clean
Biopur®
Forensic DNA Grade
Eppendorf Quality
PCR clean
Biopur®
Forensic DNA Grade
Eppendorf Quality
PCR clean
Biopur®
Forensic DNA Grade
Eppendorf Quality
PCR clean
Biopur®
Eppendorf Quality
PCR clean
Biopur®
Eppendorf Quality
PCR clean
Biopur®

Packaging

100 pcs. (4 bags × 25 pcs.)
100 pcs. (4 reclosable bags × 25 pcs.)
100 pcs., individually blister-wrapped
100 pcs. (4 bags × 25 pcs.)
100 pcs. (4 reclosable bags × 25 pcs.)
100 pcs., individually blister-wrapped
100 pcs. (4 bags × 25 pcs.)
100 pcs. (4 reclosable bags × 25 pcs.)
100 pcs., individually blister-wrapped
100 pcs. (4 bags × 25 pcs.)
100 pcs. (4 reclosable bags × 25 pcs.)
100 pcs., individually blister-wrapped
100 pcs., individually blister-wrapped
100 pcs. (4 bags × 25 pcs.)
100 pcs. (4 reclosable bags × 25 pcs.)
100 pcs., individually blister-wrapped
100 pcs., individually blister-wrapped
100 pcs. (4 bags × 25 pcs.)
100 pcs. (4 reclosable bags × 25 pcs.)
100 pcs., individually blister-wrapped
100 pcs., individually blister-wrapped
100 pcs. (4 bags × 25 pcs.)
100 pcs. (4 reclosable bags × 25 pcs.)
100 pcs., individually blister-wrapped
100 pcs. (4 boxes × 25 pcs.), each box containing one adapter
100 pcs. (4 reclosable bags × 25 pcs.), each box containing one adapter
100 pcs. (4 bags × 25 pcs.), individually blister-wrapped, each box containing one adapter
100 pcs. (4 boxes × 25 pcs.), each box containing one adapter
100 pcs. (4 reclosable bags × 25 pcs.), each box containing one adapter
100 pcs. (4 bags × 25 pcs.), individually blister-wrapped, each box containing one adapter

Open system (third party consumables)

no
no
no
no
no
no
no
no
no
no
no