text.skipToContent
text.skipToNavigation
You are about to leave this site.
---
Please be aware that your current cart is not saved yet and cannot be restored on the new site nor when you come back. If you want to save your cart please login in into your account.

Categories
Remote Device Monitoring and Notifications (VisioNize®)
Discover our range of Mastercycler® PCR thermal cyclers – designed to suit your needs in nucleic acid amplification. Choose from the fast, high-precision Mastercycler X50, the versatile, cost-effective Mastercycler nexus or the Mastercycler X2 with two independently operating blocks for when space is limited.

Ensuring comfortable use, all cyclers are ergonomically designed according to the Eppendorf PhysioCare Concept® . They also feature a flexilid® to make sure that a wide range of different tubes and multiwell plates can be used without causing evaporation or other issues when closing the lid.

To improve throughput in the lab even further, all our PCR thermal cyclers are also available as simple, cost-effective eco-units. These can be easily connected to a Mastercycler PCR thermal cycler main unit to create a network that runs multiple assays independently from a single touch screen interface. X50 eco-units can also be controlled from your office using Cyclemanager X50 software.

Peltier elements matter
Peltiers are the component within a thermal cycler that are responsible for heating and cooling the metal block. The heat from the metal block will then be transferred into the chemical reaction within the plastic vessels. Almost all end-point PCR thermal cyclers in the market currently use peltier technology for heating and cooling.

Quality PCR peltiers last longer and will give better temperature performance. Third party assessment such as one done by the Fraunhofer Institute, a leading material research facility in Germany, would provide a more objective reference than peltier manaufacturers' specifications. Eppendorf thermal cyclers use peltiers from supplier that was first tested and verified by Fraunhofer Institute, then chosen from one of the two best performing peltier sources after vigorous selection.

Another critical point of consideration is how the peltiers are assembled in the block. In simplified engineering, a functional thermal block is made up of the metal aluminum/silver block on top, the peltiers in the middle and the heat sink at the bottom. These three parts needed to be fixed together.

The block design of Eppendorf Mastercyclers X50 uses a center fixing method and six individual circuit control technology for high temperature accuracy and homogeneity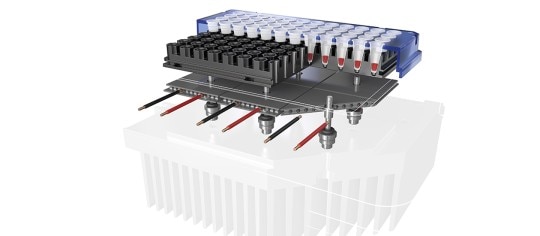 The next step of gradient PCR
the denaturation temperature should be as low as reasonable to denature template DNA and thus allowing efficient primer annealing and strand extension. At the same time, it should not be too high to prevent loss of enzyme activity since half-life of Taq DNA polymerases drastically reduce with increasing temperature. So, considering multiple temperatures during optimization of a PCR is beneficial via gradient. This is a technology where instead of giving the same temperature throughout the entire thermal block of a thermal cycler, each of the columns or rows in the block is made to have different temperatures. With it, you save much time and effort.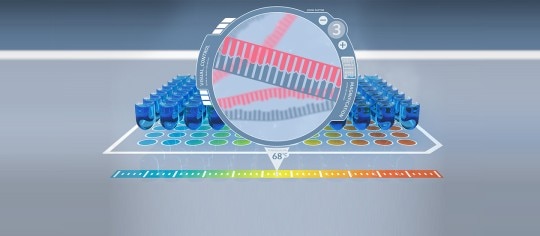 Application Note No. 289 – Straightforward PCR optimization and highly flexible operation on the dual block thermocycler Mastercycler® nexus GX2
Download the ApplicatioNote about optimization in a dual block cycler: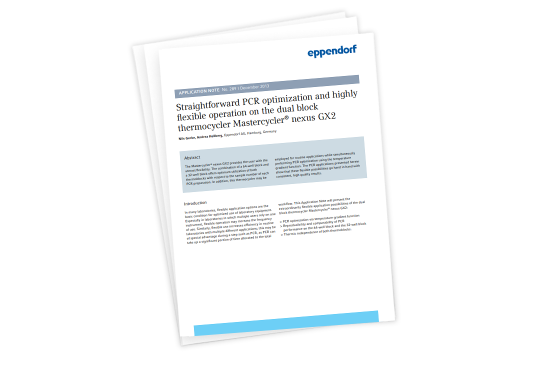 Struggling with paper-based documentation?
The eLABJournal Electronic Lab Notebook offers an intuitive and flexible solution to document research and track research data like BioSpectrometer–based values. Improve efficiency when documenting, organizing, searching, and archiving collected data. With the free eLABJournal add-ons, you can extend the functionality of eLABJournal to a fully integrated Laboratory Information Management System.Start a free 30-day trial!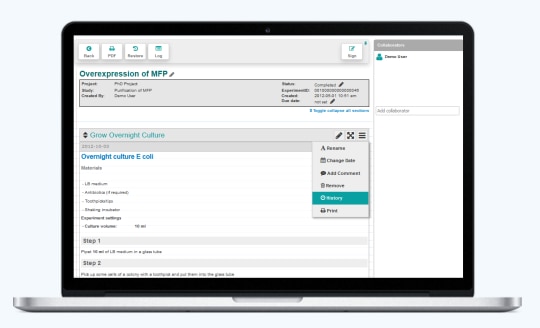 Raise your standard


With the new Mastercycler® X40 your end-point PCR will not only be reliable and efficient but elevated.