text.skipToContent
text.skipToNavigation
You are about to leave this site.
---
Please be aware that your current cart is not saved yet and cannot be restored on the new site nor when you come back. If you want to save your cart please login in into your account.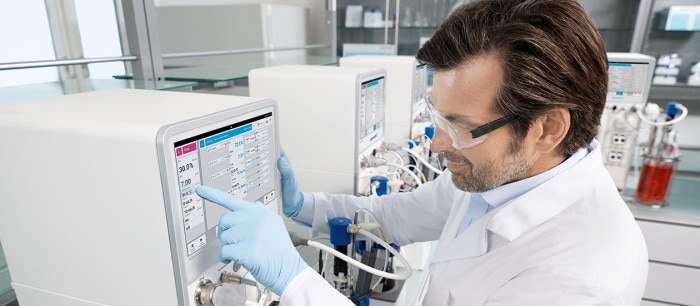 Does My Bioreactor Control System Meet Future Demands?
David Solbach Lab Academy
Bioprocessing

Cell Culture

Scalability

Digital Lab Solutions

BioNews article
While the market for biologics is evolving, the drug industry is experiencing a paradigm shift from the production of blockbuster drugs to targeted, patient specific drugs. In addition, the development of new, nucleic acid-based vaccines requires a rethinking of production facilities, since significant lower production volumes will be needed. The modular bioreactor control system SciVario® twin offers the flexibility to adapt to changing requirements of modern laboratory workflows.
This article appeared first in BioNews, Eppendorf's biannual customer magazine since 1993.

Future proof equipment for changing requirements
"A big advantage of the new controller is the sophisticated modularity of the vessel sizes that ensure an easy exchange of various bioreactor volumes without the need to invest in completely new control systems." (SenseUp GmbH, Germany, Dr. Regina Mahr)

The current pandemic demonstrates how important it is to adapt rapidly and efficiently to new situations. Missing flexibility and limited workspace are bottlenecks in the transition of a laboratory due to changing projects. Changing the focus of a laboratory results in a long list of problems. Existing bioreactor control systems might require a new hardware configuration or in the worst case need to be exchanged completely, just because they cannot handle the new demands. Designed to fit for now, and in the future, SciVario twin comes with hardware and software features that enable the system to adapt to changing processes.

The flexibility of the system can be found in every single aspect. Scaling up a process, for example, requires advanced thermal mass flow controllers (TMFCs) to ensure reliable and precise gas supply also at larger scales. Current TMFCs are optimized for either small, or larger volumes. Equipped with 14 of our in-house developed improved TMFCs, with a turndown ratio of 12,000:1, the SciVario twin bioprocess controller can be used for both, for small- and bench-scale bioreactors with a size of 0.2 L to 3.7 L without the need of any hardware modifications. Within the near future, the vessel range will be extended to working volumes up to 40 L in single use bioreactors for cell culture applications.

A controller, full of innovations
SciVario twin was developed to control two single use or glass bioreactors individually, or in parallel, in a range of 0.2 L to 40 L. It sets new standards in terms of flexibility, precision, and range. This flexibility is made possible by the advanced hardware of the base unit. In addition to the built-in TMFCs, the innovative bay-drawer concept offers the freedom to flexibly change hardware features, such as additional pumps or sensors.

With thousands of possible drawer combinations and 19 vessel variants at launch, the SciVario twin offers unrivaled flexibility for current and future processes.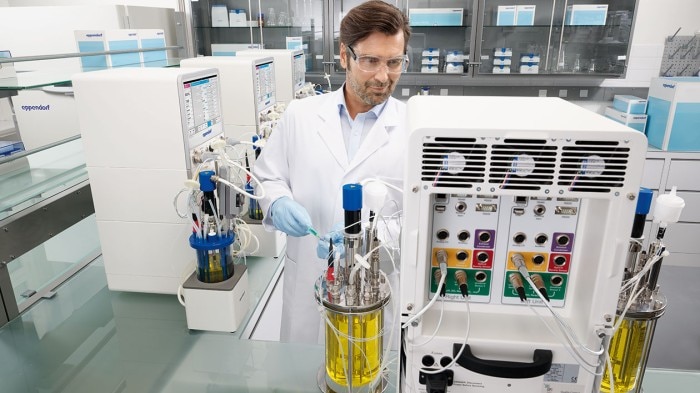 Intuitive, innovative, and intelligent
The complexity of the system does not mean that it is complicated to use.

"The software was very easy to understand. We especially liked the fact that the UI takes one through the workflow, which helps a lot in avoiding mistakes."(GenMab A/S, Denmark, Patrick Priem)

Throughout development, our aim was to design a user friendly, easy-to-use bioprocess control system. New bioprocess controllers generally come with new software. This bears risk, because one must get familiarized with it which might lead to manual operational errors. As part of the new VisioNize® platform, the SciVario twin comes with intuitive and user-friendly VisioNize-onboard software. The intelligent software guides the user step-by-step through the process, from the first preparation steps to the final export of the data. The software automatically recognizes the connected bioreactors and accessories and performs a consistency check. In combination with digital sensors, such as Hamilton® ARC® or Mettler Toledo ISM® sensors, the user is warned, if the used accessories do not fit, or a sensor is damaged already before the run starts. This mitigates the risk of failures during a run and helps to save time, valuable resources, and nerves. The display is designed in a way to always keep track of both processes at the same time. Parameters of one unit can be adjusted, while the second unit runs independently.

Remote monitoring
With VisioNize-onboard, the SciVario twin is equipped to be connected to VisioNize, Eppendorf's Digital Lab Space, delivering valuable services in and around our Eppendorf devices. Stay safely at home, remotely monitor your process, and receive notifications in case of problems.