text.skipToContent
text.skipToNavigation
You are about to leave this site.
---
Please be aware that your current cart is not saved yet and cannot be restored on the new site nor when you come back. If you want to save your cart please login in into your account.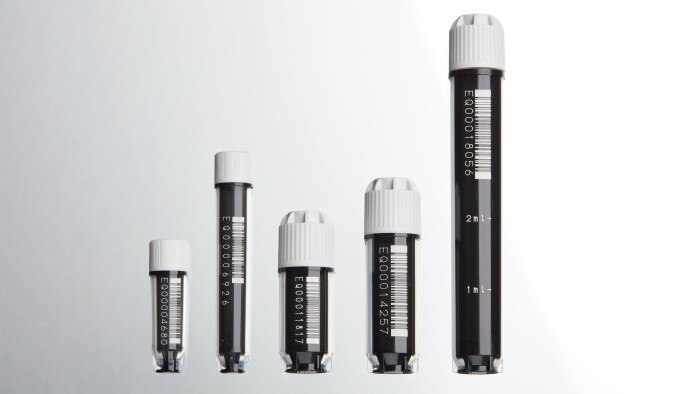 Save with eShop-Exclusive Promos!
promotions
Laboratory Consumables

Freezers

Advantage Promotions
Purchase two cases of CryoStorage Vials and get one free. Also save 15% on the Eppendorf RackScan!
Eppendorf CryoStorage Vials take advantage of the 3-level coding of the SafeCode system (datamatrix code, barcode, and clear writing) to enable safe sample identification. Up to 96 pre-labeled vials are pre-racked and pre-capped for convenient usage. The vial range covers 0.5 mL to 4.0 mL for a broad range of storage applications at e.g. -80°C in the ULT freezer. CryoStorage Vials are your solution for modern high-density storage with highest sample safety, management, and tracking needs.
WHY YOU WILL LOVE IT
3-level coding for safe sample identification
Temperature range: -196 °C (gas phase of LN2) to +121 °C
Manufactured from high-quality polypropylene in class VIII cleanroom for highest sample purity
Pre-capped and pre-racked for comfortable handling
ORDER TODAY
Buy any 3 of these CryoStorage Vials and you will get the lowest cost one for free. Also save 15% on the Eppendorf RackScan!
Offer valid in the U.S. only from January 1, 2023 through June 30, 2023, or while supplies last; void where prohibited by law or company policy. This offer may not be combined with any other offer(s) available through Eppendorf North America. Product appearance, specifications, and/or prices are subject to change or cancellation at any time.
Order information
Eppendorf CryoStorage Vial, 0.5 mL, 960 vials (10 racks × 96 vials), individually packed racks

Order No. : 0030079400
List price $4,584

Your price $3,056
Eppendorf CryoStorage Vial, 1.0 mL, 960 vials (10 racks × 96 vials), individually packed racks

Order No. : 0030079418
List price $4,737

Your price $3,158
Eppendorf CryoStorage Vial, 1.5 mL, 480 vials (10 racks × 48 vials), individually packed racks

Order No. : 0030079426
List price $2,487

Your price $1,658
Eppendorf CryoStorage Vial, 2.0 mL, 480 vials (10 racks × 48 vials), individually packed racks

Order No. : 0030079434
List price $2,571

Your price $1,714
Eppendorf CryoStorage Vial, 4.0 mL, 480 vials (10 racks × 48 vials), individually packed racks

Order No. : 0030079442
List price $2,799

Your price $1,866
Eppendorf CryoStorage Vial, sterile, 0.5 mL, 960 vials (10 racks × 96 vials), individually packed racks

Order No. : 0030079450
List price $4,737

Your price $3,158
Eppendorf CryoStorage Vial, sterile, 1.0 mL, pre-capped, 960 vials (10 racks × 96 vials), individually packed

Order No. : 0030079469
List price $4,893

Your price $3,262
Eppendorf CryoStorage Vial, sterile, 1.5 mL, pre-capped, 480 vials (10 racks × 48 vials), individually packed racks

Order No. : 0030079477
List price $2,574

Your price $1,716
Eppendorf CryoStorage Vial, sterile, 2.0 mL, pre-capped, 480 vials (10 racks × 48 vials), individually packed racks

Order No. : 0030079485
List price $2,643

Your price $1,762
Eppendorf CryoStorage Vial, sterile, 4.0 mL, pre-capped, 480 vials (10 racks × 48 vials), individually packed racks

Order No. : 0030079493
List price $2,880

Your price $1,920
Eppendorf RackScan b, scanner (bottom reading) for 2D-coded tubes in SBS racks and cryostorage boxes, incl. software RackScan Analyzer, 100 – 240 V ±10 %/50 – 60 Hz

Order No. : 6002000103
List price $13,991

Your price $11,892.35