text.skipToContent
text.skipToNavigation
You are about to leave this site.
---
Please be aware that your current cart is not saved yet and cannot be restored on the new site nor when you come back. If you want to save your cart please login in into your account.
Production of Antibodies and Hormones
Monoclonal antibody production
Rising time and cost pressures make the development and manufacturing of therapeutic proteins challenging. Antibodies dominate the biopharmaceutical market and their production is widely established. Alternative technologies like the recombinant production of antibody fragments and nanobodies, however, keep the research field exciting. Improved cultivation techniques such as perfusion and new possibilities in process analytics and automation offer companies the chance to set themselves apart from the competition.
Flexible solutions for all stages of development
Since the 1980s, production of monoclonal antibodies (mAbs) using hybridoma cells has been accepted as an effective technology for cancer treatment. Meanwhile, mAbs make more than half of the total biopharmaceutical market. In antibody production, many factors have to be taken into account before entering the manufacturing stage.

Eppendorf bioprocess solutions support the upstream bioprocessing cycle from early development to scale-up to pilot-scale production. Powerful hardware and software tools help to build process understanding, implement control strategies, and streamline process scale-up.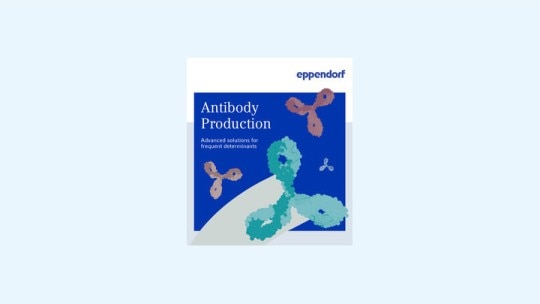 Bioprocess development in cell culture
The production of complex biomedical proteins represents one of the primary applications in animal cell culture. During process development, research scientists need to find the optimum settings for critical process parameters, like temperature, pH, gassing rates as well as nutrient compositions, as they influence cell growth, product titers, and product quality.

Eppendorf offers parallel bioprocess systems at small and bench scale. They allow multiple experimental parameters to be tested simultaneously in one run, which ensures maximum comparability between runs and saves time and resources.
Bioprocess scale-up and technology transfer
Transferring a biologic candidate from the research and development phase to commercial production usually requires increasing the working volume of the upstream bioprocess. During scale-up, process performance optimized at small scale needs to be reproduced at larger scales, ideally without much need for process optimization at large working volumes.

Eppendorf offers scalable bioreactor systems for seamless bioprocess scale-up from R&D labs to pilot and manufacturing facilities. A wide selection of single-use bioreactors complements the portfolio of glass and stainless-steel vessels.
To streamline scale-up, bioengineers commonly use bioreactors with similar geometries at all scales and keep one or more parameters constant between vessels of different sizes, such as kLa, power input per liquid volume or tip speed.

The Scale Up Assist feature of the BioFlo 320 and BioFlo 720 simplifies scale-up strategy design, by considering vessel parameters of differently sized Eppendorf BioBLU® Single-Use Bioreactors and Thermo Scientific™ HyPerforma™ Single-Use Bioreactors.

Get to know, how the Scale Up Assist simplified scaling-up mAB production in CHO cell cultures from bench to pilot-scale.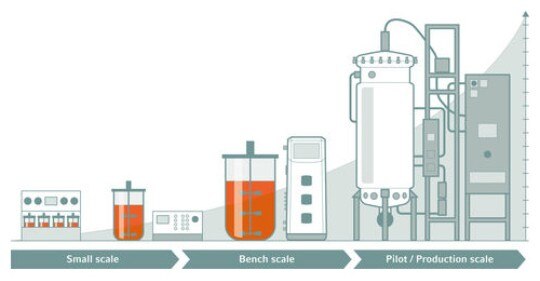 Streamlining the transfer of an upstream bioprocess from research to production scale is critical for reducing biologics development costs and time to market. Winston Wong (Eppendorf Americas), Klaus Ferber (Eppendorf AG), Ben Asher (Thermo Fisher Scientific) and John Shyu (Corning Life Sciences) share their thoughts on scale-up challenges from an economical, operational, and application-related point of view.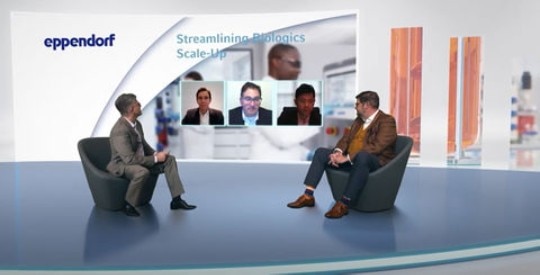 Perfusion
Increasing the efficiency of production processes is one of the major tasks biopharmaceutical manufacturers are facing nowadays. Continuous processing and perfusion cultivation are techniques to increase cell density and product titers while leading to smaller production volumes.
Eppendorf offers Fibra-Cel® Disks , a three-dimensional growth matrix to support perfusion without the need for cell filtration. Alternatively, the integration of cell retention devices with Eppendorf bioprocess systems facilitates perfusion based on tangential flow filtration.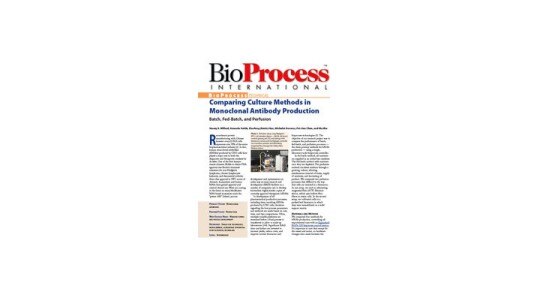 Process analytical technology and bioprocess automation
The integration of external data analysis into running production processes has attained major importance over the past years, pushed by the FDA`s process analytical technology (PAT) initiative. Inline analysis of process parameters helps to gain process understanding and facilitates automated process control. Eppendorf bioprocess control software allows the integration of many external devices and the implementation of automated feedback control loops based on sensor readings.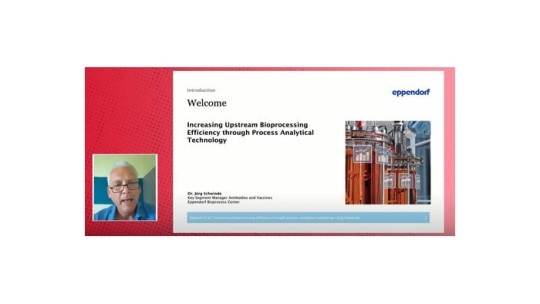 The Applied Process Company (APC) integrated external PAT and an APC-developed controller with an Eppendorf DASGIP Parallel Bioreactor System. Online PAT measurement and control of critical process parameters led to greater understanding and the streamlined optimization of the bioprocess.

"The ability of the DASGIP system to integrate both the external PAT and in-house developed controllers was vital to the success of our application.", comments Dr. Stephen Craven, Life Science Team Leader at APC.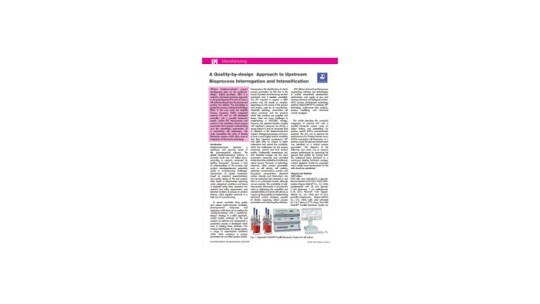 At the University of Delaware , Babatunde A. Ogunnaike and his team have established the foundation for effective real-time online control of glycosylation patterns on monoclonal antibodies produced with Chinese Hamster Ovary (CHO) cells. For establishing base regulatory control of key process variables known to effect glycosylation, they set up a bioprocess with nutrient control and cellular metabolite monitoring through integration of an external analyzer.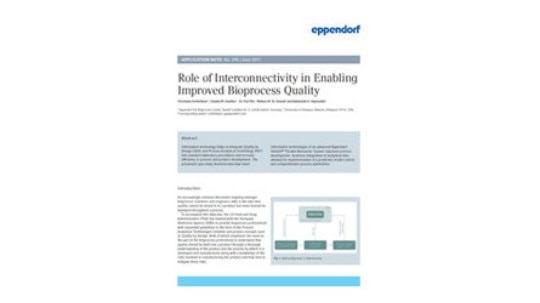 Integration of a DASGIP® GA4 exhaust analyzer facilitated automated feeding of a Pichia culture based on keeping constant the respiratory quotient (RQ). Feeding optimization was automatically self-achieved as the culture created its own demand for feeding based on the drop of the RQ-value.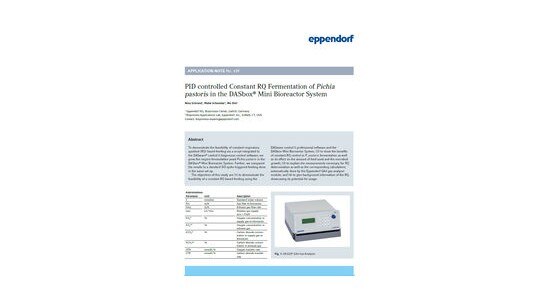 A selection of our customers