text.skipToContent
text.skipToNavigation
You are about to leave this site.
---
Please be aware that your current cart is not saved yet and cannot be restored on the new site nor when you come back. If you want to save your cart please login in into your account.
Innova® S44i - Stackable Incubator Shaker
Product Information
Do you need a stackable incubator shaker for the highest plasmid or protein yields in a small footprint to quickly reach your ambitious targets? The latest and most advanced incubator shaker from Eppendorf, the Innova S44i, can fit up to twice as many flasks as other shakers in the market and is ready to reliably support current high-yield expression protocols at high speeds, 24/7.
Shaker S44i
Products (6)
Sets & Bundles (2)
Accessories (19)
epServices (9)
VisioNize (5)
Added to Your Cart
Product Information
Technical Data
Applications
Features
The Innova S44i is a large capacity, temperature controlled (refrigerated) stackable shaker allowing the use of high-volume flasks in large numbers in a compact footprint. The iconic slide up door provides easy access to your samples. The Eppendorf X-Drive allows for shaking high loads at high speeds – even when stacked. When there is an instance of an unbalanced load, the X-Drive's counterbalance adjustment allows for smooth shaking. The optional photosynthetic LED lightbank provides the ability to evenly light the entire platform across a wide intensity range – and it's programmable. The VisioNize touch interface introduces onboard monitoring, user management and the ability to export data via USB; or network integration via ethernet. A comprehensive service offering including IQ/OQ is also available.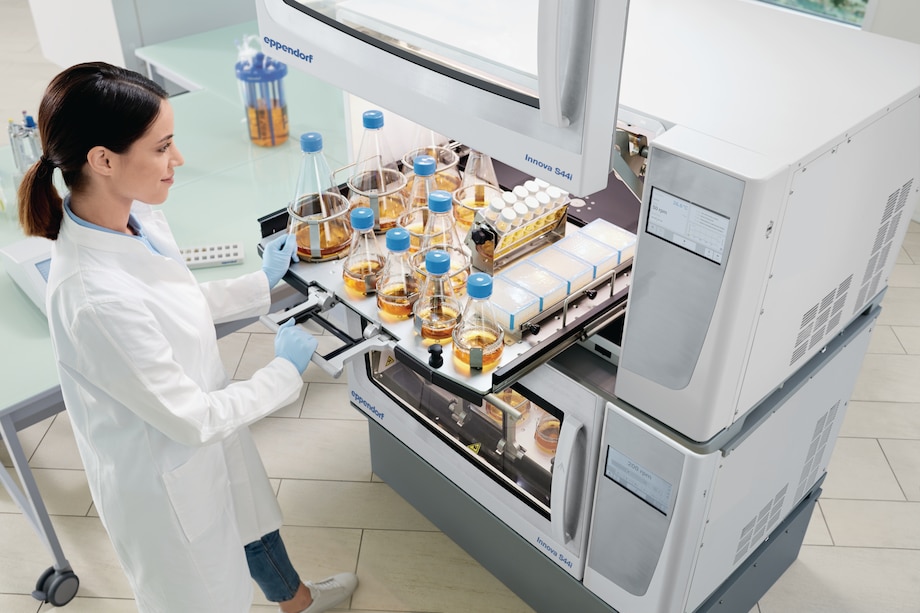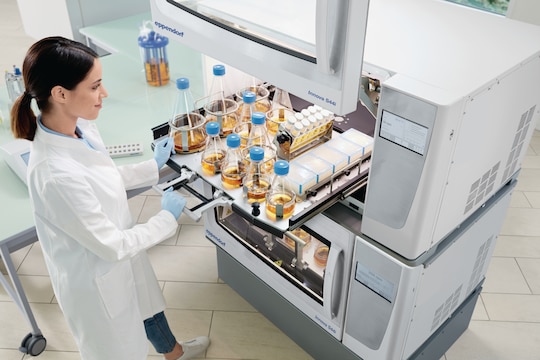 Maximum capacity

The Innova S44i has optimized chamber, platform, and features to maximize your options and capacity.
• Up to 136 % more capacity than the previous Innova 44 with a smaller footprint
• Up to 102 % higher flask capacity than competitor
• Double- or triple-stack the Innova S44i to increase capacity without sacrificing more valuable lab space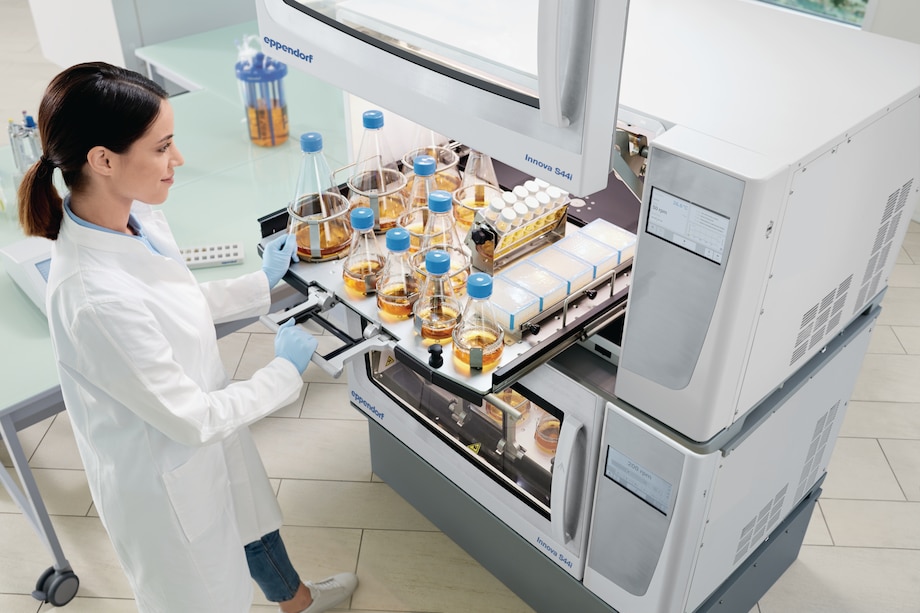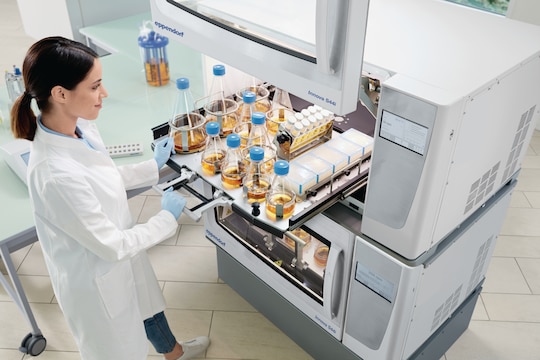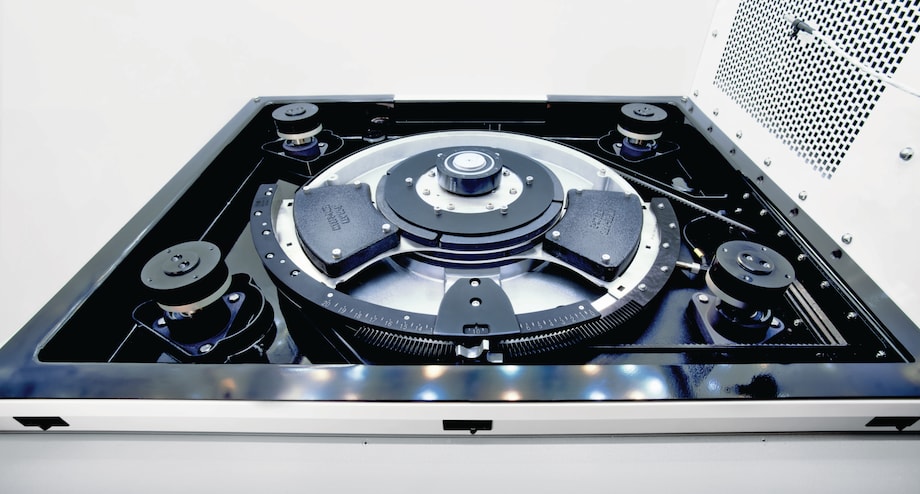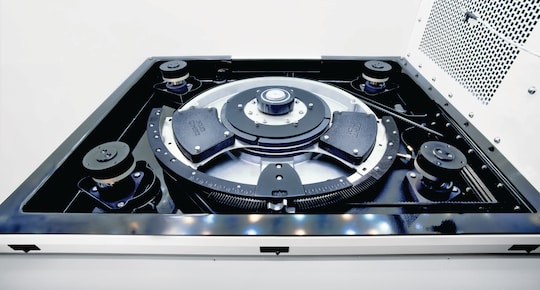 Eppendorf X-Drive

The Eppendorf X-Drive is precisely engineered with five-eccentric shafts to balance even the heaviest load while providing consistent and smooth shaking.
The intelligent counterbalance technology of the Eppendorf X-Drive ensures vibration-free shaking even with uneven loads. This advanced technology senses imbalance and decelerates to a safe speed to protect you and your cultures.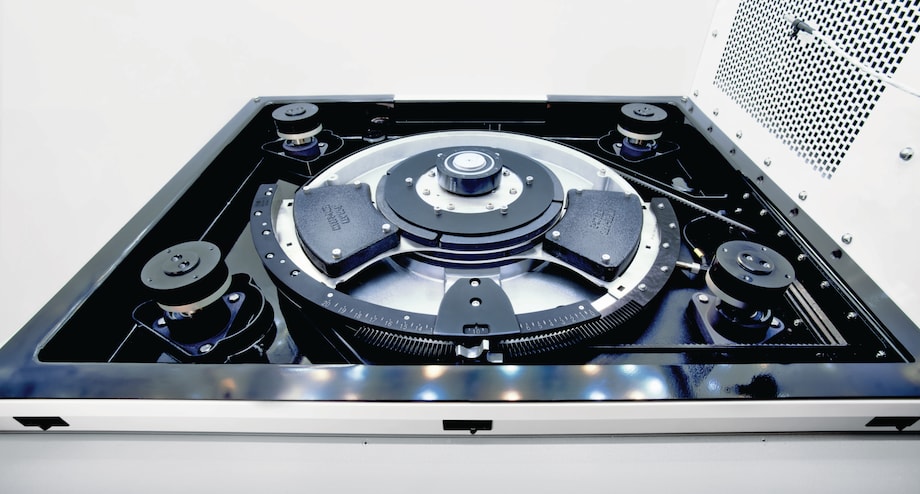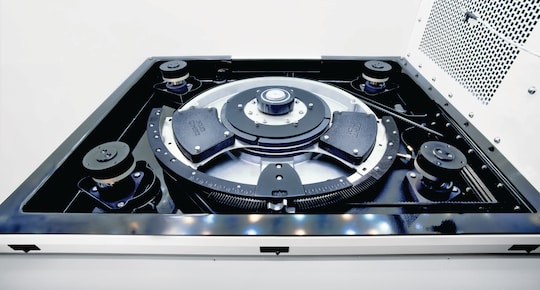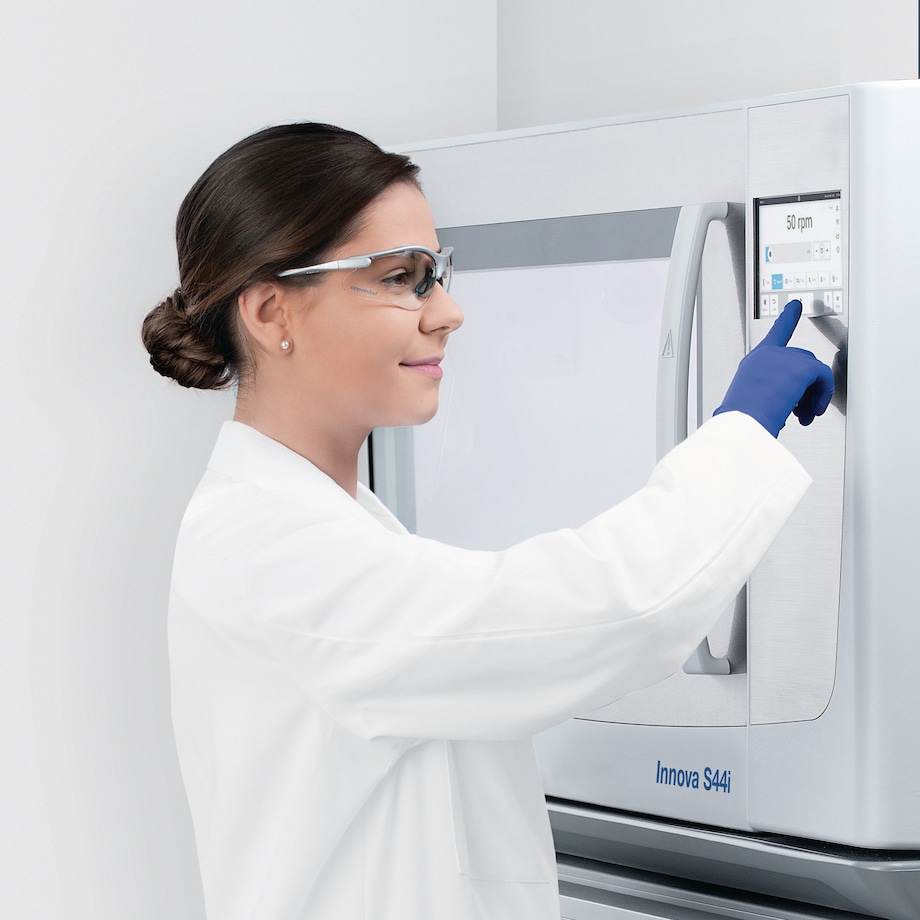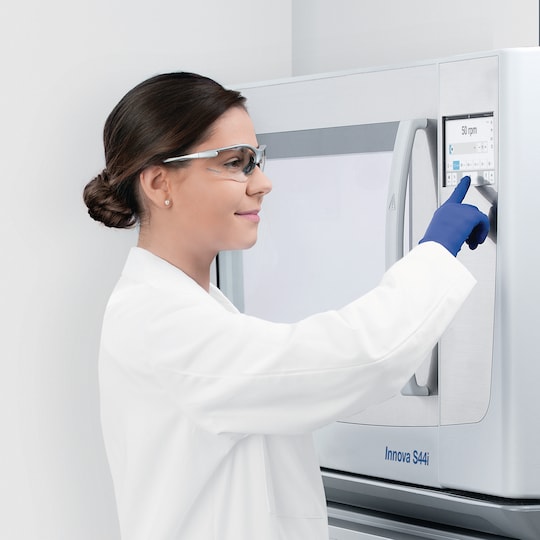 Advanced control

The new touchscreen user interface of the Innova S44i offers more than just an easy operation. This multi-touch capacitive display makes all the information you need
easy to monitor and track.
• Information is just one touch away
• Intuitive operating, distinct design
• Manage multiple users with different levels of authorization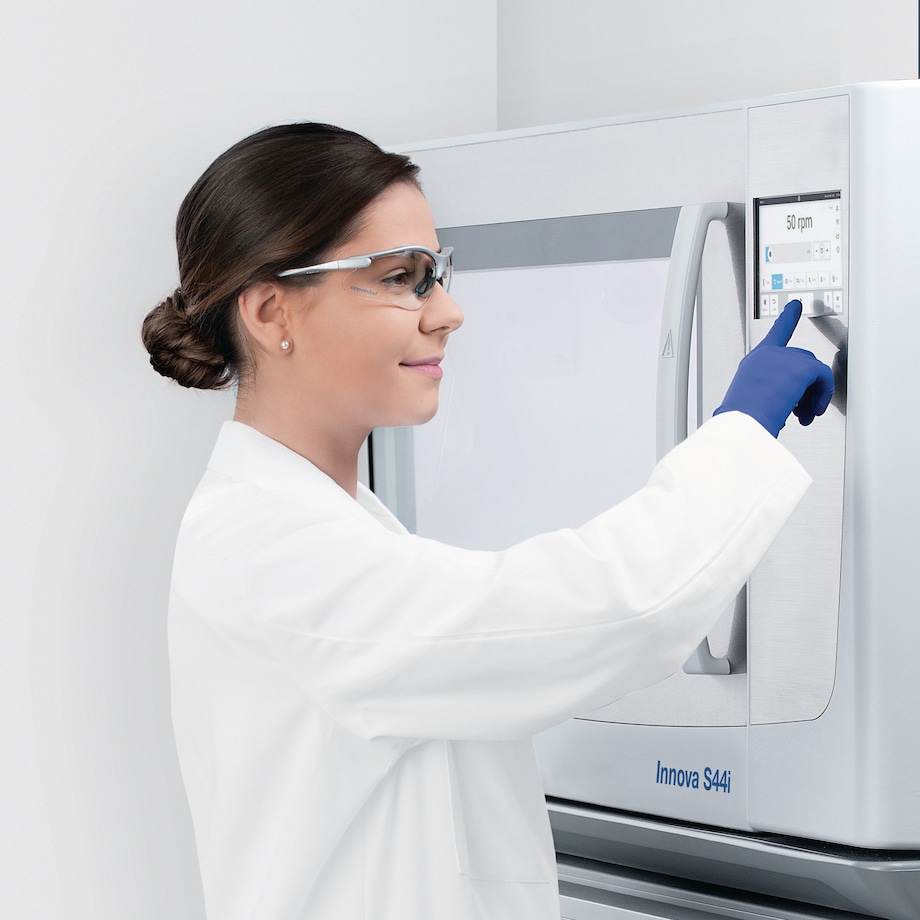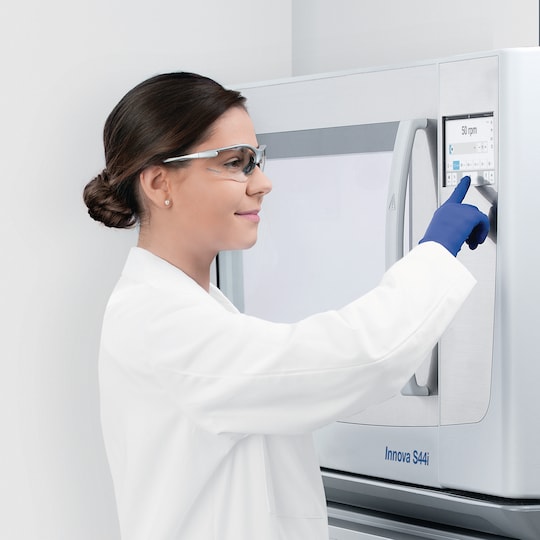 Efficient lab and device management with VisioNize® Lab Suite
Are you interested in monitoring your lab devices and receiving notifications e.g., for device alarms? A digital, connected lab offers even more.
Gain access to a modular range of digital services and choose what works for your lab. VisioNize Lab Suite offers everything you need as a Lab Manager or Scientist to get started to digitally manage your lab for increased sample security, compliance needs and maintenance management.
Chart your own course to digital lab excellence!
Find out more


| Specifications | S44i, 2.5 cm (1 in) orbit, incubated | S44i, 2.5 cm (1 in) orbit, refrigerated | S44i, 5.1 cm (2 in) orbit, incubated | S44i, 5.1 cm (2 in) orbit, refrigerated |
| --- | --- | --- | --- | --- |
External height (with lid/door open)

115.8 cm (45.6 in) excluding base
115.8 cm (45.6 in) excluding base
115.8 cm (45.6 in) excluding base
115.8 cm (45.6 in) excluding base

Timer

0.01 – 95.59 h, continuous
0.01 – 95.59 h, continuous
0.01 – 95.59 h, continuous
0.01 – 95.59 h, continuous

Power supply

230 V, 50/60 Hz
230 V, 50/60 Hz
230 V, 50/60 Hz
230 V, 50/60 Hz

Dimensions (W × D × H)

118.2 × 86.9 × 63 cm / 46.5 × 34.2 × 24.8 in
118.2 × 86.9 × 63 cm / 46.5 × 34.2 × 24.8 in
118.2 × 86.9 × 63 cm / 46.5 × 34.2 × 24.8 in
118.2 × 86.9 × 63 cm / 46.5 × 34.2 × 24.8 in

Product weight

186 kg / 410 lb
198 kg / 437 lb
186 kg / 410 lb
198 kg / 437 lb

Audible and visual alarms

yes
yes
yes
yes

Temperature uniformity

±0.25 °C at 37 °C and 250 rpm
±0.25 °C at 37 °C and 250 rpm
±0.25 °C at 37 °C and 250 rpm
±0.25 °C at 37 °C and 250 rpm

Available program modes

• Constant speed and temperature
• Time shaking mode up to 95:59 hours
• Multi step programming/cycling – Parameters include shaking speed, temperature, time and (optional) photosynthetic light intensity
• Constant speed and temperature
• Time shaking mode up to 95:59 hours
• Multi step programming/cycling – Parameters include shaking speed, temperature, time and (optional) photosynthetic light intensity
• Constant speed and temperature
• Time shaking mode up to 95:59 hours
• Multi step programming/cycling – Parameters include shaking speed, temperature, time and (optional) photosynthetic light intensity
• Constant speed and temperature
• Time shaking mode up to 95:59 hours
• Multi step programming/cycling – Parameters include shaking speed, temperature, time and (optional) photosynthetic light intensity

Drive mechanism

Eppendorf X-Drive
Eppendorf X-Drive
Eppendorf X-Drive
Eppendorf X-Drive

Data export interface

USB, Ethernet
USB, Ethernet
USB, Ethernet
USB, Ethernet

Benchtop (B), Under Bench (U), Floor (F) or Stackable (S)

F, S (x3)
F, S (x3)
F, S (x3)
F, S (x3)

Memory

non volatile with automatic power failure restart
non volatile with automatic power failure restart
non volatile with automatic power failure restart
non volatile with automatic power failure restart

Motor type

Solid state, DC brushless motor
Solid state, DC brushless motor
Solid state, DC brushless motor
Solid state, DC brushless motor

Platform size (cm/in)

76 × 62 cm (30 × 24 in)
76 × 62 cm (30 × 24 in)
76 × 62 cm (30 × 24 in)
76 × 62 cm (30 × 24 in)

Refrigerated

no
yes
no
yes

Slide-out platform

yes
yes
yes
yes

Door opening

glide up
glide up
glide up
glide up

Speed range

2.5 cm orbit: 20 – 400 rpm, 5.1 cm orbit: 20 – 300 rpm
2.5 cm orbit: 20 – 400 rpm, 5.1 cm orbit: 20 – 300 rpm
2.5 cm orbit: 20 – 400 rpm, 5.1 cm orbit: 20 – 300 rpm
2.5 cm orbit: 20 – 400 rpm, 5.1 cm orbit: 20 – 300 rpm

Steps per program

unlimited
unlimited
unlimited
unlimited

Stored programs

unlimited
unlimited
unlimited
unlimited

cETLus and CE marked

yes
yes
yes
yes

Capacity

extra large
extra large
extra large
extra large

Programming steps / storable programs

unlimited/unlimited
unlimited/unlimited
unlimited/unlimited
unlimited/unlimited

Temperature range

10 °C above ambient to 80 °C
20 °C below ambient to 80 °C (min. 4 °C)
10 °C above ambient to 80 °C
20 °C below ambient to 80 °C (min. 4 °C)

Temperature accuracy

±0.1 °C at 37 °C
±0.1 °C at 37 °C
±0.1 °C at 37 °C
±0.1 °C at 37 °C

Agitation

Orbit

2.5 cm (1 in)
2.5 cm (1 in)
5.1 cm (2 in)
5.1 cm (2 in)

Speed

2.5 cm (1 in) orbit: 20 – 400 rpm
5.1 cm (2 in) orbit: 20 – 300 rpm
2.5 cm (1 in) orbit: 20 – 400 rpm
5.1 cm (2 in) orbit: 20 – 300 rpm
2.5 cm (1 in) orbit: 20 – 400 rpm
5.1 cm (2 in) orbit: 20 – 300 rpm
2.5 cm (1 in) orbit: 20 – 400 rpm
5.1 cm (2 in) orbit: 20 – 300 rpm

Control increments

±1 rpm
±1 rpm
±1 rpm
±1 rpm

Control accuracy

±0.5 rpm
±0.5 rpm
±0.5 rpm
±0.5 rpm

Maximum platform load

35.4 kg (78 lb)
35.4 kg (78 lb)
35.4 kg (78 lb)
35.4 kg (78 lb)

Photosynthetic LED light bank

Main wavelength

Wide band spectrum; 400 – 700 nm
Wide band spectrum; 400 – 700 nm
Wide band spectrum; 400 – 700 nm
Wide band spectrum; 400 – 700 nm

Intensity range

15 to 150 PAR adjustable in increments of 1 PAR, programmable (e.g. day night cycles)
15 to 150 PAR adjustable in increments of 1 PAR, programmable (e.g. day night cycles)
15 to 150 PAR adjustable in increments of 1 PAR, programmable (e.g. day night cycles)
15 to 150 PAR adjustable in increments of 1 PAR, programmable (e.g. day night cycles)