text.skipToContent
text.skipToNavigation
You are about to leave this site.
---
Please be aware that your current cart is not saved yet and cannot be restored on the new site nor when you come back. If you want to save your cart please login in into your account.
Bioprocessing in Food and Feed
Efficient fermentation process development and scale-up
Microorganisms are routinely used in the food and animal feed industries for processes such as alcohol fermentation, the acidification of dairy products or ensilage. Besides, bacteria and fungi are gaining popularity in the production of food additives such as vitamins, antioxidants or bioactive peptides.

Introduction to Bioprocessing
For decades, bioprocessing has been used for the industrial production of beverages as well as for the production and preservation of food and feed ingredients. But also for the production of new food and feed additives, functional foods and various types of novel foods bioprocessing has proven its value. In the literature, there are many interesting examples of how researchers tackle the challenges in food and feed applications.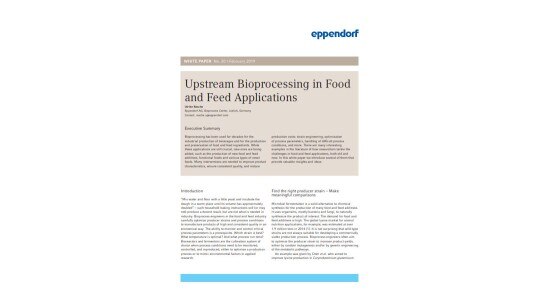 Strain and process characterization
The development of high-throughput processes for the genetic modification of microorganisms increases the number of potential product candidates that must be analyzed with respect to their suitability for the production of proteins.
Scale-down
Advanced mini bioreactor systems can harmonize operations between development and production groups while supporting the aims of
Quality by Design (QbD)
. To meet today's demands of process development these systems need to mimic all aspects of large-scale fermentation, and offer comprehensive data and information management tools to support regulatory requirements for both filing support and QbD-driven process development.
Evonic® has established a 2 L process for production of a nutritionally relevant amino acid in E. coli. This process was successfully adapted to the smaller working volume of a DASbox® Mini Bioreactor System with close monitoring of all relevant process parameters and comprehensive evaluation of data to prove reliable and reproducible results.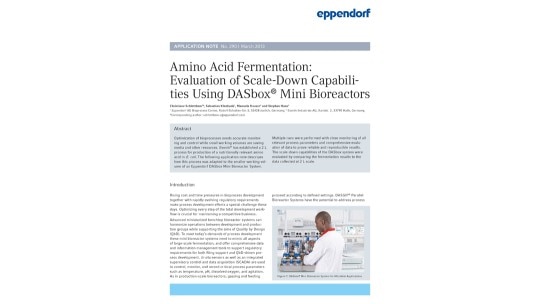 High cell-density fermentation
Compared to cell culture applications, fermentation processes require much higher kLa values for proper mass transfer. Especially in high cell-density fermentations, there is much heat generated by the microbial growth which has to be efficiently dissipated. High microbial densities place increased demands on the fermentation equipment, especially regarding mixing and cooling. This is a special challenge, particularly in
single-use fermentation
.
Scale-up
In microbial production of food additives, successful scale-up to production volume is key for a competitive business. Suitable parameters and setpoints need to be identified and critical engineering parameters to be considered. These include vessel and impeller geometry, mass transfer rate, power numbers (Np) and impeller power consumption per volume (P/V). Simulation of computer fluid dynamics (CFD) can help predicting fluid flow conditions in the
different scales
.
A selection of our customers