text.skipToContent
text.skipToNavigation
You are about to leave this site.
---
Please be aware that your current cart is not saved yet and cannot be restored on the new site nor when you come back. If you want to save your cart please login in into your account.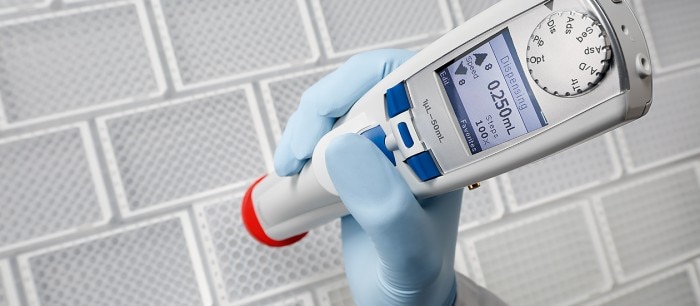 Application Diversity of Electronic Dispensers
Lab Academy
Dispensers

Pipettes

Pipetting & Dispensing

Essay
Many researchers work with manual dispensers, e.g., for filling plates or preparing aliquots. Electronic dispensers are less commonly used, but can help to make your work much faster and easier.
Electronic dispensers provide higher flexibility and a broader range of possible dispensing volumes compared to manual dispensers. The new Multipette®/Repeater® E3 and E3x posseses an additional mode, called "Aspirate and Dispense" with applications in protein biochemistry, molecular biology, cell biology and microbiology.

Basically mode A/D allows the uptake of an unknown amount of liquid and the subsequent dispensing of this volume in equal parts. The advantage of this new mode: it calculates the aspirated liquid volume and allows the user to define the volume to be dispensed. General application examples would be the uptake of a supernatant followed by the subsequent distribution to several reaction tubes, or if you want to calculate whether the small amount of liquid left in a supply bottle will be sufficient for your experiment. This mode can virtually be used for several applications in protein biochemistry, molecular biology, cell biology or microbiology. Read more about the different applications in our whitepaper!

Read the whole Whitepaper: