text.skipToContent
text.skipToNavigation
You are about to leave this site.
---
Please be aware that your current cart is not saved yet and cannot be restored on the new site nor when you come back. If you want to save your cart please login in into your account.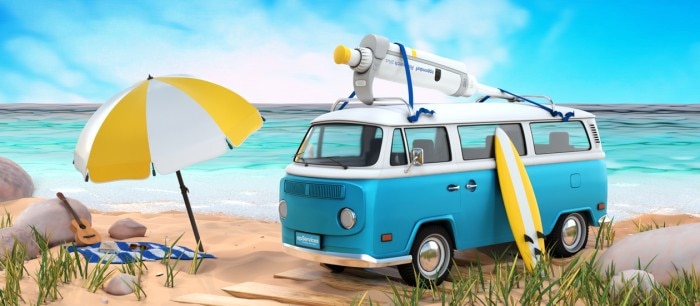 ISO 17025 – Peace of Mind for Audits & Result
Lab Academy
Lab Life

Safety & Biosafety

Lab Routine

Pipetting & Dispensing

Efficiency

Quality

Reproducibility

Accuracy

Essay
Take your pipette for a creative break at an accredited lab resort!
Do you need reliable pipetting results? Then your pipettes should be serviced at an ISO 17025-accredited laboratory.

Are you working in a regulated environment? Or do your results drive critical decisions? Then you should think about servicing your pipettes regularly to assure reliable and accurate results. The rock stars in your lab should take a creative break at a laboratory resort which is ISO 17025-accredited. Let us show you why!


Why tiny variations can make a big difference


Assay transfers are one of the most complex tasks of a lab. Delays lasting weeks or months significantly impact time-to-market1 . In drug discovery, several entities work together, often spread around the globe. Imagine, an assay to evaluate the concentration of a compound is moved from Lab 1 to Lab 2. Lab 1's pipette used to add the compound to a diluent shows an error of -0.3 µL, Lab 2's pipette an error of +0.3 µL. The final compound concentration measured in both labs will differ by 5 %!
This example highlights that seemingly small pipette errors can add up to bigger errors. The more pipettes or pipetting steps come into play, the bigger the final assay error.


Your pipettes are the rock stars in the lab


Pipettes are precision instruments. Performing day by day in concert with you, they are subject to "wear and tear" over time caused by utilization from several users, exposure to aggressive chemicals, or extensive use. Moving parts may show scratch marks, connections may get loose, ejector sleeves, seals and O-rings can crack, pistons get contaminated – whereby movements become cumbersome. These problems are often not readily apparent. Without any maintenance, calibration, or adjustment measures, your rock stars are likely to show a decreased performance "on stage". And that's not what a rock star is supposed to deliver. Impaired accuracy and precision can lead to questionable or wrong results. Poor correlation in test methods, lacking transferability or reproducibility for other labs, and repeated testing lead to undesirable situations everyone wants to avoid: prolonged time to market, waste of resources, increased costs, recalls, or loss of reputation.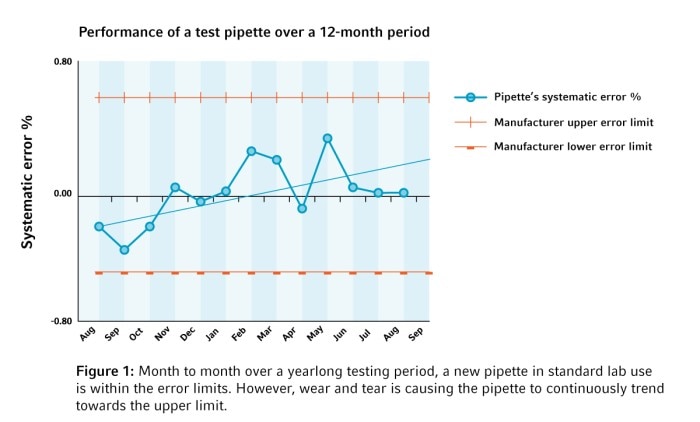 No chance for errors

There is only one thing to do to keep your rock stars performing at their best: regular creative breaks with maintenance, calibration, and adjustment! Ensuring that pipettes perform optimally and continuously in a reproducible way provides peace of mind to all involved. Especially when results have a big impact on decisions.
When you work in a regulated environment, traceability and transparency in measurement uncertainty is mandatory to prove compliance with quality standards like EN ISO 15189. However, document preparation for audits is time-consuming. When you calibrate pipettes in-house, the certification of your lab equipment, the proof of accreditation, calibration certificates, and service processes audited by a regulatory authority are needed. Missing, incomplete, or incorrect documentation significantly increases the risk of failing audits. In forensics, for instance, it is standard procedure that pipette calibration is performed by an accredited laboratory to guarantee traceability and quality of results.
Do you also have high demands on the reproducibility and reliability of your data? Then you should not only calibrate regularly, but also outsource to an accredited service. Your rock stars will fully recover and hit every note.

ISO 17025 - Peace of mind for audits & results

Calibrating pipettes in an ISO 17025-accredited calibration lab gives you the confidence you desire in your audits and in your results! The ISO 17025 calibration certificate
provides all data of the traceability chain and certifies that the calibration of your rock stars has been executed in an accredited lab. Your benefits at a glance:
PEACE OF MIND - when accuracy and reliability are crucial
Pipettes are serviced and calibrated by a competent person
Increased reliability for predicting precision and accuracy of results (until next service)
RELIEF - from laborious documentation
preparation
Increase in efficiency through optimal preparation for audits
Higher data security through additional archiving of documents in the calibration laboratory
SECURITY – due to traceability of results
Seamless, uninterrupted traceability of measured values to national and international standards
Interlaboratory comparisons between calibration labs ensure the certainty of calibration results

COMPLIANCE – with regulatory framework
Appropriate digital documents with detailed calibration data
Strict adherence to the ISO 8655 standard
FACILITATED COOPERATION - between laboratories worldwide
International comparability and mutual recognition of calibration certificates
The ISO 17025 accreditation certifies the lab's high level of competence and compliance with strict quality rules. ISO 17025 criteria include a traceability chain for measurement equipment, measurement uncertainty values, and approved quality standards. The service processes have been audited extensively by an independent regulatory authority. The laboratory equipment has been certified by another accredited calibration laboratory.

The same wellness treatment for all

If you are cooperating with other labs or partners around the globe, you should ensure that your results are comparable. Therefore, all pipettes used should be calibrated with the same protocols in an ISO 17025-accredited calibration lab.
1 "Effect of Liquid Handling Accuracy on Assay Performance" (Nathaniel G. Henz & Tanya R. Knaide, Journal of Laboratory Automation 2014, Vol. 19(2) pp.153-162)