text.skipToContent
text.skipToNavigation
You are about to leave this site.
---
Please be aware that your current cart is not saved yet and cannot be restored on the new site nor when you come back. If you want to save your cart please login in into your account.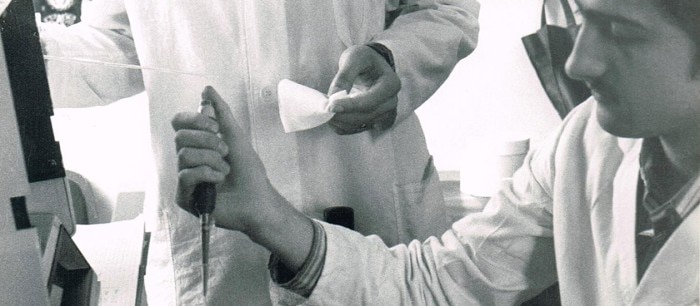 Decades of Photometer Work
Lab Academy
Molecular Biology

Biochemistry

Biotechnology

Photometry

Ergonomics

Essay
A working life – 48 years with Eppendorf, a laboratory technician remembers …
I was innocent, but full of anticipation when, in 1972, I entered the biochemical laboratory as a brand-new apprentice in the field of medicine at the University of Leipzig. Fascinating – all these unfamiliar instruments and chemicals, and of course the white lab coat, and those smells: hydrogen sulfide and mercaptoethanol, mixed in with the scent of rat cage and the vapors of solvents…

The profession of laboratory technician seemed interesting, instructive and exciting – and impression was to be confirmed from the very beginning. Initially, however, there were some surprises. At that time, students in the GDR (Eastern part of Germany) viewed everything that came from the "West" with some suspicion – and now, here it was: an instrument by "Eppendorf Gerätebau Netheler und Hinz GmbH" from Hamburg!

The Eppendorf spectral line photometer became in the seventies my favorite instrument and my most important tool. Coinciding with the start of my career, the analytical field experienced a transition from "bucket chemistry" towards microliter-technology. In our area, too, glass pipettes and mouth pipetting gave way to novel modern air-cushion piston pipettes – from Eppendorf. Attempts at copying these pipettes failed, and the copies were not popular.

At the same time, the equipment and accessories needed to operate the novel Eppendorf reaction tubes were available: rack, shaker and heating block, as well as the automatic cuvette exchanger for the Eppendorf Photometer and the Eppendorf ThermoStat® used to control the temperature of the cuvette holder. Good methods for enzymatic analyses, for example, by Boehringer® (a registered trademark of Behringer Ingelheim Pharma GmbH & Co. KG, DE.) Mannheim, were available, and this is how in those days we measured enzymes and substrate concentrations of thousands of blood and organ samples – with the help of analog (light) displays and lots of writing and calculating, in order to determine, for example, changes in extinction per unit of time. How lucky we were to be able to work under such excellent conditions.

After completing my apprenticeship and studies, I joined the Institute of Veterinary Medicine at the University, and in my new position, I was also responsible for the maintenance and repair of our instruments, as well as for the acquisition of parts. I was delighted to come across the familiar Eppendorf Photometer in 1980! This instrument, however, was much older – it had been purchased in 1964, and its casing appeared old-fashioned – anthracite-colored and with rounded corners. The purchase price is noted on the inventory card (figure 1): 13687.60 Mark of the GDR (German Democratic Republic). This instrument, which even had fluorescence measurement capabilities, accompanied me into the early 1990s.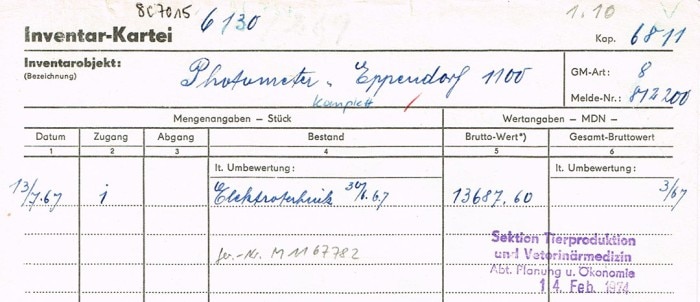 We measured large series of various endpoint-methods, which was made possible by the Eppendorf suction technology, in combination with the flow-through cuvette. In addition, that plasma hormones ACTH and 11-OHCS were captured via fluorescence following processing and derivatization, and acetylcholinesterase activity was analyzed.

Since these were import products that came from the "West", obtaining replacement parts, as well as expendable parts, respectively, had to be considered and submitted early, i.e. at least three years in advance. As late as for the year 1990, I had ordered a new mercury vapor lamp and a new photo-multiplier, which were promptly delivered.

After the fall of the Wall the institute purchased a complete enzyme measurement workstation in 1990. A significant relief, as measured values were now calculated digitally, and the workstation came with cuvette changer, small computer and a printer. The old photometer, however, remained by my side, and it continued to serve as a display and practice instrument for the purpose of educating students and laboratory technicians. There was really no better way to demonstrate the function of a spectral photometer.

It is with some regret that after 48 years, I will bid farewell to active employment in early 2020. The laboratory instruments which I had cared for all these years will follow me into retirement – who would be able to use, or repair, them today? During the scrapping process I had the idea to offer the old photometer to the company Eppendorf for museum purposes. This was when I was asked to tell my little story.

And now please take a look at the pipette in figure 2. It is the same instrument as the one in the photo above that was taken 40 years ago! Back in the 1970 s and today: shapely, elegant and functional as always. I wish I could say the same for myself…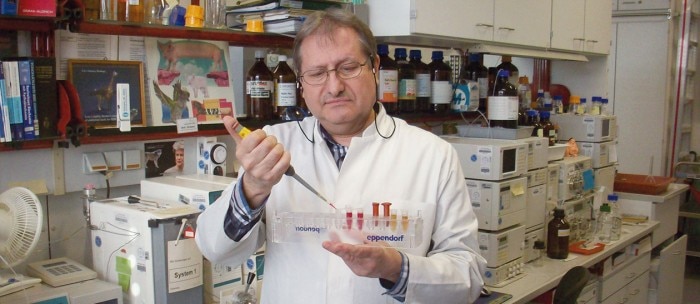 This proves it: Eppendorf stands for quality! To preclude any misunderstanding: we now work with the most modern equipment. Our Eppendorf instruments, including our benchtop centrifuge, thermocycler and shaker, as well as our manual and electronic pipettes, are indispensable tools of daily laboratory practice. It is so easy to be content with everything.

With best regards to Eppendorf, and to laboratory colleagues near and far.
Gerald Vallentin
Diploma Engineer, Medical Laboratory Technology
Technical Staff at the Institute of Physiological Chemistry
Faculty of Veterinary Medicine, University of Leipzig