text.skipToContent
text.skipToNavigation
You are about to leave this site.
---
Please be aware that your current cart is not saved yet and cannot be restored on the new site nor when you come back. If you want to save your cart please login in into your account.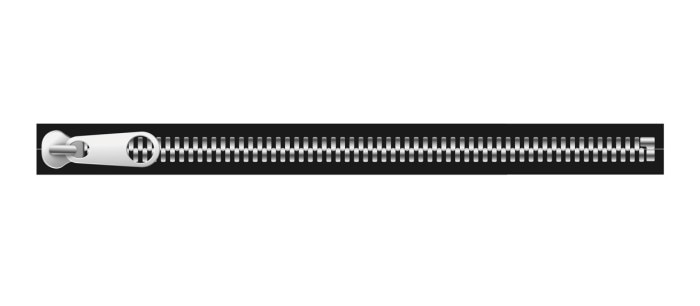 Sealing Options for PCR Plates/qPCR Plates - How to Find the Right One?
Lab Academy
Molecular Biology

Amplification & PCR

FAQ

Essay
In laboratories today, individual vessels and tube strips are increasingly being replaced by sample containers in the plate format. These enable simultaneous processing of larger numbers of samples; they simplify the process, and they allow higher throughput. A PCR plate covering is necessary to provide protection from contamination and evaporation, and different technologies and materials are suited to this task.
The choice of seal should be based on the nature of the sample and its requirements and the work steps performed, as well as on individual handling preferences. Possible criteria are listed below, and different sealing technologies and materials are introduced. In summary, examples of common applications will demonstrate the sealing options which are available in each specific case.
PCR plate sealing criteria
The demands on the plate seal result from the type of plate as well as from the individual steps of the workflow. The following considerations will help select a suitable sealing option:

Access to the sample
It may be necessary to open only individual wells while the other wells remain closed. In other cases, work may be facilitated if the entire plate opens at once. In any case, it needs to be considered whether the wells of the plate may need to be re-sealed.

Duration of closure
Solutions are needed for short-term covers in the range of minutes as well as for long-term storage lasting several years.

Temperature stability
Common application temperatures for laboratory plates range from storage at - 80 °C to incubation steps at temperatures as high as 100 °C.

Tightness
The higher the temperature and the longer the closure time, the higher will be the demands on the tightness of the PCR plate seal in order to protect samples from evaporation. In special cases, a certain level of gas exchange may be desirable.

Light transparency
High light transmissibility of the closure is crucial if samples are subject to optical monitoring, whereas sensitive samples may need to be protected from light.

Chemical resistance
If aggressive substances such as acids, bases or solvents are used, a closure must be selected which will withstand the respective substance.
In case successive steps involve different requirements, it may be advisable to change the closure type.

PCR plate sealing tool techniques

Laboratory heat seal
Using a heat sealer, the surface of a qPCR / PCR sealing film or foil can be melted to the rims of the plate wells. This technology ensures a particularly tight seal.

Adhesive PCR plate seal
This method utilizes films and foils coated with an adhesive. In certain variants, the full action of the adhesive will only be activated by heat and/or pressure – for example by the lid of a thermocycler.

Mechanical PCR plate seal
The closure will be either placed directly on the plate (lids, mats), or it is pressed into the individual wells by applying light pressure in order to seal the wells (mats with nubs, cap strips).
PCR plate sealing materials

PCR plate sealing films
These thin covers consist of plastic, and they are equipped with an additional functional coating which will either allow heat sealing or contain an adhesive. Films are transparent, thus allowing visual observation of the sample while offering protection against accidental puncturing (figure 1).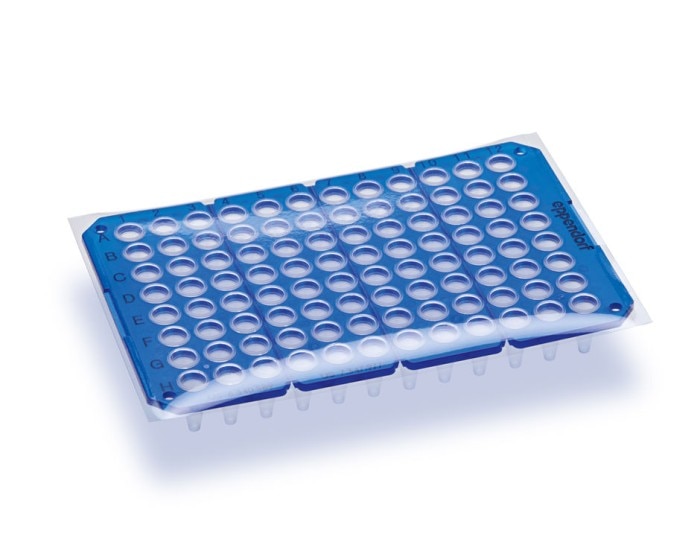 PCR plate sealing foils
Similar to films, this sealing option is also available as heat-sealing or adhesive variants. The foils are made of aluminum, i.e., they are impermeable to light while at the same time allowing mechanical penetration. This feature permits the flexible removal of individual samples from the plate (figure 2).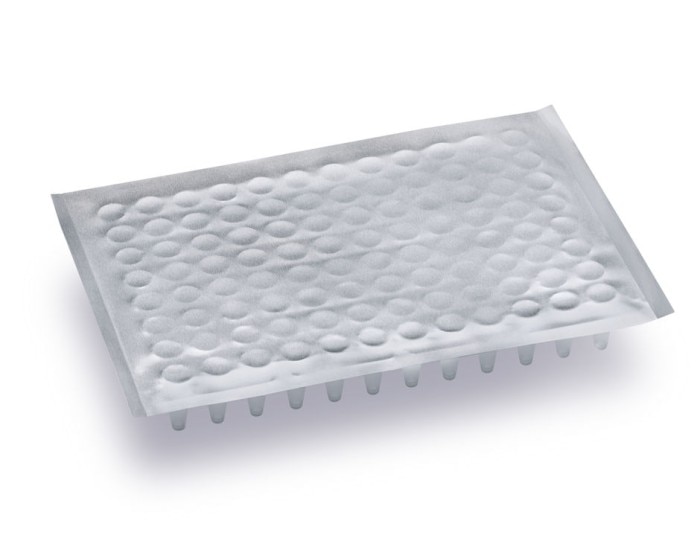 Cap strips
For the purpose of sealing PCR plates, connected cap strips, which seal every well separately, are available. In this way, individual rows within a 96 well PCR plate can be opened and closed. The cap strips are therefore also well suited for use with divisible plates in this format. The following variants are available:
Domed caps are pressed down particularly strongly by the thermocycler lid, thus ensuring a tight seal (figure 3a). Flat caps enable optical applications during which samples are measured from above (figure 3b). The inverted cap (figure 3c) represents a variant of the flat cap; the inverted cap is suited particularly well to optical measurements as scratching of the surface is avoided. This lid offers further advantages in cases where small reaction volumes are used by reducing the vapor volume of the well.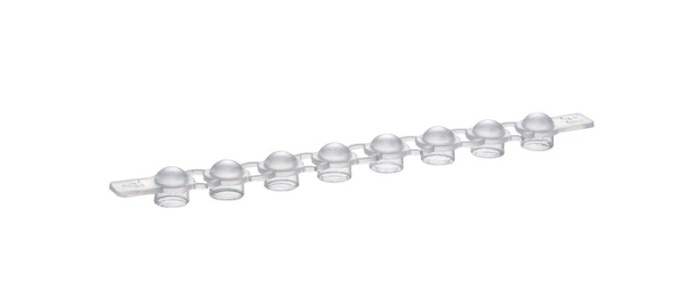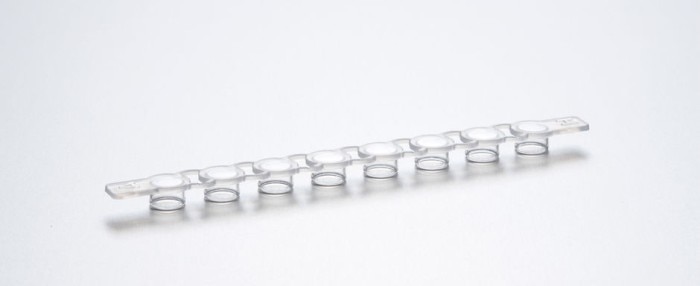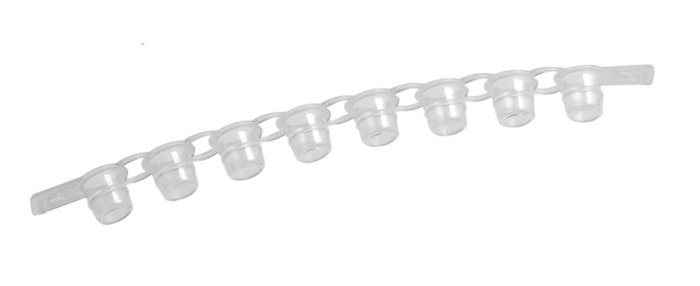 Mats
Mats used for the sealing of plates are made from flexible materials such as, for example, TPE (thermoplastic elastomer). There are simple versions which are just placed on top of the plate. Frequently, though, mats are equipped with nubs which are designed for a specific plate (figure 4). The individual nubs are pressed inside the well for closure.
Lids
Lids are often made from plastics such as polystyrene; they are simply placed on top of the plate and thus represent the easiest handling option. Compared to other closure options, they offer less protection from evaporation and are therefore mainly used as short-term covers for protection against contamination. Highly transparent variants are also suitable for optical applications (figure 5).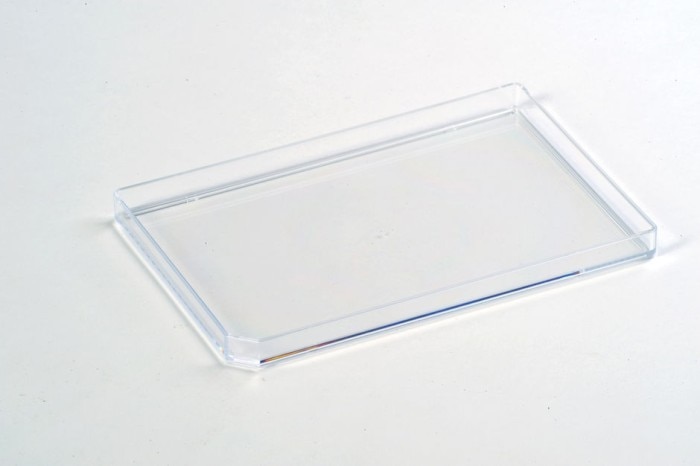 Examples of common applications and their requirements*:


Incubation at high temperatures
In general, the higher the temperature to which the plate is subjected, the tighter the PCR plate seal must be in order to prevent evaporation of the samples. A technique which was commonly carried out in the past – and nowadays only in specific cases – employed a "liquid lid", i.e., an overlay using mineral oil. With the closure options available today, the best protection is achieved through heat sealing using film or foil. The following specific examples illustrate additional sealing options, and their limitations, respectively:
Incubation in the heating block/water bath: Sealing mats can be used if their nubs seal the plate wells tightly. Adhesive closures are also suitable if their adhesive does not have to be activated by pressure or heat (cycler lid).
PCR: The contact pressure (and heat, if applicable) of the cycler lid improves the seal of the wells, allowing the use of adhesive films and foils that are thus activated, as well as cap strips.
Real-time PCR / qPCR: The course of the reaction of a real-time PCR / qPCR is monitored optically. Since most systems detect from above, transparent closures with high light transmission are (almost) exclusively suited to this application. Accordingly, heat sealing films, and adhesive films (with an adhesive which will not impede light transmission) may be used, as well as flat or inverted cap strips.

Storage
Samples are stored at different temperatures, for different periods of time. For short-term storage at ambient or refrigerated temperatures (approx. 4 °C), or at freezer temperatures (approx. -20 °C), practically all closure types are appropriate. But how about long-term storage, ultra-low temperatures (-80 °C) or storage of special samples?
Storage at -80 °C: With the exception of the adhesive films and foils, all other sealing options may be used at these temperatures.
Long-term storage: Heat-sealing film is the best option for long-term storage; in addition to providing the tightest seal, it also protects from accidental perforation. Heat sealing foil and cap strips (for PCR plates) are good alternatives.
Storage of light-sensitive samples: All foil-based closures provide good protection from light (heat seal and adhesive).

* The properties of the respective products, and the recommendations within this paper, are based on sealing options by Eppendorf. Similar products offered by other manufacturers may feature properties which differ from those described herein.