text.skipToContent
text.skipToNavigation
You are about to leave this site.
---
Please be aware that your current cart is not saved yet and cannot be restored on the new site nor when you come back. If you want to save your cart please login in into your account.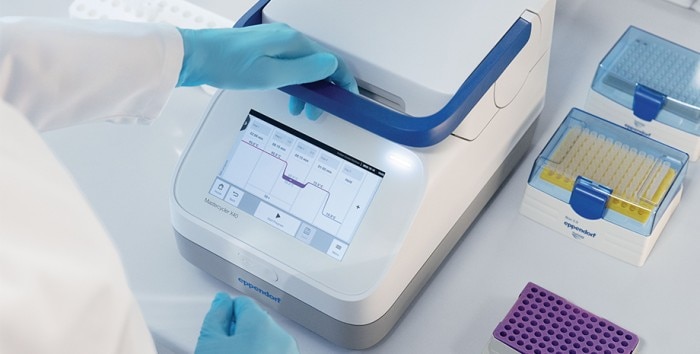 Raise your standard with Mastercycler® X40
news
With the Mastercycler® X40 your daily lab routines will not only be reliable and efficient but elevated: Our new product offers proven reliability and the high-quality thermal cycler is now available for every lab. Discover the Mastercycler X40 and all its advantages that will raise your work to a new standard.
Reproducible nucleic acid amplification and reliable temperature homogeneity are a must for our Mastercycler X40 PCR cycler. Combined with the intuitive touch-screen user interface and ergonomic one-hand operation the new Mastercycler X40 raises your standard in PCR. Feel free to use 0.1 mL, 0.2 mL tubes or tube strips and your choice of any type of 96-well PCR plate, the SafeLid securely protects your samples from evaporation. The 12-column gradient facilitates optimization of different temperature steps in your PCR protocol. When transferring protocols from slower cycler models to the Mastercycler X40 you can benefit from the convenient program migration feature that automatically adapts the ramp rates to match your well-proven PCR protocol with the exact same runtime.
For the digital future in your lab Mastercycler X40 can be directly connected to our VisioNize
®
Lab Suite for monitoring, audit trails and documentation.
For meeting sustainability goals Mastercycler X40 comes in a pure cardboard box with minimal dust-protecting plastic bags and a reduced short manual. The small footprint and low weight reduce the CO
2
footprint originated by shipping and its low energy consumption contributes to daily reduction of CO
2
emission. The clean and modern design is centered on an intuitive and comfortable user experience.
http://www.eppendorf.link/raiseyourstandard
About the Eppendorf Group
Eppendorf is a leading international life science company that develops, manufactures, and distributes instruments, consumables, and services for use in laboratories around the world.

The product portfolio of the business units Liquid Handling, Consumables, Separation & Instrumentation and Bioprocess includes, for example, pipettes, pipette tips, centrifuges, mixers, ultra-freezers and bioreactors for cell and gene research. In addition, Eppendorf offers a wide range of high-quality consumables. In fiscal year 2022, the Eppendorf Group generated €1.23 billion in sales and invested €76 million in research and development (R&D).

Eppendorf products are used in academic and industrial research laboratories, for example in companies in the pharmaceutical, biotech, chemical and food industries. But Eppendorf products are also used in clinical or environmental analysis laboratories, in forensics and in industrial laboratories for process analysis, production, and quality assurance.

Eppendorf was founded in 1945, is headquartered in Hamburg, Germany, operates production and R&D sites in Europe, Asia and North America and has subsidiaries in 33 countries. Today, the Group employs more than 5,000 people worldwide. They all act in accordance with the purpose of the company's founders: to improve human living conditions.