text.skipToContent
text.skipToNavigation
You are about to leave this site.
---
Please be aware that your current cart is not saved yet and cannot be restored on the new site nor when you come back. If you want to save your cart please login in into your account.
Regarding suitability of Eppendorf bioprocess equipment in GMP-regulated applications, please reach out to your Eppendorf sales representative.
Stem Cell Bioprocessing
Stem cells are unique in that they possess the capacity for self-renewal and to develop into various cell types. This ability makes them extremely useful for biotechnological applications such as
cell therapy
, drug discovery, and the creation of modern food. Research and development in these application areas require large numbers of high-quality cells. However, establishing and growing highly sensitive cell cultures outside of their natural physiological environment is a labor and time intensive process. It is essential that the ideal conditions for cell growth can be produced and controlled, and that this system is scalable to generate the large quantity of cells required for cellular applications.
Stirred-tank bioreactors facilitate efficient cell expansion through tightly controlled regulation of key parameters and the use of automation.
Webinar: Breaking boundaries in bioprocess development
Join experts from Hannover Medical School, Pluri Inc., and Eppendorf and find out more about unleashing the power of stirred-tank bioreactors for cell and gene therapies!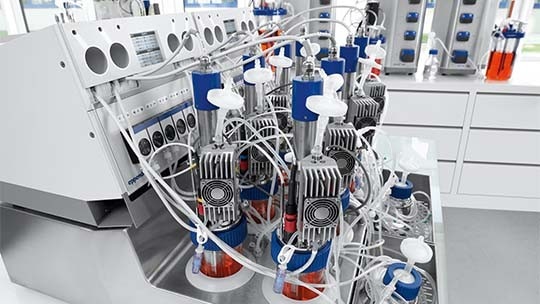 Stem cell expertise at Eppendorf
Eppendorf has a long, established history working with stem cell processes in 3D cultures.
Since 2012, Eppendorf bioreactor systems have been used to grow stem cell cultures in stirred tank bioreactors, presenting data towards scalable
mass expansion of hiPSCs
. Since then Eppendorf further developed its bioreactor design to suit the special needs of stem cells, for example as part of the EU Horizon 2020 research consortium
Technobeat
(Tools and TECHNOlogies for Breaktrough in hEArtTherapies).
Choose the right bioreactor system
Bioreactor control stations
The
DASbox® Mini Bioreactor System
is widely used for stem cell applications. It has a small working volume of 100 mL to 250 mL and is therefore well suited to get started. If even higher cell numbers are required, process scale up to other systems, like the
BioFlo® 320
or
SciVario® twin
is possible.
Single-use bioreactors
The small and bench-scale Eppendorf bioreactor systems are compatible with
BioBLU® Single-Use Bioreactors
. Harboring a special 8-blade impeller, the BioBLU
®
0.3sc was optimized for gentle mixing and cell aggregate formation.
Our bioprocess specialists are happy to provide further support. Please contact us to discuss the needs of your individual application.
Join the stem cell community!
Organized for the first time in 2017, the Stem Cell Community Day (SCCD) connects researchers from academia and industry across the world, to discuss recent advances and new technologies in the field of stem cell production. With a special focus on the controlled cultivation of stem cells in stirred-tank bioreactors, the SCCD is an optimal place to exchange knowledge and share expertise with scientists around the world.
The next SCCD will take place on November 21, 2023 in Leiden, The Netherlands, and online. Why not get involved?
A selection of our customers