text.skipToContent
text.skipToNavigation
You are about to leave this site.
---
Please be aware that your current cart is not saved yet and cannot be restored on the new site nor when you come back. If you want to save your cart please login in into your account.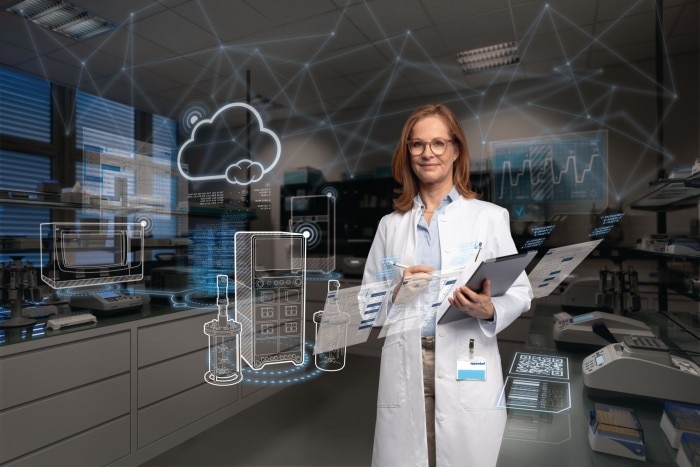 What does the future of research look like?
Explore Life Science
Food & Beverage

Inspiring Science

Lab Life

History

Lab Life

Efficiency

Digital Lab Solutions

Automation
In many areas of life, there are high hopes and expectations for far-reaching developments and innovation in the future. But what does this mean for the researchers who are seeking to realize these aims? What will be the discoveries that help scientists deliver these new breakthroughs?
The advent of AI is making it easier to translate this vast amount of data into results faster and more efficiently. But it's not just the data handling that's changing. We're currently seeing the digitization of the life science lab as a whole, for example through the use of cloud-based electronic lab journals, instrument control, and inventory management. At Eppendorf, we're working hard to support scientists with these applications through our
VisioNize®
and
eLAB
TM
offerings.
Another trend of the future of research that will inevitably continue is lab automation. In today's labs, automation is still mostly associated with repetitive, high-throughput tasks, but as machines and software get smarter and the role of AI is expanding, it will also become possible to use automation in research tasks that require adjustments based on initial results.
Communication and connectivity is another big factor in the lab of the future. The world is getting smaller and for scientists working in the developed world it may sometimes seem that there are no limits to sharing information and crossing borders in research. However, this is not necessarily the case across the entire world. Improvements in connectivity, not just between well connected labs but also from remote areas of the world, will be a key aspect for many life science researchers – even those that don't work in the field.
And what other areas will define the lab, or researcher, of tomorrow? It has been suggested that introducing gamification and game theory elements will contribute to the research of the future. Then again, maybe the next big thing will come from somewhere nobody expects.
In the last 75 years, we at Eppendorf have been leading the way in applying the latest technologies to support the scientists of tomorrow. You can see this in one of our core areas – pipetting – where we support automation through our
epMotion®
automated liquid handling systems, place user ergonomics at the center with our
PhysioCare
concept, and improve connectivity with our new connected pipette.
But we haven't stopped there. We've also teamed up with other companies in the smartLAB collaboration to work on new digital solutions for labs worldwide. Our
VisioNize®
and
eLAB
TM offering helps scientists digitize lab tasks that are often done manually, such as equipment control, inventory management, and lab journal writing – thereby helping labs to become connected, paperless, and ready for the future.
And for as far as we can see into the future, we'll continue to develop and innovate. Because helping scientists to make their breakthroughs is what we go to work for.