text.skipToContent
text.skipToNavigation
You are about to leave this site.
---
Please be aware that your current cart is not saved yet and cannot be restored on the new site nor when you come back. If you want to save your cart please login in into your account.

Categories
Remote Device Monitoring and Notifications (VisioNize®)
Do you cultivate cells on the top shelf of your fan-assisted cell culture incubator?
Afraid of vibrations or increased medium evaporation?
Have you ever experienced variations between cells grown in vessels on different shelves of your cell culture incubator, especially between the top shelf and others?
These differences can be caused by air turbulences that disrupt the protective micro-atmosphere above the medium. Air turbulence can be generated by fans used to circulate the atmosphere inside standard CO2 incubators. Additionally, uneven cell growth can occur because the fan may cause the vessels to vibrate – especially in the case of sensitive cells. These effects can be avoided with fanless CO2 incubators like the CellXpert. Air circulation via convection provides uniform temperatures, fast recovery, and conditions without the risks due to a fan. Enjoy peace of mind using the top shelf and use more valuable space.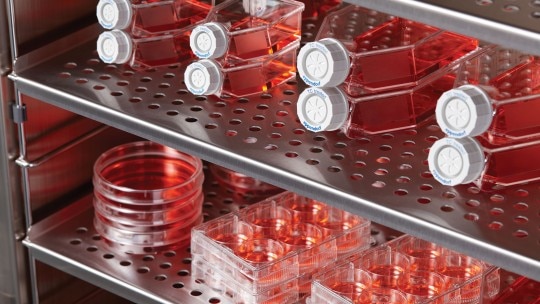 Easy cleaning, reliable contamination prevention
Prevention of lab downtime and sample loss is essential for you to deliver cell culture results in time? You cannot afford to spend too much time and money on standardized cleaning of your cell culture incubator, documentation or on changing costly, non-sterilizable, fan-associated HEPA filters?
180°C high temperature disinfection with illustrated step-by-step instructions on screen and downloadable performance protocol for standardized procedures
Minimal internal incubator parts removed in 40s and wiped quickly
Nowhere to hide for contaminants and cleaned fast: Smooth, seamless incubator chamber
Fanless design
No non-sterilizable fan-associated HEPA filters that can become potential contamination sources
Options for copper and segmented inner doors for additional protection
Learn more:
Inside Cell Culture Newsletter
You are experienced in cell culture and want to keep improving your knowledge? Maybe you are also looking for better resources that support your teaching and training? Then the Eppendorf "Inside Cell Culture" Newsletter is just perfect for you.
CO2 incubator for small cell culture labs, limited space, or personal workspaces
Is the space in your cell culture lab limited? Do you only need to handle a few samples? Or are you looking for a small CO2 incubator for your personal workspace?
The total volume of 48L or 1.7ft3 , the high usable volume, and the small footprint (48.3?× 47.5?× 64.5cm?/ 19.0?× 18.7?× 25.4in (W x D x H) of the Galaxy 48R CO2 incubator make it ideal for cell culture labs with limited space or number of samples, as well as for personal workspaces.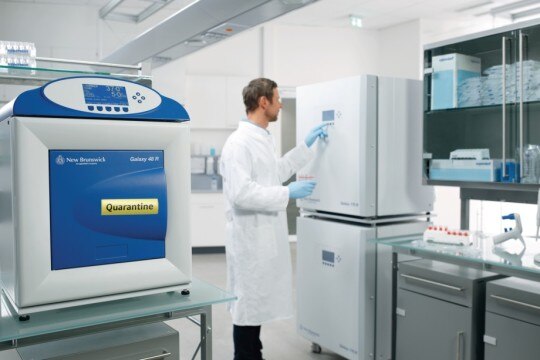 Small CO2 incubator for cell line isolation or quarantine
Do you frequently get cell lines from other cell culture labs? Stay safe and isolate, check, and transfer.
Be aware of an incalculable risk for contamination or misidentification by cell lines from other labs. This is especially the case for frozen cultures from other cell culture labs that may have never been tested for the invisible enemy mycoplasma. To prevent spreading of microbial contaminants across your existing cell cultures, all new cell lines should be isolated first and treated as potentially contaminated until the opposite has been proven or an appropriate certificate is provided. The small CO2 incubator Galaxy 48R is ideal for initial quarantine or isolation of a new cell line coming into your lab, while checking cell line identity (e.g. by STR-profiling or karyotyping) and for (mycoplasma) contamination."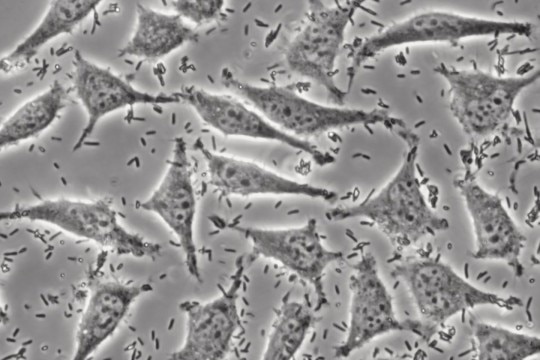 Want to learn more?
Videos not loading, because cookies have been rejected. Change your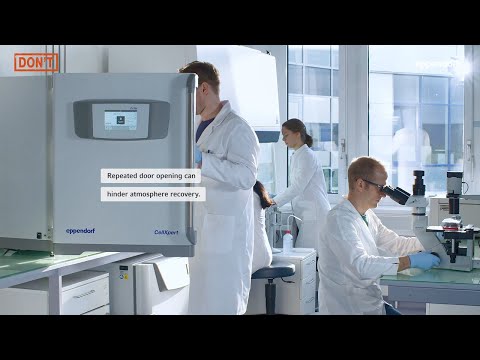 Videos not loading, because cookies have been rejected. Change your