text.skipToContent
text.skipToNavigation
You are about to leave this site.
---
Please be aware that your current cart is not saved yet and cannot be restored on the new site nor when you come back. If you want to save your cart please login in into your account.
Centrifuge 5920 R - Large Centrifuge
General Lab Product Version
IVD Product Version
Do I need IVD?
In May 2022, the EU IVD Regulation (IVDR) 2017/746 replaces the IVD Directive 98/79/EC under which a variety of Eppendorf products were registered as IVD products. The new IVDR, and resulting recommendations from leading European Life Science Organizations, provide more clarity on product types that may be classified as in-vitro diagnostic medical devices, which will lead to some changes in our IVD product portfolio.
Eppendorf will continue to offer centrifuges in two versions: An EU-IVD compliant version for predominantly medical, clinical or diagnostic applications (affixed with the CE IVD mark according to IVDD (EU) 98/79/EC, and, in the future, according to the IVDR (EU) 2017/746), and a General Lab Product version for research applications.
Eppendorf pipettes, pipette tips and tubes affixed with the CE IVD mark will be discontinued in May 2022. To ensure that you can keep working with our products in IVD applications, the intended use of our "General Lab Product" pipettes, pipette tips and tubes will be changed however: Eppendorf pipettes, pipette tips and tubes without CE IVD mark will be suitable for all general laboratory applications including IVD applications and may be purchased and used as such from January 2022 (in the EU and EFTA countries).
Learn more here
Product Information
Centrifuge 5920 R is a large bench top refrigerated centrifuge with exceptional performance and high capacity, making it a superior choice for high-throughput applications.
Single Devices (1)
Sets (6)
Rotors (9)
epServices (14)
Added to Your Cart
Product Information
Technical Data
Features
The large bench top Centrifuge 5920 R combines extraordinary capacity with a compact and ergonomic product design. It has similar dimensions to competing refrigerated 3 L models yet it is capable of offering superior capacity of up to 4 x 1,000 mL or 52 x 50 mL tubes. Streamline high-throughput centrifugation and make everyday work more enjoyable.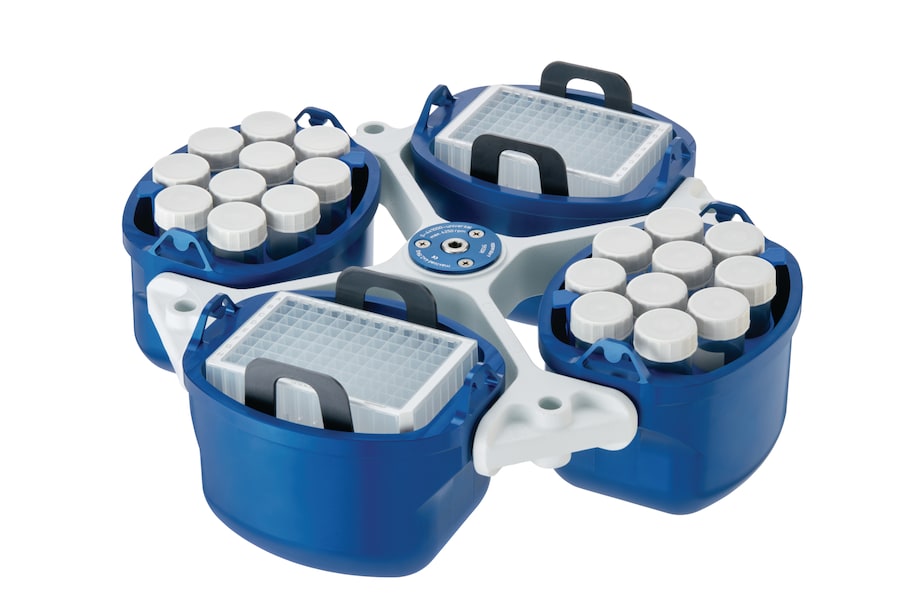 Universal buckets for both tubes and plates

Save valuable time, money and space with universal buckets for both tubes and plates. With Rotor S-4xUniversal-Large you can spin tubes, plates and bottles with only a change the adapter, not the rotor bucket. There is no need to exchange buckets, use separate bucket places or find space to store different buckets.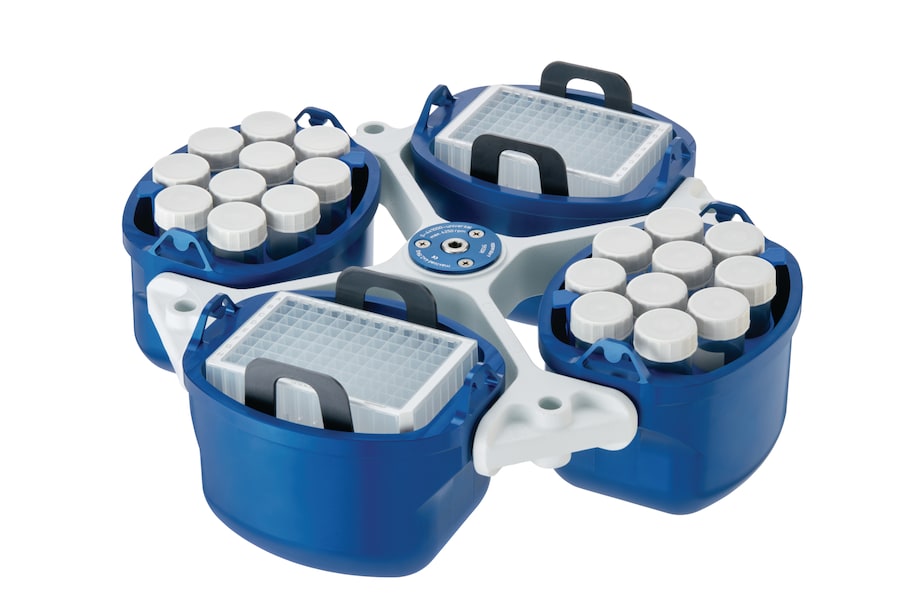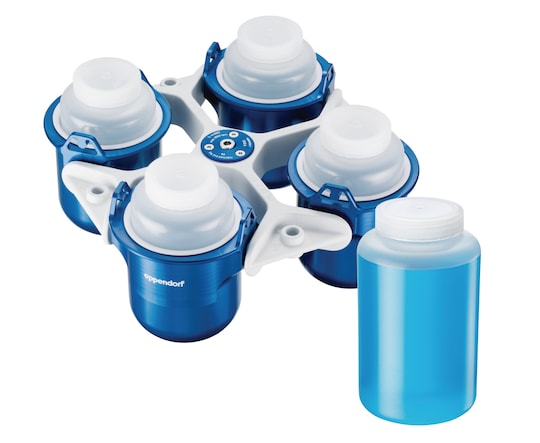 Superior 4 L capacity

Centrifuge 5920 R accommodates standard 1 L Nalgene bottles setting a new standard in the bench top centrifuge segment.The higher 4 x 1000 mL capacity allows you to process a higher volume without needing more runs.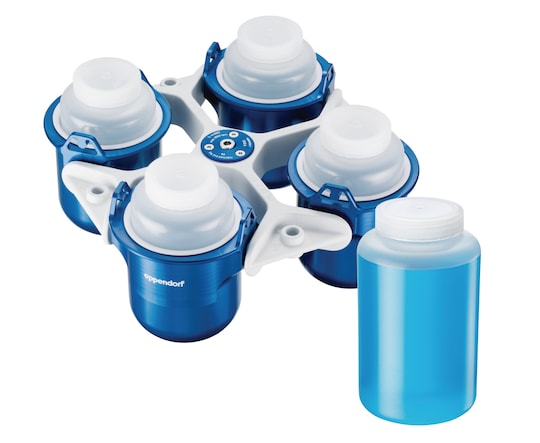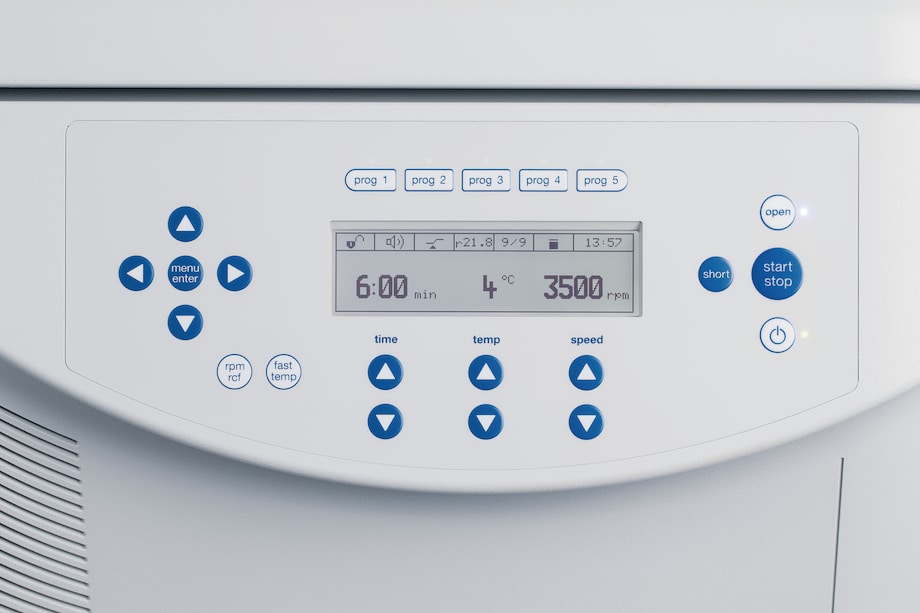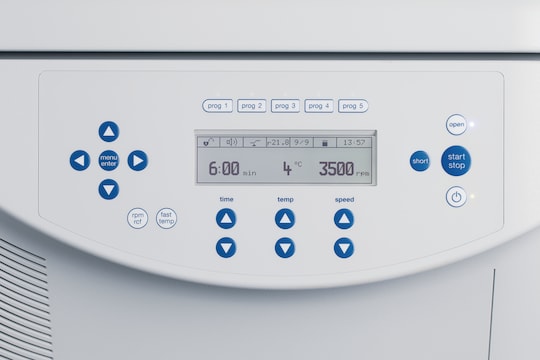 Advanced operating system

Centrifuge 5920 R combines outstanding functionality with an advanced operating system. It has a menu-driven, multilingual operation menu with large backlit display that allows you can save up to 99 user-defined programs and 5 program keys for easy access to routine programs. The FastTemp pro function is available for fast automated pre-cooling using a pre-programmable time and date.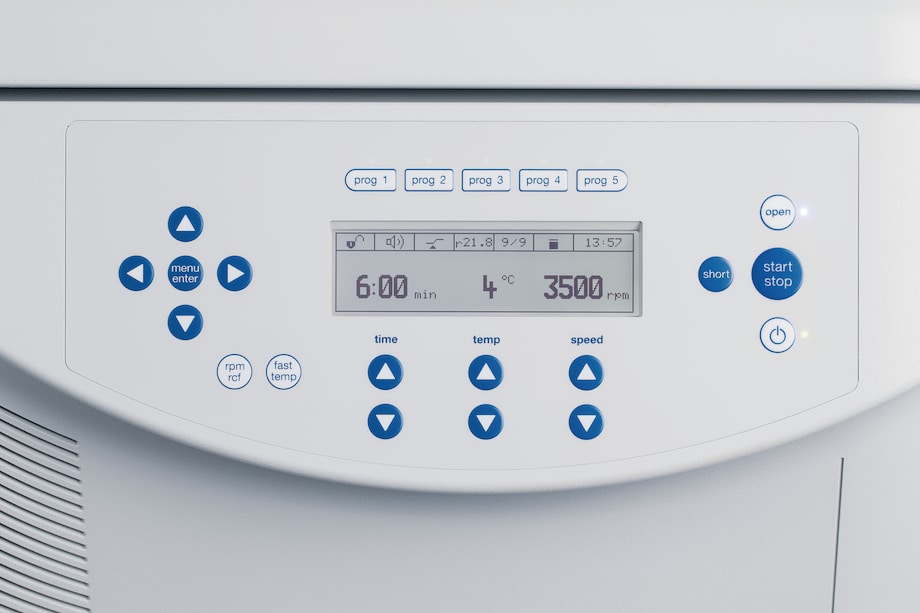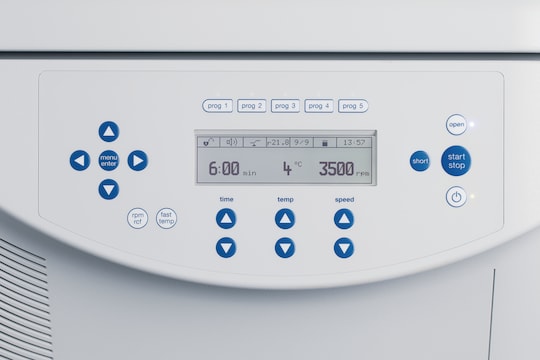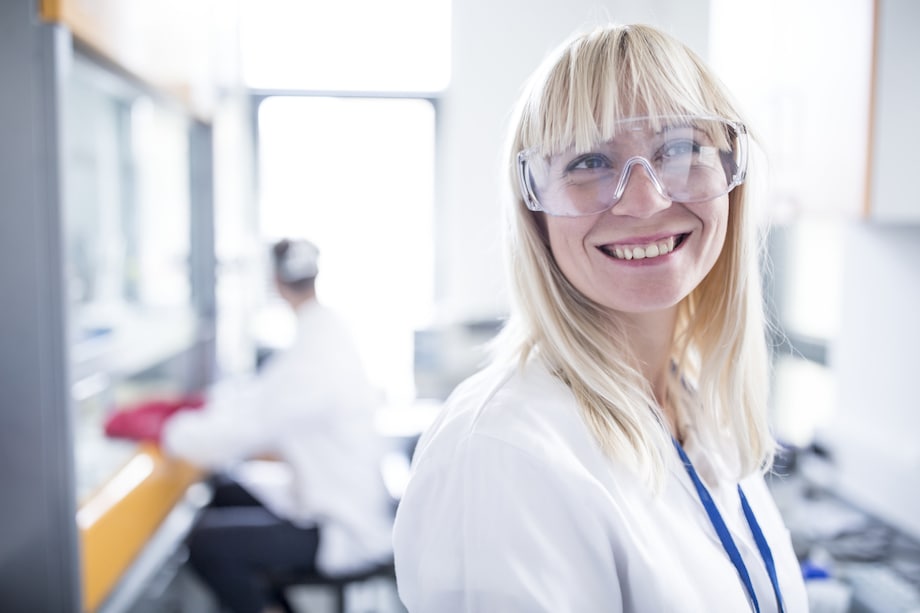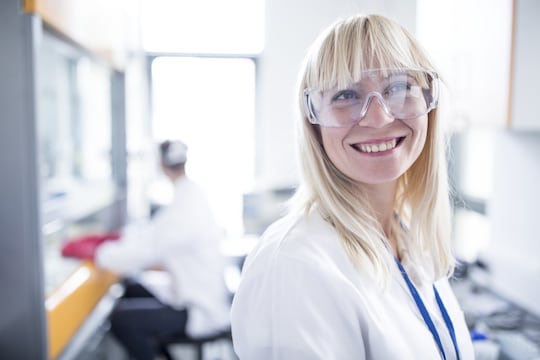 Proud Owner of an Eppendorf product? Already registered?
Did you know that if you register your Eppendorf product with us you will get the following?
• 100 epPoints
®
(for each product you register) to redeem in our rewards shop
• Additional 3 months warranty when you register a Centrifuge, Shaker, CO2 Incubator or Cycler
• Entry in an exclusive Eppendorf prize draw (for each product you register)
• Get your personal product story to be posted on the Eppendorf website
Getting started is super easy! Either -
1. Download the Eppendorf App, scan and register OR
2. Visit our webpage, log onto your myEppendorf account and enter the product serial number
More information:
www.eppendorf.com/productregistration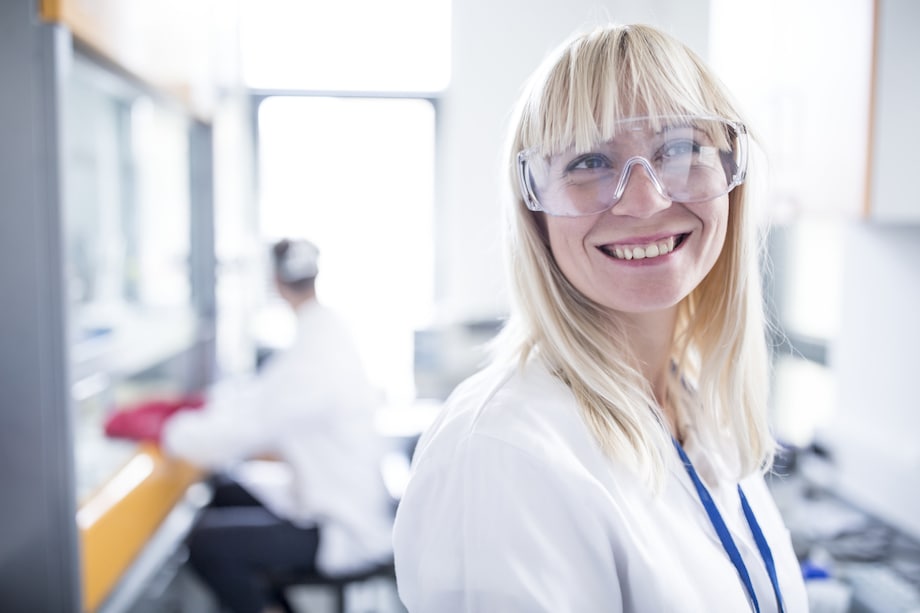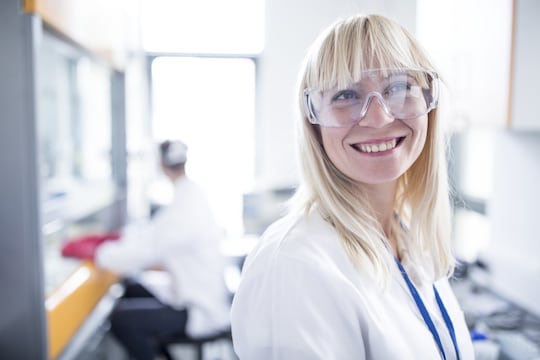 | Specifications | Centrifuge 5920 R |
| --- | --- |
Default Classification Class
Max. RCF
21,194 × g
Max. RCF with fixed-angle rotor
21194 × g
Max. RCF with swing-bucket rotor
4791 × g
Max. RCF with plate rotor
3486 × g
Display
large, brightly lit LCD
Speed
100 – 13,700 rpm
Rotors available
9
Max. capacity
4 × 1,000 mL/4 × 7 MTP
Acceleration/braking ramps
10/10
Number of programs
99 (5 program keys)
Timer
10 s to 99 h 59 min, with continuous run function, short-spin
Noise level
<55 dB(A)
Volume range
4 L
Power supply
230 V, 50 – 60 Hz
Max. power consumption
1650 W
Dimensions (W × D × H)
74 × 71 × 40 cm / 29,2 × 27,8 × 15,9 in
Footprint (dimensions w/o front panel, WxD)
74 × 67 cm
Weight w/o accessories
139 kg / 306 lb
Height (with open lid)
94 cm / 37 in
Cooling
refrigerated
Temperature control range
-11 °C to 40 °C
Universal adapters for conical tubes, plates and bottles
yes
Plate rotor options for MTP, PCR or DWP
yes
Fixed-angle rotors for high-speed applications
yes
Temperature range
-11 °C to +40 °C
Max. capacity
Conical tubes
108 × 15 mL/52 × 50 mL
Plates
28 × MTP/8 × DWP
Blood collection tubes
196 × 13 mm/148 × 16 mm
Noise level
Rotor FA-6x50
<60 dB(A)
Rotor S-4xUniversal-Large
<55 dB(A)
Swing-bucket rotors and adapters accommodate tubes and bottles from 0.2 mL to 1,000 mL
Plate rotor options for centrifugation of all types of MTP, PCR or Deepwell Plates
Fixed-angle rotors for high-speed molecular biology applications in tubes from 0.2 mL to 50 mL
High centrifugation speed of up to 21,194 × g (13,700 rpm)
Aerosol-tight Eppendorf QuickLock® caps and lids allow fast and ergonomic lid locking
Centrifuge lid with soft-touch lid closure
Quiet operation to improve your work environment
Compact footprint saves valuable bench space
Automatic rotor recognition and imbalance detection for maximum operational safety
Additional features for Centrifuge 5920 R
Temperature range from -11 °C to 40 °C
FastTemp function for quick pre-cooling
FastTemp pro® function allows for automatic precooling based on pre-programmable time and date
Continuous cooling maintains a constant temperature after the run has been completed – your samples stay cool
ECO shut-off engages after 8 hours (adjustable) of non-use to reduce energy consumption and to extend compressor life
Dynamic compressor control (DCC) technology for precise cooling performance
Downloads: Centrifuge 5920 R