text.skipToContent
text.skipToNavigation
You are about to leave this site.
---
Please be aware that your current cart is not saved yet and cannot be restored on the new site nor when you come back. If you want to save your cart please login in into your account.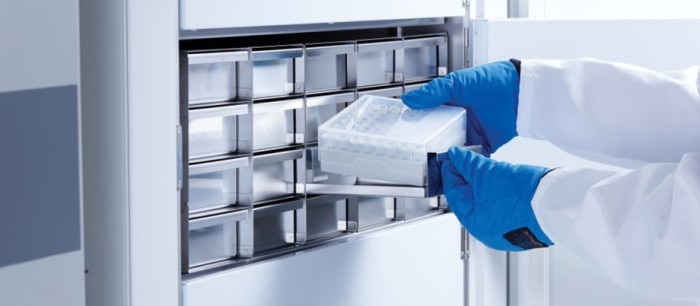 Is there a preferred location for my sample in the freezer?
Lab Academy
Molecular Biology

Cell Biology

Freezers & Accessories

Cell Culture

Lab Life

Lab Routine

Storage

FAQ
Ask the expert - Answer by Dr. Jan Bebermeier, Global Marketing Manager Cold Storage at Eppendorf


This article appeared first in " Inside Cell Culture ", the monthly newsletter for cell culture


A freezer is an instrument with a complex temperature control system. Independent from brand and type of insulation, the rules of thermodynamics are key for the temperature distribution within the ULT freezer. This means as a baseline: warmer air raises up whereas colder air descents – the coldest location in the freezer is by principle the lowest compartment.
The outer door is always the weakest point of a freezer in respect to insulation. This is due to the door fixation: The hinge side has two or three fixation points (hinges) whereas the side with the door lock just has one fixation point. As a result, the upper and lower corners of the door handle side have the weakest closing pressure and therefore the weakest insulation of the outer door gasket.
Besides physical laws, the personal behavior impacts the temperature within the freezer: The more often you open the freezer door and the longer the door is opened, the more the temperature within the freezer raises. Therefore, freezers for frequent openings shall have a short DOR (door opening recovery) time to cool down back to the set-point. This requires a powerful and efficient cooling system. Besides, every lab member shall be trained to limit the door opening time to a minimum. Exact knowledge about sample location within the freezer by e.g. a sample management software helps to keep the opening times short.
Last but not least, the type of racks has an influence on the sample storage temperature. Side-access racks require a major pull-out of the complete rack when accessing samples at the middle or the back. Drawer-based racks limit the exposed sample boxes to a single drawer whereas the rest of the sample boxes remain in the cold freezer. Finally, the position of the cooling loops behind the stainless steel compartment walls influences the temperature.
Summarizing all aspects, there is no clear indication about the best spot but the lower and the deeper within the freezer may help as guideline.