text.skipToContent
text.skipToNavigation
You are about to leave this site.
---
Please be aware that your current cart is not saved yet and cannot be restored on the new site nor when you come back. If you want to save your cart please login in into your account.
Stem cell expansion at large scale
Stem cell-based technologies are one of the most promising approaches to further advance modern medicine, drug discovery, and the development of novel food. Research and development in these application areas require large numbers of high-quality cells. Stirred-tank bioreactors facilitate efficient cell expansion when conventional 2D-culture systems reach their limits.
Stem cell production for applied research
How can stem cells be produced efficiently and reproducibly to suit the demands of applied research? Dr. Marcia Mata (Cell and Gene Therapy Catapult), Prof. Bernd Giebel (University Hospital Essen), and Dr. Philipp Nold (Eppendorf SE) share their knowledge on current trends and their thoughts on future developments in the field of stem cell research and applications.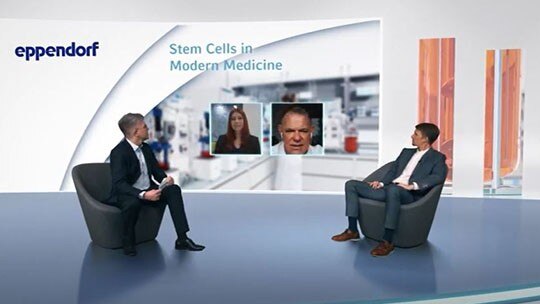 Bioreactor development for your success
Stem cell culture is challenging. That is why within the EU Research and Innovation program, Horizon 2020, and in cooperation with its customers, Eppendorf further developed its bioreactors to suit the special needs of stem cells.
Discover the BioBLU® 0.3sc Single-Use Bioreactor optimized for slow stirring and cell aggregate formation.
The 8-blade impeller type ensures gentle mixing of your cell culture
Reduced cell settling and very good mixing already at low agitation speed reduces the stress to your stem cell culture
Improved DO-cap with chamfer corners and reduced overall diameter reduces cell sedimentation on the cap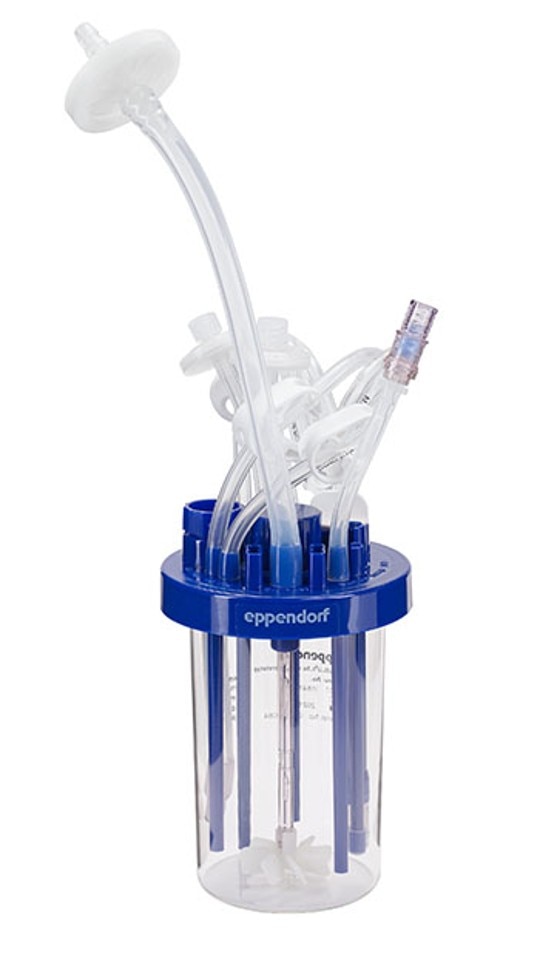 Our 8-blade impeller supported 3D cell aggregate formation in a DASbox® Mini Bioreactor and efficiently kept the aggregates in suspension. Read more about how this impeller was used for the cultivation of 3D cell aggregates at the Instituto de Biologia Experimental e Tecnológica (iBET) in Portugal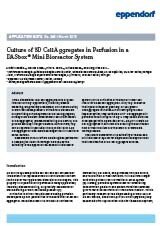 Download application note
Contact us
Our bioprocess specialists are happy to provide further support. Please contact us to discuss the needs of your individual application.
Production of stem cell-derived exosomes
Stem cell-derived exosomes are currently of great interest as cell-free therapeutic tools due to their strong diagnostic and therapeutical potential in various diseases models. To explore the use of exosomes in preclinical research, large amounts need to be produced.
Expanding mesenchymal stem cells in bioreactors
Mesenchymal stem cells (MSCs) are multipotent cells derived from the bone marrow, from adipose tissue, cord blood or other tissues related to the embryonic mesoderm. Read, how they can be cultivated on microcarriers in stirred-tank bioreactors, while conserving their potential to differentiate into use cell like osteocytes or chondrocytes.
Growing meat in bioreactors
Can bioreactors revolutionize the way we produce animal products, such as meat and leather? Can we make meat more sustainable and increase animal welfare? Read expert opinions about the use of stem cells for cultured meat.
Download ebook: Mark Post co-founded Mosa Meat, a company aiming at culturing meat using tissue engineering. He shared his thoughts on challenges and the great potential of growing meat in bioreactors in an interview for our ebook.
Go to article: Cultured meat is no longer science fiction. Explore, how sophisticated bioreactor technology can help produce it.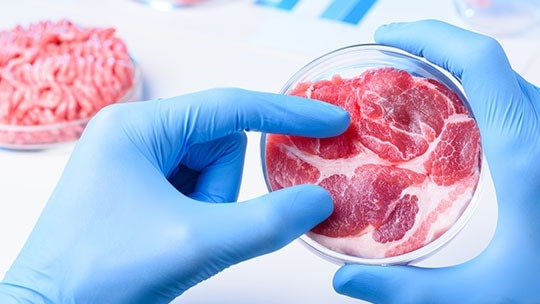 Join the stem cell community!
Organized for the first time in 2017, the Stem Cell Community Day (SCCD) connects researchers from academia and industry across the world, to discuss recent advances and new technologies in the field of stem cell production. With a special focus on the controlled cultivation of stem cells in stirred-tank bioreactors, the SCCD is an optimal place to exchange knowledge and share expertise with scientists around the world.
The next SCCD will take place on November 21, 2023 in Leiden, The Netherlands, and online. Why not get involved?
A selection of our customers