text.skipToContent
text.skipToNavigation
You are about to leave this site.
---
Please be aware that your current cart is not saved yet and cannot be restored on the new site nor when you come back. If you want to save your cart please login in into your account.
Regarding suitability of Eppendorf bioprocess equipment in GMP-regulated applications, please reach out to your Eppendorf sales representative.
Microbial Production
What is microbial production used for?
A variety of microbes can produce valuable molecules for use in medicine, agriculture, and the production of chemicals and food. Small molecules including plasmids, proteins, peptides, and amino acids are commonly generated through microbial fermentation in bacteria, yeast or other fungi. Microbial fermentation–based production has many benefits:
Fast development
Excellent yields and quality
Rapid scalability
Low to medium production costs
Read more about
bacterial fermentation
and
yeast fermentation
.
What properties make a bioreactor system suitable for microbial production?
Strain selection, choice of media, process development and scale up are all key to maximizing the productivity of your fermentation process. Suitable bioreactors need to be able to facilitate these procedures to produce high quality and optimal yield of the desired products. Here, we will describe how the right bioreactor can enable optimal cell growth and eventual scale-up.
Bioreactors should support high cell densities during aerobic fermentation
Oxygen supply: Essential for an aerobic cultivation to be successful‌
The determination of the oxygen transfer rate (OTR) and the volumetric oxygen transfer coefficient (k
L
a) enables you to optimize the bioprocess in bioreactors and ensures a successful scale-up procedure.The necessary oxygen level for cultures of bacteria and yeast is typically 10 % to 50 % of air saturation. Keeping DO levels above the threshold amount by ensuring there is a suitable supply of oxygen is critical to sustaining optimal development. There are several bioreactor components that influence this:
Impellers: These are used to agitate and mix a cell culture. The number of blades, speed and diameter can all affect the DO level.
Sparger: Spargers are tools for gas exchange, specifically for introducing air and oxygen. The type of sparger influences the created bubble size and how effectively oxygen can be transferred to the cell biomass.
Gassing system: Gasses can be introduced into the bioreactor via the headspace or directly into the culture. This is called overlay and submerged gassing, respectively.
Baffles: The use of baffles enhances the mixing process. It leads to more turbulent mixing and prevents the culture from vortex mixing by breaking the vortex.
Culture feeding: Needed to encourage growth and microbial production‌
There are three different feeding strategies for bioreactor cultures:
Batch: Feeding substrate is only added at the beginning of the fermentation process.
Fed-batch: Feeding substrate is added at the beginning and in increments throughout the rest of the bioprocess until the maximum working volume is reached.
Continuous: Substrate is continuously added to the culture, with the continuous harvesting of cells and media to maintain a constant environment.
Fed-batch and continuous culture operation modes offer the possibility to incorporate feed automation and improve your fermentation process. Feed automation can be accomplished by tracking various parameters in real-time to keep track of the culture's metabolic health and automatically alter the substrate concentration with feed pumps. Bioprocess software like
DASware® control
can be utilized to automate feeding by monitoring important parameters in real-time.
Temperature: Must be monitored and adjusted when necessary‌
Microorganisms have optimal temperature ranges where enzymes can function properly. Since cell growth and metabolic function are heavily dependent on certain enzymatic pathways, microbial production will be significantly impacted if temperatures rise or fall outside of these ranges. It's therefore essential that the temperature is monitored and adjusted when necessary. Due to the high metabolic activity of many microbes, overheating can be a much more serious problem than under-heating for a microbial culture so it's important to have components that can help to cool a microbial culture. Ways to maintain a stable temperature in a bioreactor is the use of s
tainless-steel cooling fingers
or the use of
water-jacketed vessels
. Some variants of the
BioBLU® f Single-Use Βioreactor
product line have patented
cooling baffles
, providing efficient heat removal through active cooling of the interior of the bioreactor.
Bioprocess systems should facilitate process optimization
How parallel bioreactor systems can help accelerating process optimization‌
To establish a microbial production process that is robust and efficient, several experiments need to be run to understand how these parameters influence each other and the resulting product. Parallel bioreactors, such as the
DASbox® Mini Bioreactor System
, enable the simultaneous operation of multiple experiments, thereby conserving time and resources.
Learn more, how bioreactor systems help finding the right producer strains, optimizing process parameters, and mimicking the natural environment of microbes.
How single-use bioreactors can help saving development time‌
All small and bench-scale bioprocess systems from Eppendorf are compatible with BioBLU® f Single-UseBioreactors for microbial applications. They eliminate labor-intensive cleaning, improve turn-around time, and like this can increase the time effectiveness of your microbial production.
How to optimize bioprocess monitoring and control‌
In order to provide the optimal growth environment for your microbes, you need to monitor critical process parameters and control them in real time.
Bioreactors should support scale-up
How to scale-up your bioprocess‌
Process development is initially conducted using small volumes until the ideal conditions for microbial production have been found. A scaling up process is then carried out to reach the larger volumes required for production. This procedure is generally carried out in stages, from bench scale to pilot scale through to industrial scale. An important goal when scaling-up is to reproduce process performance across scales.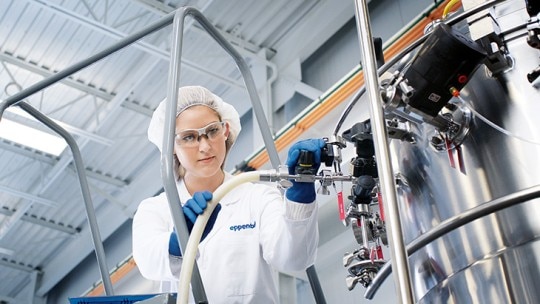 Bioprocess scale-up with the Eppendorf bioreactor systems‌
Scalable from 60 mL to 2,400 L, Eppendorf offers a wide range of bioreactor control systems to help you scale up from the bench to industrial production: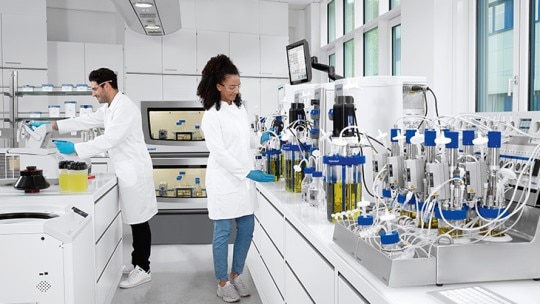 Read, how we scaled-up an E. coli fermentation process from 1 L to 100 L!
If needed, bioreactors should support microaerobic and anaerobic fermentation
Bioprocessing under anaerobic, microaerobic, and aerobic conditions‌
It is important to choose the correct oxygen environment for your microbe and desired product. Three growth environments exist to culture cells and produce the desired product:
Anaerobic: This describes an oxygen-free environment or a DO concentration of 0 %, and is commonly used in microbial production to manufacture various compounds including ethanol, lactic acid, and acetic acid.
Micro-aerophilic: Conditions of less than 10 % DO are usually required for micro-aerobes, such as those found in the human gut. Probiotics are frequently produced using this type of fermentation.
Aerobic: With a typical DO concentration of over 30 %, aerobic fermentation is essential for enhanced growth of many microbial cultures including E. coli.
For some organisms, their cultivation requires mimicking their natural environment. For example, in order to cultivate gut microbiome bacteria and their natural fermentation by-products, bioreactors need to be able to reproduce the microaerobic conditions found in the gastrointestinal tract. This requires fine control of DO levels through real-time monitoring and adjustment.
Find out more
Webinar: How to tailor your oxygen transfer rate (OTR)
Application Note: Anaerobic Clostridium beijerinckii fermentation in Eppendorf bioreactor control systems
How our customers use our products
Find some examples of how our customers use Eppendorf bioprocess equipment for microbial fermentation.